December 23rd, 2016
Extra! Extra! Read all about Walden's banner season and more about what's next.  Message from Seth Brenzel, Executive Director: Happy Holidays to one and all! I hope this message finds you enjoying the spirit of the season – full of anticipation and hope for the coming New Year. We here at Walden have been busy […]
Read More
---
July 12th, 2016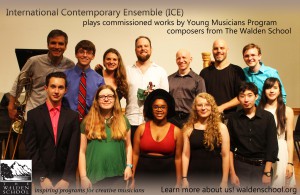 THE WALDEN SCHOOL PARTNERS WITH THE INTERNATIONAL CONTEMPORARY ENSEMBLE (ICE) TO COMMISSION AND PREMIERE NEW MUSIC BY SIX FACULTY AND EIGHT STUDENTS
Student works to be performed as part of Lincoln Center's Mostly Mozart Festival's 50th Anniversary Celebration; student performers collaborate with ICE in presenting music by George Lewis and Pauline Oliveros
July 12, 2016, DUBLIN, NH—Each summer The Walden School welcomes young musicians (ages 9-18) to work and play alongside renowned performers and composers, together fostering enthusiasm for creating new music into the 21st century. This is Walden's second year partnering with the International Contemporary Ensemble (ICE), and the anticipation is high.
"We are especially excited about the collaboration students experience on both levels. They witness the spirit of creative teamwork modeled by their faculty artists and the professional ensemble, and learn how to develop that high-level interaction themselves, among their peers," says Executive Director Seth Brenzel, himself an alumus (1985-1990) of this extraordinary program. "We are honored to have established relationships with many of ICE's members as performing and teaching artists over the years," he adds.
ICE pianist Jacob Greenberg says, "Walden is a uniquely intense and encouraging environment for its students. It's not every day that we're able to collaborate with students as engaged, curious, and gung-ho as the ones we meet here. We throw a lot of crazy stuff at these students, and they rarely bat an eye!"
---
June 16th, 2016
THE WALDEN SCHOOL ANNOUNCES 2016 CONCERT SERIES
Summer Concerts, Composers Forums, and Moderated Discussions Feature Nearly Three Dozen Renowned Guest Artists, Resident Composers, and Ensembles-in-Residence Representing a Diverse Range of Musical Styles and Genres, and Hailing from Throughout the United States.
More than 100 World-Premieres will be presented. Summer Concerts are Free and Open to the Public
June 14, 2016, DUBLIN, NH—Starting June 18, 2016, more than 100 students and educators from twenty US states and seven countries will begin arriving in Dublin, New Hampshire, for intensive music studies at The Walden School. It is an unparalleled, immersive creative experience—part skill development and part retreat. Creativity and community are central in Walden's signature approach to exploring musicianship through improvisation and composition.
For more than forty years The Walden School has produced free public concerts, drawing enthusiastic audiences to its campus at the Dublin School. Their unique Concert Series, which has twice been awarded the Chamber Music America/ASCAP Adventurous Programming Award, returns to the Monadnock region this summer for an eight-week season of concerts, interactive composers forums, and lecture/demonstrations.
 The Walden School has a rich tradition of bringing the world's finest new music talents together for the inspiring synergy only possible in such a setting. Walden School participants and audience members can sit side-by-side to listen and learn. The sonic possibilities are endless and unknown.
"This season is guaranteed to be ear-opening," says Executive Director Seth Brenzel…
---
View Older News Releases