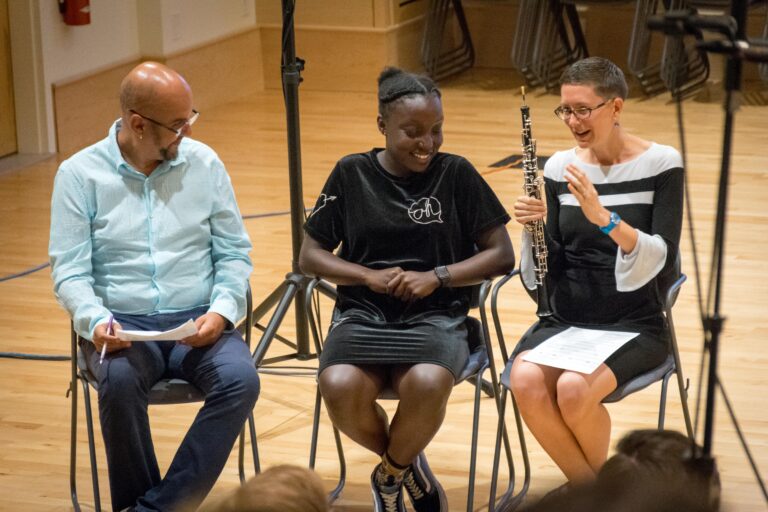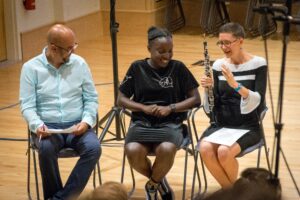 The Walden School is hosting an online alumni Composers Forum, featuring Yarn/Wire performing works composed by Walden alumni. Each piece will be followed by discussion with the composer. This online event will be free and open to the public.
Alumni Composer Forum 
Featuring Yarn/Wire
Sunday, April 18, 2021
4-6pm Eastern time
This exciting event will feature 10 world premieres. Our featured composers range in age from 12-7o, and include alumni of the Young Musicians Program, Junior Conservatory Camp, Creative Musicians Retreat, Teacher Training Institute, Online Young Musicians Experience, and Online Creative Musicians Experience.
Featured  Alumni Composers:
Brett Austin Eastman (San Francisco, CA) – Glimmer/Glow
Mary Fineman (Oakland, CA) – Watercolor, Dance No. 1
Joel R. Hobbs (Austin, TX) – Look for the Little Beast
Greg Houston (New York, NY) – The Nomads
Matthew Kaminski (Portland, OR) – Medusa
Jonathan Newmark (Burke, VA) – Duo for Al
Ash Paris-Carter (Winston-Salem, NC) – Comets and Cars
Jonah Sayler (South Burlington, VT) – Scherzo in G Minor
Aadit Shrivastava (Short Hills, NJ) – Nocturne No. 2
Jenny Tian (New Haven, CT) – Sheets of Rain
Yiyang Wang (Baltimore, MD) – Chatterbox
To join us for the Composers Forum, register through Eventbrite here.
If you have any questions, feel free to write to us at events@waldenschool.org.
About Yarn/Wire
Yarn/Wire is a New York-based piano percussion quartet. Noted for their "spellbinding virtuosity" and "restlessly curious" programming (TimeOut NY), the ensemble is admired for the energy and precision it brings to performances of today's most adventurous music. Yarn/Wire was founded in 2005 by four like-minded friends who were graduate students at SUNY Stony Brook, inspired to play music together. They soon realized to expand the world of new music, they would have to actively create music in partnership with their peers: composers, sound artists, noise musicians and more around the world. After 15 years, they are still as curious and in love with music as the earlier days of the ensemble, and they're just as dedicated to finding depth and value in the music they believe in. The members of Yarn/Wire include a Walden alumna, as well as past artists-in-residence at Walden.