Residencies by prominent composers have long been a staple of The Walden School curriculum. Learn more about current and past Composers-in-Residence below.
2023 COMPOSERS-IN-RESIDENCE
Composer-in-Residence
Young Musicians Program 2023
Nicole M. Mitchell is an award-winning creative flutist, composer, bandleader and educator. She is perhaps best known for her work as a flutist, having developed a unique improvisational language and having been repeatedly awarded "Top Flutist of the Year" by Downbeat Magazine Critics Poll and the Jazz Journalists Association (2010-2022). Mitchell initially emerged from Chicago's innovative music scene in the late 90s. She started with Maia and Shanta Nurullah in Samana (the AACM's first all-woman ensemble) and as a member of the David Boykin EXPANSE. Her music celebrates contemporary African American culture. She is the founder of Black Earth Ensemble, Black Earth Strings, Sonic Projections and Ice Crystal, and she composes for contemporary ensembles of varied instrumentation and size, while incorporating improvisation and a wide aesthetic expression. The former first woman president of Chicago's Association for the Advancement of Creative Musicians, Mitchell celebrates endless possibility by "creating visionary worlds through music that bridge the familiar with the unknown." Some of her newest work with Black Earth Ensemble explores intercultural collaborations; Bamako*Chicago, featuring Malian kora master, Ballake Sissoko and Mandorla Awakening with Kojiro Umezaki (shakuhachi) and Tatsu Aoki (taiko, bass, shamisen). As a composer, Mitchell has been commissioned by the French Ministry of Culture, the Chicago Museum of Contemporary Art, Art Institute of Chicago, the Stone, the French American Jazz Exchange, Chamber Music America (New Works), the Chicago Jazz Festival, ICE, and the Chicago Sinfonietta. Mitchell has performed with creative music luminaries including Craig Taborn, Roscoe Mitchell, Joelle Leandre, Anthony Braxton, Geri Allen, George Lewis, Mark Dresser, Steve Coleman, Anthony Davis, Myra Melford, Bill Dixon, Muhal Richard Abrams, Ed Wilkerson, Rob Mazurek, and Billy Childs, and Hamid Drake. She is a recipient of the Herb Alpert Award (2011), the Chicago 3Arts Award (2011) , the Doris Duke Artist Award (2012) and the United States Artist Award (2020). Mitchell is a Professor of Music at the University of Virginia, and previously taught at University of California Irvine and the University of Pittsburgh.
AMY BETH KIRSTEN
Composer-in-Residence
Creative Musicians Retreat 2023
Amy Beth Kirsten, "…one of America's most innovative and visionary composers," (BBC Music Magazine, March 2019) is known primarily for her multi-year, multimedia theatrical collaborations. She has cast herself in roles as varied as composer, poet, filmmaker, vocalist, and director. Her body of theatrical work spans the last eighteen years, and often considers musicians' instruments, bodies, and voices as equal vehicles of expression. Also a composer of non-theatrical concert works, she has been recognized with awards and fellowships from the American Academy of Arts and Letters (2020), John S. Guggenheim Foundation (2010) and the Rockefeller Foundation (2009). Ms. Kirsten has created collaborative works for her own ensemble HOWL, musicians of the Chicago Symphony Orchestra, the New World Symphony, Peak Performances, the multi-Grammy-winning eighth blackbird, and American Composers Orchestra, among many others. An original story written by Ms. Kirsten and Timothy Leopold (trumpet) is the catalyst for her current project, Jacob in Chains, an evening-length work for Alarm Will Sound. Jacob in Chains is a present-day Christmas ghost story inspired by ancient myth, spiritual texts, and Charles Dickens' A Christmas Carol. In addition to her position at Longy School of Music, she is Visiting Guest Faculty at the Curtis Institute, and Composer Mentor for the Blueprint Fellowship at Juilliard. She has held previous teaching posts at Oberlin College and Conservatory as well as at the Peabody Institute in Baltimore. The Toulmin Foundation, Chamber Music America, the MAP Fund, and many other generous patrons, foundations, and institutions support her work.
---
Past Composers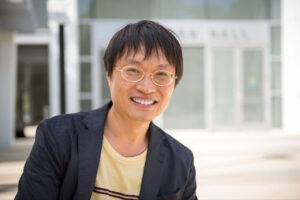 LEI LIANG
Composer-in-Residence
Creative Musicians Retreat 2022
Chinese-born American composer Lei Liang is the winner of the Rome Prize, the recipient of a Guggenheim Fellowship, a Koussevitzky Foundation Commission, a Creative Capital Award, and the Goddard Lieberson Fellowship from the American Academy of Arts and Letters. His concerto Xiaoxiang for saxophone and orchestra was named a finalist for the Pulitzer Prize in Music in 2015. His orchestral work, A Thousand Mountains, A Million Streams, won the prestigious Grawemeyer Award for Music Composition in 2021.
Lei Liang was commissioned by the New York Philharmonic and Alan Gilbert for the inaugural concert of the CONTACT! new music series. Other commissions came from the Fromm Music Foundation, Meet the Composer, Chamber Music America, among others. Lei Liang's ten portrait discs are released on Naxos, New World, Mode, Albany and Bridge Records. He has edited and co-edited five books and editions, and published more than thirty articles.
Lei Liang studied with Sir Harrison Birtwistle, Robert Cogan, Chaya Czernowin, Mario Davidovsky, and received degrees from the New England Conservatory of Music (B.M. and M.M.) and Harvard University (Ph.D.). He is Chancellor's Distinguished Professor of Music at the University of California, San Diego. His catalogue of more than a hundred works is published exclusively by Schott Music Corporation (New York). www.lei-liang.com
Lisa Bielawa
Creative Musicians Online Experience
Composer, producer, and vocalist Lisa Bielawa is a Rome Prize winner in Musical Composition and takes inspiration for her work from literary sources and close artistic collaborations. Her music has been described as "ruminative, pointillistic and harmonically slightly tart," by The New York Times. She is the recipient of the 2017 Music Award from the American Academy of Arts & Letters and was named a William Randolph Hearst Visiting Artist Fellow at the American Antiquarian Society for 2018.
Bielawa consistently executes work that incorporates community-making as part of her artistic vision. She has created music for public spaces in Lower Manhattan, the banks of the Tiber River in Rome, on the sites of former airfields in Berlin in San Francisco, and to mark the 30th anniversary of the fall of the Berlin Wall. Her music has recently been premiered at the NY PHIL BIENNIAL, Lincoln Center, Carnegie Hall, The Kennedy Center, SHIFT Festival, and Naumburg Orchestral Concerts, among others. She will have her second residency as a performer/composer at John Zorn's venue The Stone in March 2020. Orchestras that have championed her music include the The Knights, Boston Modern Orchestra Project, American Composers Orchestra, and the Orlando Philharmonic. Premieres of her work have been commissioned and presented by the Chamber Music Society of Lincoln Center, Brooklyn Rider, Seattle Chamber Music Society, American Guild of Organists, and more.
Bielawa began touring as the vocalist with the Philip Glass Ensemble in 1992 and in 2019 she became the inaugural Composer-in-Residence and Chief Curator of the Philip Glass Institute at The New School. In 1997 Bielawa co-founded the MATA Festival, which celebrates the work of young composers, and for five years she was the artistic director of the San Francisco Girls Chorus.
She received a 2018 Los Angeles Area Emmy nomination for her unprecedented, made-for-TV-and-online opera Vireo: The Spiritual Biography of a Witch's Accuser, created with librettist Erik Ehn and director Charles Otte. Vireo was filmed in twelve parts in locations across the country and features over 350 musicians. Vireo was released on CD/DVD in 2019 (Orange Mountain Music) and she is also recorded on the Tzadik, TROY, Innova, BMOP/sound, Supertrain Records, Sono Luminus, and Cedille labels. www.lisabielawa.net.
---
Mario Diaz de Leon
Online Young Musicians Experience
Mario Diaz de Leon is an acclaimed composer and performer, whose work encompasses modern classical music, experimental electronic music, extreme metal, and creative improvised music.
His classical works are noted for their bold combination of acoustic instruments and electronics, and are documented on four full length recordings. Working extensively with NYC based collaborators including ICE, Talea, TAK Ensemble, and Mivos Quartet, his music has been celebrated over the last decade for its "hallucinatory intensity" (New York Times), "snarling exuberance" (Pitchfork), "helter-skelter, electronically enhanced cadenzas" (New Yorker Magazine), and coupling of "crystalline clarity with the disorienting turbulence of a sonic vortex" (Wire Magazine).  His most recent, entitled "Cycle and Reveal" was released by Denovali in September of 2019.
Under the name Oneirogen, Diaz de Leon toured internationally and produced a series of experimental electronic recordings from 2012-16, exploring linkages between ambient, drone, metal, and industrial music genres. He is guitarist and vocalist in Luminous Vault, a band co-founded with bassist Samuel Smith (Artificial Brain) in 2015. Combining black and death metal with machine rhythm and synthesizers, their EP "Charismata" was released by Profound Lore Records in 2017. Other current projects include Bloodmist, an electroacoustic improvisation trio with Jeremiah Cymerman and Toby Driver, whose most recent recording was given favorable reviews by National Public Radio and Downbeat Magazine.
Recent live performances include events at Walt Disney Concert Hall (Los Angeles), Donaufestival (Austria), CTM Festival (Berlin), Chicago Symphony Center, Hakuju Hall (Tokyo), Venice Biennale, Lucerne Festival (Switzerland), Musica Nova Helsinki (Finland), National Gallery of Art (DC), Ojai (California), Roulette (Brooklyn), The Kitchen (NYC), and commissions from the Los Angeles Philharmonic, ICE, Talea, NYSCA, and Chamber Music America.
Diaz de Leon is a native of St. Paul, Minnesota, and has been a resident of NYC since 2004. He received his doctorate in music composition from Columbia University in 2013, where he studied with George Lewis and Fabien Lévy. From 2015-18, he continued at Columbia as Core Lecturer in Music Humanities, while also teaching at the Computer Music Center. He is currently Assistant Professor of Music and Technology at Stevens Institute of Technology, where he teaches courses in computer music, electronic music production, audio engineering, and the history of electronic music.
---
Marcos Balter
Praised by The Chicago Tribune as "minutely crafted" and "utterly lovely," The New York Times as "whimsical" and "surreal," and The Washington Post as "dark and deeply poetic," the music of composer Marcos Balter (b.1974, Rio de Janeiro, Brazil) is at once emotionally visceral and intellectually complex, primarily rooted in experimental manipulations of timbre and hyper-dramatization of live performance.
His works have been featured worldwide in venues such as Carnegie Hall, Köln Philharmonie, the French Academy at Villa Medici, New World Symphony Center, Park Avenue Armory, Teatro de Madrid, Tokyo Bunka Kaykan, Baryshnikov Arts Center, Teatro Amazonas, Le Poison Rouge, and the Museum of Contemporary Art of Chicago. Recent festival appearances include those at Lincoln Center's Mostly Mozart Festival, Ecstatic Music Festival, Acht Brücken, Aldeburgh Music Festival, Lockenhaus Kammermusikfestival, Aspen, ACO's SONiC Festival, Frankfurter Gesellschaft für Neue Musik, Darmstadt Ferienkurse, Color Field, Musica Nova, and MATA's Interval Series. Past honors include commissions from Meet the Composer, Chamber Music America, The Fromm Foundation at Harvard University, The Holland/America Music Society, The MacArthur Foundation, and the Art Institute of Chicago, fellowships from the John Simon Guggenheim Memorial Foundation, Tanglewood Music Center/Leonard Bernstein Foundation, and Civitella Ranieri Foundation, as well as first prizes in several national and international composition competitions. His works are published by Schott NY, and commercial recordings of his music are available through New Amsterdam Records, New Focus Recording, Parlour Tapes+, and Navona Records.
Highlights in 2013-2014 include new works for the Geneva Camerata, International Contemporary Ensemble, Ensemble Dal Niente, American Composers Orchestra, yMusic, Amazonas Filarmonica, Orquestra Bachiana Filarmonica SESI-SP, Camerata de Curitiba Choir and String Orchestra, violist Nadia Sirota, saxophonist Ryan Muncy and trumpetist Peter Evans, flutist Claire Chase and percussionist Svet Stoyanov, appearances at Carnegie Hall, Chicago Symphony Orchestra MusicNOW, Philips Collection, Look & Listen Festival, the Los Angeles Contemporary Art Museum, Bâtiment des forces Motrice, and Basel Bahnhof für Neue Musik, guest residencies at the 2013 Bienal Musica Hoje, 2013 Mount Tremper Music Festival, Chicago Cliff Dwellers Arts Club (Artist-in-Residence until 2015), and Baltimore School for the Arts, inclusion in commercial recording releases by yMusic, Spektral Quartet, bassoonist Rebekah Heller, cellist Chris Wild, percussionist Samuel Solomon, saxophonist Ryan Muncy, and soprano Amanda DeBoer, performances by the Mivos Quartet, Anubis Saxophone Quartet, ensemble cross.art, saxophonist Zach Shemon, and others in venues in North and South America, Europe, and Asia, as well as composition lectures, guest concerts, and master classes in several institutions and music festivals in North and South America.
Recent collaborators include the rock band Deerhoof, Ensemble Dal Niente, Civic Orchestra of Chicago, Chicago Composers Orchestra, Orquestra Experimental da Amazonas Filarmonica, American Contemporary Music Ensemble, Chicago Q Ensemble, tenor Peter Tantsits, soprano Tony Arnold, Third Coast Percussion, Ensemble SurPlus, Fonema Ensemble, Anaphora Ensemble, and conductors Steven Schick, Cliff Colnot, Scott Voyles, Eric Hewitt, Michael Lewanski, Federico Sardella, and Mathew Kasper.
He graduated with school and departmental honors at Northwestern University where his main teachers were Augusta Read Thomas, Amy Williams, and Jay Alan Yim. Guest instructors in master classes and festivals include Louis Andriessen, George Benjamin, Pierre Boulez, Elliott Carter, Oliver Knussen, Christian Lauba, Tristan Murail, Enno Poppe, Bernard Rands, Wolfgang Rihm, and Kaija Saariaho.
Having previously taught at the University of Pittsburgh, Northwestern University, Lawrence University, and Columbia College Chicago, he is currently an Associate Professor of Music Composition at Montclair State University.
---
George E. Lewis
Creative Musicians Retreat
George Lewis is Professor of American Music at Columbia University. A Fellow of the American Academy of Arts and Sciences and the American Academy of Arts and Letters, and a Corresponding Fellow of the British Academy, Lewis's other honors include a MacArthur Fellowship (2002) and a Guggenheim Fellowship (2015). Lewis's work has been presented by the BBC Scottish Symphony Orchestra, Ensemble Dal Niente, Ensemble Intercontemporain, London Philharmonia Orchestra, International Contemporary Ensemble, Musikfabrik, Mivos Quartet, London Sinfonietta, Spektral Quartet, and others.
An Honorary Member of the American Musicological Society, his 2008 book, A Power Stronger Than Itself:  The AACM and American Experimental Music (University of Chicago Press) received the AMS Music in American Culture Award. Lewis is the co-editor of the two-volume Oxford Handbook of Critical Improvisation Studies (2016). Lewis holds honorary degrees from the University of Edinburgh, New College of Florida, and Harvard University.  See https://music.columbia.edu/bios/george-e-lewis
Kati Agócs
Young Musicians Program
The music of Kati Agócs has been honoured and performed worldwide, delivering visceral power and otherworldly lyricism with soulful directness. From folk music of an imaginary culture to volatile spectralism, polytextual vocal ensembles to large symphonic forces, her work embraces the 21st-century orchestra in all of its protean possibilities. The Boston Globe has praised its elegance, citing "music of fluidity and austere beauty" with "a visceral intensity of expression." The New York Times has characterized her chamber music as "striking" and her vocal music as possessing "an almost nineteenth-century naturalness."  A recent Guggenheim Fellow, Kati Agócs has also been awarded the prestigious Arts and Letters Award, the lifetime achievement award in music composition from The American Academy of Arts and Letters.
Recent works include her second string quartet Imprimatur, the piano trio Queen of Hearts, and the Concerto for Violin and Percussion Orchestra.  The Debrecen Passion, her orchestral/vocal album with Boston Modern Orchestra Project, was one of The Boston Globe's Top Ten Classical Recordings of 2016. The title track was nominated for Classical Composition of the Year in the 2017 Juno Awards, the Canadian equivalent of the Grammy Awards. Gramophone Magazine praised the "penetrating individuality" of the music, calling it an "iridescent wonder." Kati Agócs is a citizen of  the United States, Canada, and Hungary (European Union). She earned doctoral and Masters degrees from the Juilliard School, studying with Milton Babbitt, and currently serves on the composition faculty of the New England Conservatory. Her music is published by Kati Agócs Music and distributed by Theodore Front Musical Literature.
Christopher Theofanidis
CHRISTOPHER THEOFANIDIS (b. 12/18/67 in Dallas, Texas) has had performances by many leading orchestras from around the world, including the London Symphony, the New York Philharmonic, the Philadelphia Orchestra, the Atlanta Symphony, the Moscow Soloists, the National, Baltimore, St. Louis, and Detroit Symphonies, among many others.  He has also served as Composer of the Year for the Pittsburgh Symphony during their 2006-7 season, for which he wrote a violin concerto for Sarah Chang.
Mr. Theofanidis holds degrees from Yale, the Eastman School of Music, and the University of Houston, and has been the recipient of the International Masterprize, the Rome Prize, a Guggenheim fellowship, a Fulbright fellowship to France to study with Tristan Mural at IRCAM, a Tanglewood fellowship, and two fellowships from the American Academy of Arts and Letters.  In 2007 he was nominated for a Grammy award for best composition for his chorus and orchestra work, The Here and Now, based on the poetry of Rumi, and in 2017 for his bassoon concerto.  His orchestral work, Rainbow Body, has been one of the most performed new orchestral works of the new millennium, having been performed by over 150 orchestras internationally.
Mr. Theofanidis' has written a ballet for the American Ballet Theatre, a work for the Orpheus Chamber Orchestra as part of their 'New Brandenburg' series, and two operas for the San Francisco and Houston Grand Opera companies.  Thomas Hampson sang the lead role in the San Francisco opera.  His work for Houston, The Refuge, featurs six sets of international non-Western musicians alongside the opera musicians.  He has a long-standing relationship with the Atlanta Symphony and Maestro Robert Spano, and has just four recordings with them, including his concert length oratorio, Creation/Creator, which was featured at the SHIFT festival at the Kennedy Center in Washington, D.C. this year with the ASO, chorus, and soloists.  His work, Dreamtime Ancestors, for the orchestral consortium, New Music for America, has been played by over fifty orchestras over the past two seasons.  He has served as a delegate to the US-Japan Foundation's Leadership Program, and he is a former faculty member of the Peabody Conservatory of Johns Hopkins University as well as the Juilliard School.  Mr. Theofanidis is currently a professor at Yale University, and composer-in-residence and co-director of the composition program at the Aspen Music Festival.
Since that time, Daugherty's music has entered the orchestral, band, and chamber music repertoire and made him, according to the League of America Orchestras, one of the ten most performed American composers of concert music today. Born in 1954 in Cedar Rapids, Iowa, Daugherty is the son of a dance-band drummer and the oldest of five brothers, all professional musicians. As a young man, Daugherty studied composition with many of the preeminent composers of the 20th century, including Jacob Druckman, Earle Brown, and Roger Reynolds at Yale, Pierre Boulez at IRCAM in Paris and György Ligeti in Hamburg. Daugherty was also an assistant to jazz arranger Gil Evans in New York from 1980-82.
In 1991, Daugherty joined the University of Michigan School of Music, Theatre and Dance (Ann Arbor, Michigan) as Professor of Composition, where he is a mentor to many of today's most talented young composers. Daugherty is also a frequent guest of professional orchestras, festivals, universities, and conservatories around the world. In 2011, the Nashville Symphony's Naxos recording of Daugherty's Metropolis Symphony and Deus ex Machina was honored with three GRAMMY® Awards, including Best Classical Contemporary Composition.
Naxos recordings of Daugherty's orchestral music include UFO, Colorado Symphony, Marin Alsop (1999); Fire and Blood, Detroit Symphony Orchestra, Neemi Järvi (2005); Metropolis Symphony, Nashville Symphony, Giancarlo Guerrero (2009); Route 66, Bournemouth Symphony, Marin Alsop (2010); Mount Rushmore, Pacific Symphony, Carl St. Clair (2012); and Tales of Hemingway, Nashville Symphony, Giancarlo Guerrero (2016). Daugherty's music is published by Peermusic Classical, Boosey & Hawkes and Michael Daugherty Music. For more information on Michael Daugherty, see www.michaeldaugherty.net and his publishers' websites.
Annie Gosfield
Annie Gosfield's work combines notated and improvised music, electronic and acoustic sounds, writing music for others and playing in her own group. Her music is often inspired by the inherent beauty of non-musical sounds, such as machines, destroyed pianos, warped 78 rpm records and detuned radios. Hailed as "a star of the downtown scene" by The New Yorker magazine, her varied work methods have taken her on a path through international festivals, concert halls, universities, art spaces, and clubs.
Gosfield has been awarded fellowships from the American Academy in Berlin (2012), the Foundation for Contemporary Arts (2008), New York Foundation for the Arts, the Siemens Foundation, and the Mcknight Foundation.
She has received grants from NewMusicUsa, The Map Fund, USArtists International, Meet the Composer, and many others. Active as a writer and teacher, she is a regular contributor to the New York Timesseries "The Score", and was the Milhaud Professor of composition at Mills College, a visiting lecturer at Princeton University and a visiting artist at Cal Arts. She is on the advisory council of the Civitella Ranieri Foundation, an artists' residency program based in Umbria. In August, 2010, she curated The Stone, presenting a month of performances by some of New York's best interpreters of new music, with over 20 premieres and unanimously good notices at the East Village performance space. Prominent musicologist Sabine Feisst has published and presented several papers on Gosfield's work, most recently Musik – Stadt: Traditionen und Perspektiven urbaner Musikkulturen (Leipzig: Gudrun Schröder Verlag, 2012), and published her research on Gosfield in MusikTexte.
Dedicated to working closely with performers, Gosfield has been commissioned and collaborated with many musicians and ensembles, such as Joan Jeanrenaud, Lisa Moore, Felix Fan, Frances-Marie Uitti, Jennifer Choi, the Bang on a Can All-Stars, MIVOS Quartet, Flux Quartet, Athelas Sinfonietta, Agon Orchestra, Spit Orchestra, and Talujon Percussion. She has performed with John Zorn, Laurie Anderson, Fred Frith, Chris Cutler, Derek Bailey, Ikue Mori, Ches Smith, Roger Kleier, and many others. Her work has been performed internationally at festivals including MaerzMusik, The Bang on a Can Marathon, Warsaw Autumn, The Venice Biennale, Huddersfield Contemporary Music Festival, ISCM, MATA, Gaudeamus Muziekweek, Musique Actuelle (Victoriaville), River to River (NYC), and Otherminds.
Gosfield's discography includes four portrait CD's on the Tzadik label, including 2012's "Almost Truths and Open Deceptions" which was included in year-end lists by The New Yorker's Alex Ross and The Awl's Seth Colter Walls. The CD features a cello concerto, music by Gosfield's electric group, her unique approach to acoustic chamber music, and a piece for piano and a malfunctioning shortwave radio. Other CD's include "Flying Sparks and Heavy Machinery", which focuses on machine sounds and factory environments in her band's performance of EWA7, as well the title track, an industrial-inspired work for string quartet and percussion quartet. "Burnt Ivory and Loose Wires" features music for detuned and prepared piano, saxophone quartet, and cello. "Lost Signals and Drifting Satellites" demonstrates her unique approach to solo pieces and a string quartet. Recent releases also include the Cantaloupe EP "Lightning Slingers and Dead Ringers" featuring Lisa Moore playing the title track, an extended work for piano and sampler, and Brooklyn, October 5, 1941. Large-scale compositions include the signature piece EWA7, a site-specific work created during a residency in the industrial environments of Nuremberg, Germany, and Daughters of the Industrial Revolution, a concert-length piece inspired by her grandparents' immigrant experiences in New York City during the Industrial Revolution.
Annie is currently researching the sounds of jammed radio broadcasts in WWII in preparation for a large-scale work inspired by the processes and perceptions of this oddly surreal radio interference. She initiated the research at the American Academy in Berlin, which led to Long Waves and Random Pulses, for solo violin and jammed radio signals, premiered in 2012 in Utrecht, by violinists Elfa Run Kristindottir and Monica Germino, in both an acoustic and electronic version. Other projects include Kathleen Supové's recent premiere of a newly commissioned work for her "Digital Debussy" program for piano and electronics, music for Pam Tanowitz Dance's much lauded The Spectators, and a performance with Laurie Anderson. 2013 also brings premieres in New York, Stockholm, Graz, Tokyo, and Boston.
anniegosfield.com
Martin Bresnick
Martin Bresnick's compositions, from opera, chamber and symphonic music to film scores and computer music, are performed throughout the world. Bresnick delights in reconciling the seemingly irreconcilable, bringing together repetitive gestures derived from minimalism with a harmonic palette that encompasses both highly chromatic sounds and more open, consonant harmonies and a raw power reminiscent of rock. At times his musical ideas spring from hardscrabble sources, often with a very real political import. But his compositions never descend into agitprop; one gains their meaning by the way the music itself unfolds, and always on its own terms.
Besides having received many prizes and commissions, the first Charles Ives Living Award from the American Academy of Arts and Letters, The Rome Prize, The Berlin Prize, a Guggenheim Fellowship, and a Koussevitzky Commission, among many others, Martin Bresnick is also recognized as an influential teacher of composition. Students from every part of the globe and of virtually every musical inclination have been inspired by his critical encouragement.
Martin Bresnick's compositions are published by Carl Fischer Music Publishers, New York; Bote & Bock, Berlin; CommonMuse Music Publishers, New Haven; and have been recorded by Cantaloupe Records, New World Records, Albany Records, Bridge Records, Composers Recordings Incorporated, Centaur, Starkland Records and Artifact Music.
She has written for diverse instrumentations, such as "run-on sentence of the pavement" for piano, ping-pong balls, and electronics, which Alex Ross of the New Yorker noted as being "entrancing." Her work often considers discrepancies in musical space—real, imagined, and remembered.
Her music has been performed by Dither Electric Guitar Quartet, Mantra Percussion, the Bang On A Can All-Stars, Brooklyn Rider, the Metropolis Ensemble, the Estonian National Ballet, orchest de ereprijs, the Glass Farm Ensemble, the Scharoun Ensemble, James Moore, Wil Smith, Terri Hron, Kathryn Woodard, Todd Reynolds, Kathleen Supové, Margaret Lancaster, Nina de Heney, Dana Jessen and Jody Redhage. Awards include the Walter Hinrichsen Award from the American Academy of Arts and Letters, a Fulbright Grant, two ASCAP Morton Gould Young Composers' Awards, and the 2014 – 2015 Elliott Carter Rome Prize. Matthusen is currently Assistant Professor of Music at Wesleyan University. paulamatthusen.com
John McDonald
John McDonald, Professor of Music and Director of Graduate Music Studies at Tufts University, is a composer who tries to play the piano and a pianist who tries to compose. He received the 2009 Lillian and Joseph Leibner Award for Distinguished Teaching and Advising from Tufts University, and was named the 2007 MTNA-Shepherd Distinguished Composer of the Year by the Music Teachers National Association.
McDonald was Music Department Chair at Tufts from 2000 to 2003. He has served as an Artistic Ambassador to Asia, and is on the advisory boards of American Composers Forum New England, Worldwide Concurrent Premiers, Inc., and several other cultural and academic organizations.
His recent and in-progress projects include Peace Process (basset horn and piano), The Creatures' Choir (an evening-long song cycle for voice piano), Ways to Jump (a choral work concerning frogs, commissioned by Music Worcester), Piano Albums 2005, 2006, 2007, 2008, 2009, 2010 (collections of piano miniatures that attempt to chronicle some difficulties and joys of daily life through musical observation), Four Compositions for flute and piano, and a new work for saxophone and piano commissioned by the Massachusetts Music Teachers Association that responds to Schubert's song cycle Die Winterreise. Pianist Andrew Rangell has just completed a recording (for Bridge Records: May 2009 release) of McDonald's Meditation Before a Sonata: Dew Cloth, Dream Drapery, a piece which can function as a preamble to either of the monumental Charles Ives sonatas.
McDonald's recordings appear on the Albany, Archetype, Boston, Bridge, Capstone, Neuma, New Ariel, and New World labels, and he has concertized widely as a composer and pianist. Recent performances at the Goethe Institute of Boston and at Tufts have been highly acclaimed. His solo piano recital of "Common Injustices" by twenty-five living composers prompted Richard Dyer of the Boston Globe to write "one can hardly imagine anyone else undertaking such a program, or playing it with such modest and unobtrusive but total musical and pianistic mastery". McDonald has appeared with many ensembles and has maintained long-standing musical partnerships with soprano Karol Bennett, saxophonists Kenneth Radnofsky and Philipp Stäudlin, and several other prominent soloists. Since 2004 he has performed as pianist for the Mockingbird Trio alongside Elizabeth Anker, contralto, and Scott Woolweaver, viola.
Paul Moravec
Paul Moravec, recipient of the 2004 Pulitzer Prize for Music, has composed more than one hundred works for the orchestral, chamber, choral, lyric, film, and operatic genres. The Letter, to a libretto by Terry Teachout, premiered at Santa Fe Opera in 2009 and Danse Russe, a comic opera, premiered in Philadelphia in April 2011.
Orpheus Chamber Orchestra performed his Brandenburg Gate at Carnegie Hall in May and Aspen Music Festival premiered his quartet Deep Time in June of this year. His catalog of recordings includes three Naxos American Classics CDs: Tempest Fantasy, The Time Gallery, and Cool Fire and an upcoming orchestral album on BMOP/sound. He is University Professor at Adelphi and recently served as Artist-in-Residence with the Institute for Advanced Study in Princeton. He can be found on the web at www.paulmoravec.com. His work is published by Subito Music, found on the web at www.subitomusic.com.
Russell Pinkston
Russell Pinkston, Professor of Composition, Director, Electronic Music Studios, holds degrees in music composition from Dartmouth College (BA) and Columbia University (MA, DMA). He has written music in a wide variety of different media, ranging from concert works and sacred anthems to computer generated tape pieces and live electronic music for dance.
His compositions have been played throughout Europe, South America and the United States, including recent performances by such noted ensembles as the Smith Quartet (London), the Kansas City Symphony Orchestra, and the Danish Royal Ballet Company. Dr. Pinkston has received numerous awards for his compositions, including two prizes from the American Academy and Institute of Arts and Letters and a senior Fulbright Fellowship in Composition and Computer Music to Brazil. Dr. Pinkston is also active in computer music research. His work in the area of real-time performance interfaces for modern dance has recently attracted international attention, leading to interviews on BBC radio and NPR, as well as a feature article in New Scientist magazine. Dr. Pinkston's music is recorded on Boston Skyline, Centaur, Finnadar, Folkways, and Summit Records and published by Galaxy Music, E. C. Schirmer, and Columbia University Press. For more information, please visit www.russellpinkston.com.
Melinda Wagner
Melinda Wagner's colorful Concerto for Flute, Strings, and Percussion, commissioned by Paul Lustig Dunkel and the Westchester Philharmonic, was awarded the 1999 Pulitzer Prize in Music (the only flute concerto to date to win the coveted award).
Since then, she has written Concerto for Trombone, for Joseph Alessi and the New York Philharmonic, and a piano concerto, Extremity of Sky, commissioned by the Chicago Symphony for Emanuel Ax, who has also performed it with the National Symphony Orchestra, the Toronto Symphony, the Kansas City Symphony, and the Staatskapelle Berlin. In addition to Extremity of Sky (2002), the Chicago Symphony Orchestra has commissioned two other major works: Falling Angels (1992), and a forthcoming work for the 2011-2012 season. Commissions have also come from the Chamber Music Society of Lincoln Center, the Barlow Foundation, the Mary Flagler Cary Charitable Trust, the Fromm and Koussevitsky Foundations, the Ernst and Young Emerging Composers Fund, the American Brass Quintet, and guitarist David Starobin.
Melinda Wagner has taught at the University of Pennsylvania, Swarthmore College, Syracuse University, and Hunter College. She has lectured at many schools including Yale, Cornell, Juilliard, and Mannes. Ms. Wagner has served as Composer-in-Residence at the Yellow Barn Music Festival, the Monadnock Music Festival, the University of Texas (Austin) and at the Bravo! Vail Valley Music Festival. She lives in New Jersey with her husband, percussionist James Saporito, and their children.
Joan Tower
Joan Tower's music is noted by a number of defining qualities: driving rhythms and colorful orchestrations influenced by the sounds and sensations of a childhood spent in South America; approachability for listeners and players alike, resulting from her engagement with the performers of her music (often written with specific musicians in mind) and her own performances as a pianist.
Early works were serial in conception. In the 1970's she moved toward more tonal, Messiaen-like sonorities. She has written a number of works paying homage to composers such as Beethoven (Concerto for Piano), Stravinsky (Petroushskates) and Copland (Fanfare for the Uncommon Woman). She was the first composer chosen for a Ford Made in America consortium commission, Made in America. Its top-selling recording won three 2008 Grammy awards, including Best Classical Contemporary Composition.
Stephen Jaffe
Recent seasons have marked the introduction of of two milestones for composer Stephen Jaffe: the world premiere of the Concerto for Cello and Orchestra by the National Symphony Orchestra, Leonard Slatkin conducting, with David Hardy, cello soloist (at the Kennedy Center in Washington, D.C.): and the premiere recording of the Concerto for Violin and Orchestra with the Odense Symphony of Denmark, Gregory Fulkerson, violin, and Donald Palma conducting. Both have met with warm acclaim.
Stephen Jaffe's music has been featured at major concerts and festivals including the Nottingham, Tanglewood and Orgeon Bach Festivals and Berlin's Spectrum Concerts, and performed throughout the U.S., Europe and China by ensembles including the R.A.I. of Rome, Slovenska Filharmonija (Slovenian Philharmonic), the National, San Francisco, North Carolina and New Jersey Symphonies, and many others. Bridge Records has issued three discs of the composer's music.
In addition to the concertos for cello and orchestra (2004) and violin and orchestra (2000), recent premieres have included Designs for flute, guitar and percussion, introduced at the National Arts Center of Taiwan, 2002, and Homage to the Breath: Instrumental and Vocal Meditations for Mezzo-soprano and Ten Instruments, with a text by Thich Nhat Hanh, introduced at the Hirschorn Museum, Washington.
Jaffe has been the recipient of numerous awards, including the Rome Prize, the Kennedy Center Friedheim Award, the American Academy of Arts and Letters Prize, the Brandeis Creative Arts Citation and fellowships from Tanglewood, the National Endowment for the Arts and the Guggenheim Foundation. Jaffe studies composition at the Conservatoire de Musique in Geneva, and continued his studies at the University of Pennsylvania. He is Mary D.B.T. and James H. Semans Professor of Music at Duke University, where he has taught since 1981. Together with Scott Lindroth, Jaffe directs Duke's contemporary music concert series "Encounters with the Music of Our Time", and works with an inventive and gifted group of young composers.