The presence of a visiting performance ensemble on campus during Festival Week has long been a Walden School tradition.
Renowned contemporary music groups such as the PRISM Saxophone Quartet, The Peabody Trio, and Non Sequitur have completed residencies in years past, performing student pieces as well as sharing their own repertoire. For the last several years, Walden has hosted its own professional ensemble-in-residence, The Walden School Players. All distinguished musicians and specialists in contemporary music, the Players share their talent and wealth of experience in contemporary music with the Walden community each summer during the course of a two-week residency. Although the roster changes somewhat from year to year, several of the Players have been returning to Walden for many summers and have formed lasting relationships with students, faculty, and staff.
While in residence at Walden, the Players work closely with student composers in readings and rehearsals, giving feedback as students prepare their pieces for Festival Week. Then, over the course of three Festival Week Composers Forums, they perform students' pieces. In addition to their work with students, the Players present a concert of modern and contemporary chamber music in an event that is always a highlight of Walden's concert series.
---
The 2018 Walden School Players
Laura Cocks, flute; Dana Jessen, bassoon; Katie Schoepflin, clarinet
Erica Dicker, violin; Tawnya Popoff, viola; Seth Parker Woods, cello
Bonnie Whiting, percussion; Eric Wubbels, piano
 Laura Cocks is a New York based flutist who has worked in a wide array of creative environments as a performer and promoter of contemporary music. Laura is flutist and executive director of TAK ensemble, a founding member of the Louis Moreau Institute in New Orleans, and a full time member of the Nouveau Classical Project. She has performed across North and Latin America and Europe as a soloist and chamber musician in ensembles such as The London Sinfonietta, International Contemporary Ensemble (ICE), Wet Ink Ensemble, Ensemble Pamplemousse, and the Association of Dominican Classical Artists in venues that range from Queen Elizabeth Hall in London's Southbank Centre, Orchestra Hall in Chicago, and David Geffen Hall in New York to artist squats, diners, and highway medians. Laura can be heard on ECM, Denovali Records, Carrier Records, Orange Mountain Music, and New Focus with Wet Ink Ensemble, International Contemporary Ensemble, TAK ensemble, and others.
Violinist Erica Dicker works in a wide variety of musical settings, bridging the realms of orchestral performance and experimental improvisation. Erica is concertmaster of the Tri-Centric Orchestra, an ensemble founded to premiere and record the operas of Anthony Braxton. Erica has performed with Braxton's Falling River Quartet and Diamond Curtain Wall Quartet at festivals in Belgium, Germany, Italy, Macedonia, Poland, and Turkey and appeared with the 12+1tet at the 2012 Venice Biennale. Erica also writes about and curates performances of Braxton's work, most recently for ICE at the 2017 Ojai Music Festival.
A proponent of new music, Erica is a founding member of the contemporary chamber music collective Till By Turning and a member of Kylwyria, a commissioning horn trio based in New York City. Erica is violinist in Katherine Young's Pretty Monsters as well as Vaster Than Empires, an electro-acoustic collaboration with composer and sound artist Paul Schuette and percussionist Allen Otte. She has premiered works by many composers including pieces for solo violin written for her by Olivia Block, Turkar Gasimzada, Ryan Ingebritsen, and Katherine Young. Erica also writes and performs her own music, exploring the idiomatic modalities and textures of her instrument. Taking Auspices, an album of Erica's quasi-improvised solo works, is available via Tubapede Records. Erica earned degrees from the Oberlin Conservatory of Music (BM), the University of Minnesota (MM), and the University of Cincinnati College-Conservatory of Music (DMA). Her primary teachers include Gabriel Pegis, Marilyn McDonald, and Jorja Fleezanis.
Praised for her diverse talents, bassoonist Dana Jessen is highly active as a chamber musician, improviser and new music specialist. She is the co-founder of the Bay Area reed quintet, Splinter Reeds, and has performed with prominent ensembles including the San Francisco Contemporary Music Players, Ensemble Dal Niente, Calefax Reed Quintet, Callithumpian Consort, Anthony Braxton's Tri-Centric Orchestra and the Amsterdam Contemporary Ensemble, among others. As the founder of the Rushes Ensemble, Dana spearheaded the consortium commission of Rushes, an hour-long composition for seven bassoons by composer and Bang on a Can co-founder, Michael Gordon.
Her recordings can be heard on Cantaloupe, New World, Innova, Splinter, Evil Rabbit, Oberlin Music, and the RIOJA record labels. Her debut solo album, Carve, was released in January 2017 and features new works for bassoon and electronics by Sam Pluta, Paula Matthusen, Peter V. Swendsen and Kyle Bruckmann. Dana holds a M.M. in bassoon performance from the New England Conservatory of Music and a M.M. in improvisation from the Artez Hogeschool voor de Kunsten. She lived in Amsterdam for three years as the recipient of a J. William Fulbright Fellowship and a HSP Huygens Fellowship where she researched contemporary and improvised music. Dana is currently the Director of Professional Development at the Oberlin Conservatory of Music and has taught during the summers at The Walden School Young Musicians Program where she can also be seen performing with The Walden School Players.
Critiqued as "a cellist of power and grace" (The Guardian) and possessing "mature artistry and willingness to go to the brink," Seth Parker Woods has established a reputation as a versatile artist straddling several genres. Outside of solo performances, he has performed with the Chineke! Orchestra (UK), Ictus Ensemble (Brussels, BE), Ensemble L'Arsenal (IT), zone Experimental (CH), Basel Sinfonietta (CH), New York City Ballet, Ensemble LPR and Orchestra of St. Luke's (US). A fierce advocate for contemporary arts, he has collaborated and worked with a wide range of artists ranging from the likes of Louis Andriessen, Heinz Holliger, Helmut Lachenmann, and Liza Lim to Peter Gabriel, Sting, Lou Reed, Dame Shirley Bassey, and Rachael Yamagata.
Additionally, he has worked with visual/performance artists Ron Athey, Vanessa Beecroft, Aldo Tambellini, Jack Early and Adam Pendleton. Holding a Ph.D. from the University of Huddersfield, his principal teachers were Thomas Demenga, Lucas Fels, Frederik Zlotkin, and Daniel Morganstern.
In recent years, he has given talks, workshops, and performances at Royal Albert Hall (BBC Proms), Musée d'Art Moderne et Contemporain (FR), Le Poisson Rouge and the Bohemian National Hall (USA), Cafe OTO (London, UK), Huddersfield Contemporary Music Festival (UK), Klang Festival (Durham, UK), INTER/actions Symposium (Wales), ICMC-SMS Conference (Athens, GR), NIME Conference (London), Sound and Body Festival (Lille, Brussels), Instalakcje Festival (PL), Virginia Tech, La Salle College (Singapore), and FINDARS (Malaysia) amongst others.
Recent awards and acknowledgements include a cover feature in Strings Magazine, Artist of the Month for Musical America, an Earle Brown/ Morton Feldman Foundation Grant (USA), McGill University- CIRMMT/IDMIL Visiting Researcher Residency (CA), Centre Intermondes Artist Residency (FR), Francis Chagrin Award (UK), Concours [Re]connaissance-Premiere Prix (FR), and the Paul Sacher Stiftung Research Scholarship (CH).
Canadian violist Tawnya Popoff enjoys an exciting and versatile international career. In addition to being principal violist with the Vancouver Opera (BC), she is a member of the River Oaks Chamber Orchestra (TX), The Walden School Players (NH), and a founding member of Microcosmos string quartet/Kessler Academy (BC).  Ms. Popoff is in demand as a chamber music collaborator and has given solo and chamber music recitals throughout North America and Europe.  She was a prizewinner in the 2000 Lionel Tertis International Viola Competition and a recipient of two consecutive Canada Council Individual Grants.   Valuing education immensely, she has served on the faculties of the Perlman Music Program, University of Pennsylvania, Syracuse University, SUNY Buffalo, Brandeis and Dobbs Ferry High Schools, the Bowdoin International Music Festival, The Walden School, and Artes no Camiño (Spain), as well as in her private studio.
Ms. Popoff has a keen interest in interdisciplinary projects and has worked and toured internationally with Cedar Lake Contemporary Ballet and Cherylyn Lavagnino Dance in New York City, Marta Marta in Vancouver, BC and the trans-media New York group Vision Into Art. She is passionately devoted to developing and performing music by living composers especially those under 18 at The Walden School. She has recorded for the Koch, Albany, Nonesuch, CRI, SHSK'H (web label), Columbia Composers, and other independent labels and has been heard on air on WNYC, CBC, WGBH (Boston), and KUHF (Houston). She studied with Gerald Stanick (Fine Arts Quartet) in Vancouver, BC and Martha Katz (Cleveland Quartet) at Rice University in Houston, TX, and was based out of NYC before relocating to Vancouver in 2014.
Aside from musical pursuits, Ms. Popoff has a cycling tour company offering guided, private and personalized cycling adventures, designs games and toys for her little friends, volunteers regularly, and passionately enjoys the great outdoors in all seasons!
Katie Schoepflin, clarinetist, vocalist, pianist and composer lives in Chicago and works as a freelance musician. This will be her third year at Walden and she is thrilled to have the opportunity to collaborate and share ideas with Walden participants. Katie acknowledges how potentially impactful and memorable a festival can be, and she hopes to help create something special for this year's participants.
As a member of Ensemble Dal Niente, Katie has had the privilege of working with and performing the works of Hans Abrahamsen, Louis Andriessen, Raphael Cendo, Brian Ferneyhough, Lee Hyla, George Lewis, Enno Poppe, and Augusta Reed Thomas. Katie has recently had the extraordinary privilege of performing Enno Poppe's clarinet concerto, Holz. Katie is honored to have been made a rostered member of The Grossman Ensemble at The University of Chicago, which will commence this fall, 2018.
Katie earned her Bachelor of Music degree from Indiana University where she won the IU clarinet concerto competition and was awarded a Performer's Certificate. She was a participant at the 2006 Henry Mancini Institute in Los Angeles. In 2008, Katie spent a year abroad in Japan where she was principal clarinetist of the Kakogawa Philharmonic Orchestra in Hyogo prefecture. Katie is also the recipient of an Essentially Ellington jazz soloist award for the clarinet. She earned her Master of Music degree in 2011 from McGill University where she was awarded a full Schulich School of Music scholarship. While studying at McGill, Katie was a participant in the 2011 National Youth Orchestra of Canada, touring and performing extensively throughout Canada. Her primary instructors have been John Bruce Yeh, Alain Desgagne, James Campbell, Frank Kowalsky and Mary Kantor. When she is not making music, Katie is designing and creating jewelry for her etsy.com shop.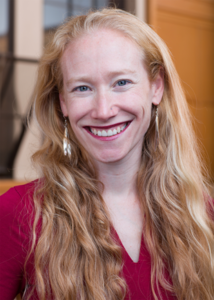 Bonnie Whiting is Chair of Percussion Studies at the University of Washington in Seattle. She performs and commissions new experimental music for percussion, seeking out projects that involve non-traditional notation, interdisciplinary performance, and the speaking percussionist. Recent work includes a series of performances at the John Cage Centennial Festival in Washington DC, solo appearances with the National Orchestra of Turkmenistan, performances on the original Harry Partch instrumets, and as a soloist in Tan Dun's "Water Passion" under the baton of the composer himself. Her debut album, featuring an original solo-simultaneous realization of John Cage's "45′ for a speaker" and "27'10.554″ for a percussionist", was released on the Mode Records label in April 2017.  In March of 2018, Zero Moon Records released <null_abc>, an album of original collaborative music by Whiting, Afroditi Psarra (handmade embroidered synthesizers) and Cameron Fraser (percussion, electric guitar, and live processing.) Whiting has performed with many of today's leading new music groups, including the International Contemporary Ensemble, Ensemble Dal Niente, red fish blue fish percussion group, and as an improviser with the University of Washington's new Intercontinental Experimental Ensemble. Bonnie started her percussion career on pots and pans on her mother's kitchen floor; this is something she is sharing with her young son Beckett. She is delighted to return for a third year as part of The Walden School Players.
Eric Wubbels (b.1980) is a composer, pianist, and co-director of the Wet Ink Ensemble. His music has been performed throughout Europe, Asia, Australia, and the U.S. by groups such as Wet Ink Ensemble, Chicago Symphony Orchestra, Mivos Quartet, Kupka's Piano, Berlin PianoPercussion, Yarn|Wire, New York New Music, Ensemble Linea, Talea Ensemble, OSSIA, and Left Coast Chamber Ensemble, and featured on festivals including Montreal New Music (2017), Chicago Symphony MusicNOW (2016), Metz Festival (2014), Sinus Ton Magdeburg (2014), Zurich Tage für Neue Musik (2013), and MATA (2012).
The recipient of a 2016 Charles Ives Fellowship from the American Academy of Arts and Letters, Wubbels has received commissioning grants from Chamber Music America's Classical Commissioning Program, ISSUE Project Room, the Barlow Endowment, the Jerome Foundation, New Music USA, and Yvar Mikhashoff Trust, and has been awarded residencies at the MacDowell Colony, Djerassi Resident Artists Program, and Civitella Ranieri Center (Italy).
As a pianist and conductor, he has given U.S. and world premieres of works by major figures such as Peter Ablinger, Richard Barrett, Beat Furrer, George Lewis, and Mathias Spahlinger, as well as vital young artists such as Rick Burkhardt, Francesco Filidiei, Erin Gee, Bryn Harrison, Alex Mincek, Sam Pluta, Katharina Rosenberger, and Kate Soper.
He has recorded for Carrier Records, hatART, Spektral (Vienna), New Focus, Albany Records, and Quiet Design, and has held teaching positions at Amherst College and Oberlin Conservatory. This is Eric's third year as a member of The Walden School Players, and he has been in residence at Walden several times before as a member of Wet Ink Ensemble.
---
Other WSP Members
Peter Evans is an American trumpet player based in New York, who specializes in improvisation and avant-garde music. Mr. Evans has been a member of the New York City musical community since 2003, when he moved to the city after graduating from The Oberlin Conservatory of Music. He currently works in a wide variety of areas, including solo performance, chamber orchestras, performance art, free improvised settings, electro-acoustic music, and composition. In addition, he performs regularly as part of the Festival of New Trumpet Music, which is held annually in New York City.
Mr. Evans has toured throughout the United States, Canada, Italy, and England. His solo trumpet album, More Is More, was released on Evan Parker's psi label in 2006, and his debut album as a leader, titled simply The Peter Evans Quartet, was released by Firehouse 12 in 2007. He performs often with his quartet (with Brandon Seabrook, Tom Blancarte, and Kevin Shea), Moppa Elliot's quartet Mostly Other People Do the Killing, the hyperactive free-improvisation duo Sparks (with Tom Blancarte), the Histrionics, the free-jazz quintet Carnival Skin (with Klaus Kugel, Perry Robinson, Hilliard Greene and Bruce Eisenbeil), the Language Of with Charles Evans, the Christmas Duo with trombonist Sam Kulik, and maintains an active interest in solo performance. He has also performed with groups such as the International Contemporary Ensemble, Alarm Will Sound, Continuum, and Ensemble 21. He has continued to perform on piccolo trumpet in Baroque settings, performing Brandenburg Concerto No. 2 at the Bargemusic series, and in Bach's Mass in B Minor at St. Peter's Church. Other recent collaborators include: Mary Halvorson, Tim Dahl, Dave Taylor, Mark Gould, Perry Robinson, Fred Frith, Brian Chase (drummer for the Yeah Yeah Yeahs), Nate Wooley, Zach Hill (drummer for Hella), Stefan Tcherepnin, Chris McCintyre, Dave Reminick, Ned Rothenberg, Okkyung Lee, Briggan Krauss, Chris Speed, Weasel Walter, and Andrew Drury. This is Mr. Evans' 5th summer as a member of The Walden School Players.
Ryan Muncy is a saxophonist who performs, commissions, and presents new music. He has been praised for his "superb" performances by the New York Times, and his ability to "show off the instrument's malleability and freakish extended range as well as its delicacy and refinement" by The Chicago Reader. His work emphasizes collaborative relationships with composers and artists of his generation, and aims to reimagine the way listeners experience the saxophone through new music. He is a recipient of the Kranichstein Music Prize (Darmstadt Summer Courses), the Edes Foundation Prize for Emerging Artists, and a Fulbright Fellowship (France), and has participated in the creation of more than 125 new works for the instrument. His debut solo album Hot was released by New Focus Recordings in 2013, and was described as "absorbing" (Alex Ross) and "one of the year's best albums" (Time Out New York).
Muncy is the saxophonist of the International Contemporary Ensemble (ICE) and also serves as Grants Manager and Co-Director of the ensemble's OpenICE program. He holds the Doctor of Music degree from Northwestern University. This is his fourth consecutive summer in-residence at The Walden School. ryanmuncy.com
Pianist Cory Smythe works actively in new, classical, and improvised music. He has performed widely, making appearances as soloist and chamber musician at the Darmstadt International Festival for New Music, the Bang on a Can Marathon in New York City, the Green Mill jazz club in Chicago, and the Mostly Mozart festival at Lincoln Center. In recent seasons, Mr. Smythe has played alongside violinist Hilary Hahn in concerts throughout the United States, Europe, and Asia. A Washington Post review of the duo's performance at the Kennedy Center praised him for "…the ferocity and finesse of his technique." Their 2015 Grammy Award-winning album, In 27 Pieces: the Hilary Hahn Encores, documents Hahn's diverse collection of newly commissioned encores for violin and piano.
As a core member of the new music group the International Contemporary Ensemble, Mr. Smythe has given numerous premieres, collaborated in the development of new pieces, and worked closely with composers John Zorn, Philippe Hurel, Dai Fujikura, George Lewis, and Alvin Lucier among many others. ICE's 2013 release on Mode Records features Mr. Smythe as the piano soloist in Iannis Xenakis's Palimpsest. He has also been a featured guest and soloist with many new music ensembles throughout the United States, including Milwaukee's Present Music, the Boston-based Firebird Ensemble, Chicago Symphony Orchestra's MusicNOW, and the San Francisco Contemporary Music Players. He performs regularly in collaboration with many of the leading concert artists of his generation, appearing this last season with the cellist Joshua Roman, violinist Karen Gomyo, the Imani Winds, and members of the Providence and Rubens string quartets.
An innovative improviser, Mr. Smythe performs as a soloist and in collaboration with a wide array of jazz and creative artists, among them, most recently, Peter Evans, Vijay Iyer, Steve Lehman, and Anthony Braxton. This season will see the release of recordings featuring Mr. Smythe in projects led by Tyshawn Sorey and Nate Wooley. His own album, Pluripotent — described by celebrated jazz pianist Jason Moran as "hands down one of the best solo recordings I've ever heard" — is available for free download at corysmythe.bandcamp.com. Mr. Smythe holds degrees in classical piano performance from the music schools at Indiana University and the University of Southern California, where he studied with Luba Edlina-Dubinsky and Dr. Stewart Gordon, respectively. This is Mr. Smythe's 1st summer as a member of The Walden School Players.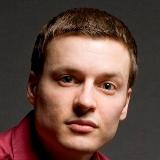 Pianist Aaron Wunsch appears regularly on concert stages throughout the U.S., Europe, and Asia. He has performed in Avery Fischer and Alice Tully Halls at Lincoln Center. Weill Hall at Carnegie Hall, Ozawa Hall at Tanglewood, Royal Albert Hall in London, and at the Verbier Festival in Switzerland. A ten-city solo recital tour of China garnered critical acclaim and enthusiastic audience responses. A vigorous proponent of contemporary music, he has worked closely with many renowned composers, including Charles Wuorinen, Steven Stucky, Chen Yi, Fred Lerdahl, and Kaija Saariaho, and has performed new works by Saariaho and John Adams during Tanglewood's Festival of Contemporary Music. He performed Charles Ives's Concord Sonata during the Lincoln Center Focus! Festival and was subsequently invited to perform it at the Salle Cortot in Paris, France.
Mr. Wunsch began his studies at the Wisconsin Conservatory of Music, which awarded him the school's First Prize for five consecutive years. Afterwards he studied with many revered pianists, including Peter Frankl, Andras Schiff, Claude Frank, Emmanuel Ax, Steven Kovacevich, Seymour Lipkin, Jerome Lowenthal, and Joseph Kalichstein. Mr. Wunsch received his Bachelor's degree from Yale University. He then received a Fulbright Grant for further studies at the Mozarteum in Salzburg, Austria, where he studied piano under renowned pedagogue Karlheinz Kämmerling. Afterward he completed his Master's and Doctoral degrees at The Juilliard School under pianist Robert McDonald. Upon graduation, Juilliard presented him with the Richard F. French Prize, the school's higher honor for doctoral students.
Mr. Wunsch is a faculty member at both the Juilliard School (Keyboard Studies, Music History, Graduate Studies) and at William Paterson University (Piano). His recent summers have included positions at the Kinhaven Music School in Vermont and as guest artist and faculty member at the Jakarta International Summer Music Festival in Jakarta, Indonesia. He regularly gives including a Visiting Professorship at Shanghai Normal University. He frequently lectures about American music, including at the Schola Cantorum in Paris, and is Artistic Director of the Music Mondays concert series in New York City.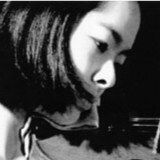 Jane Chung, violin, has performed as soloist, recitalist and chamber musician across the United States and Europe, including the festivals of Prussia Cove, Aspen, Taos, Britten-Pears, Utah and Spoleto. She has collaborated as a chamber musician with Joel Krosnick, Rostislav Dubinsky, Luba Edlina, and Steven Isserlis, and the dance company TERRAIN. An enthusiastic performer of contemporary music, Ms. Chung has been a regular guest artist of the Naumburg Award-winning Da Capo Chamber Players since January 2003, including recent tours to Moscow, St. Petersburg and Minsk. She has also appeared with the Elements Quartet, Non Sequitur, Azure Ensemble, odeonquartet, and worked with Mario Davidovsky and Eric Chasalow.
Ms. Chung trained primarily at Yale University, where she received a Master of Music degree and a B.A. in architecture, and was winner of both the graduate and undergraduate concerto competitions. She then studied in Vienna as a Fulbright grant recipient. Her main teachers include Peter Oundjian and Donald Weilerstein. Ms. Chung has served on the faculty of Mark O'Connor Fiddle Camp and the Great Neck Music Center, and taught violin and chamber music at Yale. She is also a recent hire of the American Ballet Theatre Orchestra and has performed with the New York Philharmonic, Orpheus Chamber Orchestra, Seattle Symphony, and Metamorphosen Chamber Orchestra.
Brooklyn-based cellist Jane Cords-O'Hara enjoys a busy and varied career in New York and abroad. She is a member of The Knights, SONYC, Syrius Trio, Tarab Cello Ensemble, North Sky Cello Ensemble, and the Caravel Trio. Recent performances in New York have been at Weill Hall, Le Poisson Rouge, New York Historical Society, Lyric Chamber Music Society, Merkin Hall, Symphony Space, Brooklyn Lyceum, The Stone, Riverside Church, Columbia University's Miller Theater, and at Bargemusic in Brooklyn, as well as performances at the Ravinia, Caramoor, Stillwater, and Canary Islands Music Festivals. In recent seasons, she has recorded several albums on the Sony Classical label with the Knights, and with the Syrius Trio on the Toccata Classics label. With the North Sky Cello Ensemble, she recently completed a tour of San Francisco and was featured on the album Monk Mix: Remixes & Interpretations of Music by Meredith Monk. She has also played with many other U.S. groups, including Yo Yo Ma's Silk Road Ensemble at Zankel Hall, Argento, and Da Capo Chamber Players. Originally from Ireland, Ms. Cords-O'Hara studied at the Royal Northern College of Music in the U.K. before moving to New York to continue studies with Tim Eddy at Mannes College of Music.
Queens-based percussionist Russell Greenberg is interested in new music that spans a wide variety of styles. A co-founder of the new music piano and percussion quartet, Yarn/Wire, Russell has also worked with a number of other groups including the International Contemporary Ensemble, Wet Ink, Argento Chamber Ensemble, San Francisco Contemporary Music Players, sfSound, and the experimental theater troupe, Two-Headed Calf, among many others. In addition, he composes and performs with the innovative pop band Hi Red Center, and plays an assortment of instruments in Charlie Looker's Seaven Teares.
Russell received his B.A. in music from the University of California at Berkeley in 2002, where he studied percussion with William Winant, and with Eduardo Leandro at Stony Brook University, where he earned his M.M. in 2004 and a D.M.A. in 2009. Greenberg has also penned music for the Off-Off Broadway theater production of Clubbed Thumb's Gentleman Caller, among others. Greenberg is a faculty member at Suffolk Community College, where he teaches percussion and music.
Boston-based flutist Jessi Rosinski is highly sought after for her versatile skills as a performer and teacher. Recent projects include a tour with the United States Coast Guard Band, a premiere and recording of music by Tristain Murail, and a solo recital series focused on bringing contem-porary music to new audiences.
Specializing in avant garde music, Jessi works with composers regularly to bring new compositions to life and has recently been honored to collaborate with Helmut Lachen-mann, Christian Wolff, and Alvin Lucier. She performs regularly with Callithumpian Consort, Ludovico Ensemble, Harvard Group for New Music, Boston Modern Orchestra Project, and Sound Icon and has also appeared with contemporary
music groups such as Collage New Music, Boston Musica Viva, and Firebird Ensemble.
As an educator, Jessi serves on the faculty at University of Massachusetts, Boston University/Tanglewood Institute, Winchester Community Music School, Milton Academy and maintains an active private studio. She has recently been an artist in residence at The Walden School, Harvard University, Boston College, and Vermont College of Fine Arts.
Jessi earned a Bachelor of Music degree from The Hartt School as a fellow of the Performance 20/20 Program and a Master of Music degree from New England Conservatory where she was awarded the 2006 John Cage Award for Outstanding Contribution to Contemporary Music Performance. Interested in exploring new ways to use her creative voice as a leader and arts advocate, Jessi is excited to continue her education and join the Babson College M.B.A. Class of 2015 as a Forte Fellow.
Christa Van Alstine, clarinetist, (born and bred in Saskatchewan, Canada) lives in New York City where she performs with a diverse list of contemporary ensembles and is on faculty at the United Nations International School.
Dedicated to expanding new music repertoire, she commissions works for clarinet and performs with Red Light New Music, a contemporary music composers collective and Praxis, an experimental ensemble dedicated to discovering new sounds and modes of performance by combining music, movement and text. Additionally, Christa has performed with contemporary ensembles Talea, Wet Ink, Novus NY (Trinity Wall St.), Mantra Percussion, Iktus, Hotel Elefant, Argento, Ascolta (Germany), Toca Loca (Toronto), skogensemble (Sweden); has worked with producers Beth Morrison and Com-panion Star; and has performed and premiered works at festivals including Darmstadt (Germany), Impuls (Austria), soundXis (Canada), avantX (Canada), Moving Sounds (New York City) and the 12 Nights (Miami).
Christa received an Artist's Diploma from the Glenn Gould School at the Royal Conservatory of Music in Toronto and her Master's degree from Stony Brook University in New York.
Matthew Gold is a New York-based percussionist with a deep commitment to new music. A member of the Talujon percussion group and Talea Ensemble, and a former co-director of TimeTable Percussion, he performs regularly with Sequitur, the Argento Chamber Ensemble, Da Capo Chamber Players, SEM Ensemble, and many others. Mr. Gold is an Artist Associate in percussion at Williams College where he directs the Williams Percussion Ensemble and co-directs I/O New Music. Recent solo appearances include concerto performances with Sequitur, the Charlottesville Chamber Music Festival, and the Williams Symphonic Wind Ensemble. He performs frequently with the Mark Morris Dance Group and the New York City Ballet, and serves as an artist-faculty member for the Institute and Festival for Contemporary Performance at Mannes College.
Boston-based clarinetist Rane Moore enjoys an active performing schedule at home and abroad. An enthusiastic interpreter of contemporary repertoire, she is a member of the Callithumpian Consort and the Talea Ensemble. Ms. Moore has given numerous premieres of new works and appeared with Boston Musica Viva, Firebird Ensemble, Ludovico Ensemble, Boston Modern Orchestra Project, International Contemporary Ensemble (ICE), Bang on a Can All-Stars, Guerilla Opera, Hyperion Ensemble, and Milwaukee's Present Music. Festival Appearances include the Rockport Chamber Music Festival, Open Sound Festival in Colorado, Festival Internacional de Arte Contemporáneo in Leon, Mexico, La Ciudad de las Ideas in Puebla, Mexico, Festival Internacional de Música Clásica Contemporánea de Lima, Spectrum XXI in London, Nevada Encounters of New Music (NEON), Bang on a Can Marathon, Ditson Contemporary Music Festival in Boston, and the Lucerne Festival. Ms. Moore has also been featured as a guest artist at the Royal College of Music and Drama at Wales. She has recorded for Gravina Música, Mode, New World, Parma, Bridge and Tzadik records and holds degrees from Indiana University and the University of California at Berkeley. A devoted teacher, Ms. Moore maintains a full studio of clarinet and saxophone students, coaches chamber music at Harvard's Mather House, and has given master classes
American pianist Steven Beck continues to garner impressive acclaim for his performances and recordings worldwide. Praised by the New Yorker as "one of the city's finest young pianists", a recent New York concert by Mr. Beck was described as "exemplary" and "deeply satisfying" by Anthony Tommasini in the New York Times.
Highlights of the 2010-11 season include the world premiere of Charles Wuorinen's "Metagong" for two pianos and percussion and US premieres of works by Boulez and Hans Abrahamsen. In addition, he is making two appearances on the New York Philharmonic Ensembles series, and beginning a Schubert sonata cycle at Bargemusic, where he presents more than twenty concerts a year as an Artist Presenter. His annual performances of Bach's "Goldberg Variations" on Christmas Eve and "Brandenburg Concertos" on New Year's Eve at the Barge have become something of a New York institution.
An eminent recording artist, Mr. Beck's discography includes world premiere recordings of newly discovered works by Beethoven on Monument Records and a recording of Elliott Carter's "Double Concerto" on Albany Records (this was described as "impressive" by Gramophone). His recording "Places of the Spirit" with flutist Paula Robison won the Classical Recording Foundation's Samuel Sanders Award for 2008, and the debut CD of his chamber ensemble "Pleasure is the Law" was released on Boston Records in 2009.
Mr. Beck made his debut with the National Symphony Orchestra, and has toured Japan as soloist with the New York Symphonic Ensemble. Other orchestras with which he has appeared include the New Juilliard Ensemble (under David Robertson) and the Virginia Symphony. He has performed as soloist and chamber musician at Alice Tully Hall, the Kennedy Center, the Library of Congress, Weill Recital Hall, Merkin Hall, and Miller Theater, as well as on WNYC; summer appearances have been at the Aspen Music Festival and Lincoln Center Out of Doors. He has performed as a musician with the New York City Ballet and the Mark Morris Dance Group, and appeared as an orchestral musician with the New York Philharmonic and the Riverside Symphony, as well as performing with the Pacifica and Manhattan string quartets.
A committed advocate of the music of our time, Mr. Beck has worked with Elliott Carter, Pierre Boulez, Henri Dutilleux, Charles Wuorinen, George Crumb, George Perle, and Poul Ruders, and performed with ensembles such as Speculum Musicae, the Metropolis Ensemble, the New York New Music Ensemble, and the Da Capo Chamber Players. He is a member of the Talea Ensemble and counter)induction and a member of the 2011 Walden School Players.
Cellist Robert Burkhart combines a deep commitment to the existing cello repertoire with what the New Yorker magazine calls an "adventurous" spirit in new music. With performance credits at Alice Tully Hall, Bargemusic, Carnegie Weill Recital Hall, Merkin Hall, and The Rose Studio at Chamber Music Society of Lincoln Center, Robert has also appeared as a soloist throughout Japan as a member of the New York Symphonic Ensemble, and been featured in recital on WQXR's "Young Artist Showcase." At the center of new music in New York, Robert works frequently with living composers as a member of the American Modern Ensemble, Ensemble Pi, and as guest artist with Argento Chamber Ensemble, counter)induction, and SONYC. Recent collaborations include Georg Friedrich Haas, Aaron Jay Kernis, Steve Mackey, Joan Tower, Chen Yi, and Charles Wourinen. In 2007 he performed the New York premiere of John Harbison's Abu Ghraib for cello and piano, and was the soloist in Augusta Read Thomas's Passion Prayers for cello and chamber ensemble at the New York Times Center. He has taught at Syracuse University, Music Conservatory of Westchester, and been artist-in-residence at Yale University and the Banff Centre for the Arts in Canada. His new CD "20/21: Music for Cello and Piano from the 20th and 21st Centuries," features pianist Blair McMillen and the premiere of a work for cello and piano by composer Andrew Waggoner. Robert's recording of solo Bach on the American Express commercial "Don't Take Chances. Take Charge." has garnered national attention.
Clarinetist Meighan Stoops has distinguished herself as a solo, chamber and orchestral musician. In a recent performance of Mario Davidovsky's Synchronisms No. 12, Ms. Stoops was praised in The New York Times for her "vibrant, richly shaded performance." Another review noted that "Meighan Stoops…had a star turn in [Joan] Tower's Wings."
In addition to playing with The Walden School Players, Ms. Stoops is a member of Da Capo Chamber Players and American Modern Ensemble. She regularly performs with other ensembles, such as Manhattan Sinfonietta, Newband, Music from Japan, Sequitur, John Eaton's Pocket Opera Players, Music from Copland House, Sylvan Winds and the Quintet of the Americas. With the Quintet, she had the great honor of performing at the September 11th Commemorative Ceremony at Ground Zero. Orchestras with which Ms. Stoops can be heard regularly are the Brooklyn Philharmonic, the American Composers Orchestra, and the Princeton, Westfield and Colonial symphonies.
Ms. Stoops has recorded for Bridge, CRI, Naxos, Albany and Chesky Records (Area 31, Grammy nominated). She can be heard on the soundtrack of Muhammed: Legacy of a Prophet, a PBS documentary with music by Martin Bresnick; Solidarity, a short film directed by Nancy Kiang with music by Richard Carrick; and, most recently, I Sell the Dead, a feature length zombie flick directed by Glen McQuaid with music by Jeff Grace. Ms. Stoops holds degrees from Northwestern and Yale Universities, and is currently pursuing her doctorate at SUNY Stony Brook. Ms. Stoops teaches clarinet privately and at the Rudolf Steiner School in New York City.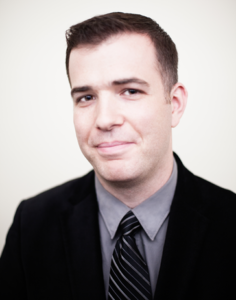 Chris Wild's musical career is split across work as a cellist, conductor, and music educator based in Chicago, where he is the Lead Artistic Coordinator and Cellist for Ensemble Dal Niente and is completing a DMA in orchestral conducting at Northwestern University. His interest in conducting grew out of a love for teaching that has included work with orchestras, chamber ensembles, and private cello students of all ages. Upon moving to Illinois, Chris spent seven years trying to balance work leading a public school orchestra program alongside his performances with Dal Niente. As a cellist performing contemporary repertoire, recent projects include his album Abhanden and a performance of Beat Furrer's Solo, deemed "insatiable" by The New York Times. As a conductor, he has led rehearsals and concerts with the Rochester Philharmonic Orchestra (New York), Camerata Antonio Soler (Madrid), and various orchestras in Illinois. Chris is arriving in Dublin directly from Oregon, where he spent the past few weeks studying and performing choral and orchestral works by Bach and Brahms at the Oregon Bach Festival.
While in utero, Chris' mom signed him up for Suzuki cello lessons, which he began at the age of five in Vancouver, Canada. Fast forward many years, scales, and arpeggios, and Chris received his bachelor's and master's degrees in cello performance and music education from the University of Michigan, where he also met his wife, noted composer Eliza Brown. He is very grateful to have been introduced to The Walden School community and looks forward to joining The Walden School Players each summer.