Concerts and residencies bring artists of the
highest caliber to The Walden School
Through the performance of diverse music, guest artists play an active role in helping stimulate students' creativity. Guest performers have included members of International Contemporary Ensemble, Ensemble Dal Niente, Quince Ensemble, Warp Trio, Horszowski Trio, Hub New Music, Wet Ink Ensemble, PRISM Quartet, Del Sol Quartet, Aurora Nealand and the Royal Roses, Dave Eggar, Peter Evans, Amadi Azikiwe, Aakash Mittal, Julia Bruskin and Aaron Wunsch, Eric Huebner, Tamsin Waley-Cohen, and Splinter Reeds.
Visiting artists are musicians and musical creators who come to Walden to perform concerts, give students feedback on their work, teach workshops, premiere student works, and participate in community events. They hail from some of the most renowned performing ensembles in the world. You can find a more complete list of Walden's recent visiting artists here). 
Each year during festival week, we invite a distinguished composer-in-residence to work with 5-week students. Walden also has its own in-house ensemble for festival week called The Walden School Players, a chamber ensemble of professional musicians who rehearse and perform students' compositions on the Festival Week Composers Forums. 
---
Visiting Artists at Walden's 2023 Young Musicians Program

Stay tuned for more visiting artist announcements for this year's program.
Nicole Mitchell, YMP 2023 Composer-in-Residence
Nicole Mitchell is an award-winning creative flutist, composer, bandleader and educator. She is perhaps best known for her work as a flutist, having developed a unique improvisational language and having been repeatedly awarded "Top Flutist of the Year" by Downbeat Magazine Critics Poll and the Jazz Journalists Association (2010-2022). Mitchell initially emerged from Chicago's innovative music scene in the late 90s. She started with Maia and Shanta Nurullah in Samana (the AACM's first all-woman ensemble) and as a member of the David Boykin EXPANSE. Her music celebrates contemporary African American culture. She is the founder of Black Earth Ensemble, Black Earth Strings, Sonic Projections and Ice Crystal, and she composes for contemporary ensembles of varied instrumentation and size, while incorporating improvisation and a wide aesthetic expression. The former first woman president of Chicago's Association for the Advancement of Creative Musicians, Mitchell celebrates endless possibility by "creating visionary worlds through music that bridge the familiar with the unknown."
TAK Ensemble, YMP 2023 Faculty Commissioning Ensemble
Regarded as "one of the most prominent ensembles in the United States practicing truly experimental music" (I Care If You Listen), TAK Ensemble delivers energetic performances "that combine crystalline clarity with the disorienting turbulence of a sonic vortex" (The WIRE), and "impresses with the organicity of their sound, their dynamism and virtuosity" (New Sounds, WQXR).  
Founded on the principles of curiosity, change, and caring communication, TAK is dedicated to the commissioning of new works and direct collaboration with composers and other artists and they have premiered hundreds of works to date. TAK is Laura Cocks, flute; Madison Greenstone, clarinet; Charlotte Mundy, voice; Marina Kifferstein, violin; Ellery Trafford, percussion.
---
International Contemporary Ensemble
Described as "America's foremost new-music group" (The New Yorker), International Contemporary Ensemble has become a leading force in new music throughout the last 20 years, having premiered over 1,000 works and having been a vehicle for the workshop and performance of thousands of works by student composers across the U.S. The Ensemble's composer-collaborators—many who were unknown at the time of their first Ensemble collaboration—have fundamentally shaped its creative ethos and have continued to highly visible and influential careers, including MacArthur Fellow Tyshawn Sorey; long-time Ensemble collaborator, founding member, and 2017 Pulitzer Prize-winner Du Yun; and the Ensemble's founder, 2012 MacArthur Fellow, and first-ever flutist to win Lincoln Center's Avery Fisher Prize, Claire Chase.

Members of International Contemporary Ensemble at YMP 2023:
Katinka Kleijn, Cello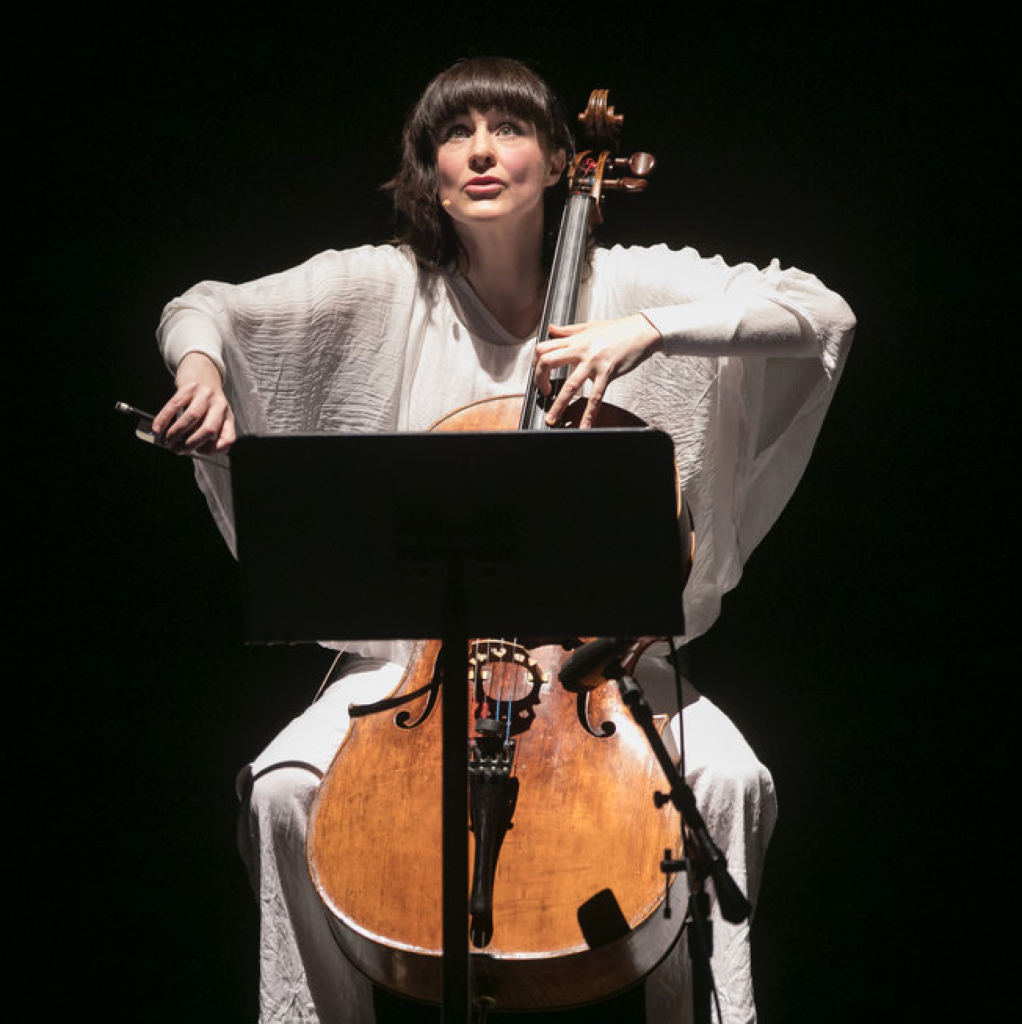 Hailed by The New York Times as "a player of formidable expressive gifts," Dutch-born cellist Katinka Kleijn enjoys a genre-defying, interdisciplinary career. Classically trained, she has since cultivated an exploratory, interactive creative practice at the fertile intersection of improvisation, composition, and collaboration. Much of Kleijn's work illuminates the cello's anthropomorphic qualities, often by placing the instrument in thought-provoking new contexts. An active musician in classical and contemporary classical spheres, Kleijn is a member of the Chicago Symphony Orchestra and International Contemporary Ensemble. She has performed as a soloist with the Chicago Symphony Orchestra, the Hague Philharmonic, and the Chicago Sinfonietta, and presented her solo multimedia presentations at the Library of Congress, North Carolina Performing Arts, and the Chicago Humanities Festival.
Fay Victor, voice

Fay Victor is a sound artist and bandleader who uses performance, improvisation and composition to examine representations of modern life and blackness. Based in Brooklyn, New York, Fay's "everything is everything" creative aesthetic permeates her working approach to the vocal instrument. Through eleven critically acclaimed albums as a leader, including her latest release,"WE'VE HAD ENOUGH!" with her improvising quartet SoundNoiseFUNK (ESP-Disk) in October 2020 and performances with luminaries such as Gary Bartz, Archie Schepp, Nicole Mitchell, Randy Weston, Roswell Rudd and Moor Mother, Victor has shown the through line of her unique vocal force and expansion. An innovative educator, Victor is on the faculty of the New School and Long Island University.
Josh Modney, violin
Josh Modney is a violinist and creative musician working at the nexus of composition, improvisation, and interpretation. A "new-music luminary" (The New York Times) hailed as "one of today's most intrepid experimentalists" (Bandcamp Daily), Modney is a foremost interpreter of adventurous contemporary music, and has cultivated a holistic artistic practice as a composer, solo improviser, bandleader, writer, arts administrator, and collaborator. Modney is the violinist and Executive Director of the Wet Ink Ensemble, and a member of the International Contemporary Ensemble. Modney has composed music for violin solo, chamber ensemble, and film ("Dreamland", Paramount Pictures), and has a forthcoming album of quartet music written for acclaimed creative musicians Ingrid Laubrock (saxophones), Mariel Roberts (cello), and Cory Smythe (piano), to be released on Carrier Records in August 2022. Modney's triple-disc debut solo release, Engage (New Focus Recordings, 2018), featuring works written for Modney by Kate Soper, Eric Wubbels, and Sam Pluta alongside music by Anthony Braxton, J.S. Bach, and Modney's own solo violin music, was lauded by The New York Times as "one of the most intriguing programs of the year". Modney's writing on Just Intonation and collaborative musical practices has been published on Sound American and New Music Box, and he is the co-founder and editor of Wet Ink Archive, an online journal of adventurous music.

Isabel Lepanto Gleicher, flute
Flutist and music creator Isabel Lepanto Gleicher is a soloist, chamber musician and educator. Enjoying an international career, Isabel performs throughout Europe, China, Japan, Canada and the United States. The New York Times has called her "excellent" and John Zorn writes "Isabel's display of virtuosity and her beautiful attitude and stunning musicality inspired me." Isabel is an artist member of the International Contemporary Ensemble (ICEensemble), new music sinfonietta Ensemble Echappe, the Annapolis Chamber Music Festival, and hip-hop band ShoutHouse. She is a founding member of woodwind quintet SoundMind. Her project Song Sessions, alongside clarinetist Eric Umble, and composer Barry Sharp received a 2019 New Music USA grant. Isabel performs with ensembles such as wild Up, Talea Ensemble, the Argento New Music Project, Contemporaneous, Imani Winds and Friends of MATA Ensemble.

---
"I've been absolutely blown away by all of your works, your individual voices that I've heard. To me you're like a firmament of stars, which has no limit to its potential—each one unique and brilliant. I feel the world really needs you and your passion for new music, and it gives me hope that you're going to be going out there sharing that passion."
–
Kati Agócs, Composer-in-Residence, Young Musicians Program 2019

More Visiting Artists