The Walden School is hosting an online alumni Composers Forum, featuring members of the International Contemporary Ensemble performing works composed by Walden alumni. Each piece will be followed by discussion with the composer. This online event will be free and open to the public.
Alumni Composer Forum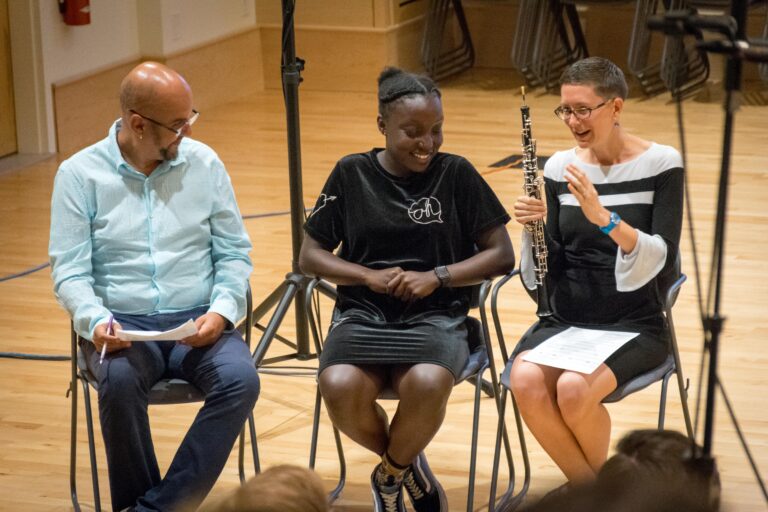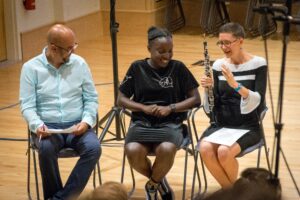 Featuring the International Contemporary Ensemble
Sunday, May 23, 2021
4-6pm Eastern time
Alumni of the Young Musicians Program (and OYME), Junior Conservatory Camp, Creative Musicians Retreat (and OCME), and/or Teacher Training Institute are eligible to submit works.
Featured members of the International Contemporary Ensemble:
Rebekah Heller – bassoon
Josh Modney – violin
Levy Lorenzo – percussion
Dan Lippel – guitar
Works featured on the Composers Forum can be for any combination of bassoon, violin, percussion, and guitar, up to the full quartet. Find the list of percussion instruments here.
To be featured on the Composers Forum, you must be available to join the online event on May 23. Online rehearsals may be scheduled, at the performers discretion, and we would hope that featured composers would make themselves available, as requested.
If you would like to submit a piece, please fill out this Google Form and upload a PDF of your score.
If you have any questions, feel free to write to us at alumni@waldenschool.org.
A selection committee of current Walden faculty and staff will review the submissions and determine whether a work or excerpt of work can be included on the program. Although we would like to accommodate all submissions, Walden's selection process will curate a program that balances a number of factors and considerations. We will give preference to newly-composed works.
To be considered, you must submit your score by April 26, 2021.
About the International Contemporary Ensemble
With a commitment to cultivating a more curious and engaged society through music, the International Contemporary Ensemble – as a commissioner and performer at the highest level – amplifies creators whose work propels and challenges how music is made and experienced. Works by emerging composers have grounded the ensemble's programming since 2001. Through composer residencies, commissions, and workshops, the ensemble actively pursues new relationships with composers and sound artists. The International Contemporary Ensemble frequently partners with The Walden School as a visiting artist and commissioner of student works.
About the Performers
Rebekah Heller is an artist whose work aims to expand the sonic possibilities of her instrument and the field at large. Called "an impressive solo bassoonist" by The New Yorker, she is dedicated to exploration, experimentation, and a robust collaborative practice. As bassoonist of the International Contemporary Ensemble since 2008, Rebekah has premiered hundreds of groundbreaking new works worldwide. She has two solo albums of music written for and with her, and in 2018, made her solo debut with the New York Philharmonic. Rebekah Heller is a curious and unceasing advocate for the bassoon as a solo instrument. Over the last decade, she has worked side-by-side with composers to forge an exciting new repertoire of works for solo bassoon and bassoon with electronics.
Josh Modney is a violinist and creative musician working at the nexus of composition, improvisation, and interpretation. A "new-music luminary" (The New York Times) hailed for "jaw-dropping technical skill…" and as "one of today's most intrepid experimentalists" (Bandcamp Daily), Modney is a foremost interpreter of adventurous contemporary music, and has cultivated a holistic artistic practice as a composer, solo improviser, bandleader, music director, writer, arts administrator, and collaborator. Modney is the violinist and Executive Director of the Wet Ink Ensemble, a member of the International Contemporary Ensemble, and the music director of Kate Soper's opera The Romance of the Rose, and he has worked closely with leading composers of his generation including Alex Mincek, Sam Pluta, Eric Wubbels, Tristan Perich, and Rick Burkhardt, and with major figures including Kaija Saariaho, Mathias Spahlinger, Helmut Lachenmann, George Lewis, and Pauline Oliveros.
Born in Bucharest, Filipino-American, Levy Marcel Ingles Lorenzo, Jr. works at the intersection of music, art, and technology. On an international scale, his body of work spans custom electronics design, sound engineering, instrument building, installation art, free improvisation, and classical percussion. With a primary focus on inventing new instruments, he prototypes, composes, and performs new electronic music. As an electronic art consultant, Levy designs interactive electronics ranging from small sculptures to large-scale public art installations with artists such as Alvin Lucier, Christine Sun Kim, Ligorano-Reese, and Leo Villareal. As a percussionist, he co-founded the experimental theater/electronics duo Radical 2 with Dennis Sullivan and is a member of the Peter Evans Septet. As a sound engineer, he specializes in the realization and performance of complete electro-acoustic concerts with non-traditional configurations. One of his main engagements is Claire Chase's Density 2036 project. A core member of the acclaimed International Contemporary Ensemble, he fulfills multiple roles as live sound engineer, electronicist, and percussionist.
Guitarist Dan Lippel, called an "exciting soloist" (New York Times) and "precise and sensitive" (Boston Globe) has carved out a unique and diverse career that ranges through solo and chamber music performances, innovative commissioning and recording projects, and performances in diverse contexts. He has premiered more than fifty new solo and chamber works, many written for him, recording several on the independent label he co-founded and directs, New Focus Recordings. Lippel has been a member of the new music ensemble counter)induction since 2019, FretX duo with Mak Grgic since 2015, the International Contemporary Ensemble since 2006, Con Vivo Music since 2004, and new music quartet Flexible Music from 2003, as well as a guest with many other ensembles