Our faculty, staff, and Artists-in-Residence are committed to developing the next generation's composers, performers and arts advocates.
Faculty and artists take an active role in Walden's community life by living alongside the students in dormitories. They eat meals together, participate in various school-wide recreational activities, and share the tasks that maintain the school and assure the safety of all it members. Our philosophy is that by participating together in all levels of community life, faculty, artists, and students can create an environment where close relationships develop and creativity flourishes.
Outside of the summer session, our leaders are distinguished in the fields of composition, theory, arranging, performance, pedagogy, arts administration, and arts advocacy. Our staff holds degrees from institutions such as the Eastman, Mills College, Yale University, Williams College, University of Washington, Luther College, New England Conservatory, College of Wooster, University of Michigan, Peabody Conservatory, Northwestern University, Columbia University, Oberlin College Conservatory, University of California, Swarthmore College, University of Southern California, SUNY-Buffalo, University of Cincinnati Conservatory, SUNY-Stony Brook, New England Conservatory, Harvard University, and Duke University.
---
Meet the 2020 Young Musicians Program Faculty & Staff
Alex Christie

Brian Fancher

Cara Haxo

Daniel Felsenfeld

Dennis Sullivan

Douglas Hertz

Erin Cameron

Kittie Cooper

Luke Schroeder

Michael Kropf

Nate May

Nina Kindrachuk

Sammi Stone

Seth Brenzel
Alex Christie
Director of Electronic Music, Creative Musicians Retreat
Academic Dean, Director of Composers Forums & Director of Electronic Music, Young Musicians Program
Alex Christie makes acoustic and electronic music in many forms. His music has been called "vibrant", "interesting, I guess," and responsible for "ruin[ing] my day." He enjoys collaborating with artists in all fields and is particularly interested in the ways in which acoustic and electronic sound worlds intersect.
Recently, Alex's work has explored the ecology of performance in intermedia art and interactive electronic music. Through real-time audio processing, instrument building, video, lighting, and theater, Alex expands performance environments to offer multiple lenses through which the audience can experience the work. He is curious about the design of power structures, systems of interference, absurdist bureaucracy, and indeterminacy in composition.
Alex began his compositional career many years ago as a student at Walden's Young Musicians Program where he now serves as faculty. He holds degrees from the Oberlin Conservatory and Mills College and is currently pursuing a PhD in Composition and Computer Technologies (CCT) at the University of Virginia as a Jefferson Fellow. Other interests include baseball and geometric shapes.
Brian Fancher
Brian Fancher is a music educator and vocalist from Cleveland, Ohio. He recently completed his sixth year teaching at Mayfield High School where he works with two bands, three choirs, marching band, show choir, and the fall and spring musicals, while also teaching music theory courses and advising the Ultimate Frisbee Club and Drama Club. He also can be found singing Baritone in the Cleveland Orchestra Chorus. He earned his Bachelors of Music Education degree from The College of Wooster, where he studied voice with Dr. Carrie Culver. In his spare time, he likes to eat, play Ultimate Frisbee, ride his bike, and take pictures of people, places, and things.
Cara Haxo
At the encouragement of her mother, Cara Haxo begrudgingly attended Walden as a student in 2004. As soon as she arrived on campus, however, she immediately fell in love with everything about Walden and came back for another five summers. She is thrilled to return to Walden more recently as a faculty member. Haxo was awarded the 2013 National Federation of Music Clubs Young Composers Award, the 2013 International Alliance for Women in Music Ellen Taaffe Zwilich Prize, and second prize in the 2012 Ohio Federation of Music Clubs Student/Collegiate Composers Contest. Her works have been performed by the PRISM Quartet, Quince Contemporary Vocal Ensemble, and Splinter Reeds, amongst other ensembles. Haxo recently earned a PhD in Composition at the University of Oregon, where she worked as a Graduate Teaching Fellow in Music Theory. She also holds degrees from Butler University and The College of Wooster. When she is not composing, Haxo enjoys baking muffins, going on long road trips, and reading Harry Potter in French. http://chaxomusic.com.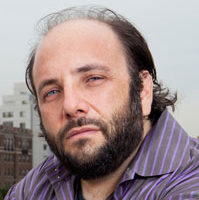 Daniel Felsenfeld
Composer Daniel Felsenfeld has been commissioned and performed by Simone Dinnerstein, Opera On Tap, The Chorus of Trinity Wall Street, UrbanArias, Metropolis Ensemble, Transient Canvas, The Crossing/ICE, Meerenai Shim, the New York Philharmonic New Music Biennial, NANOWorks Opera, Kathleen Supovè, Two Sense (Lisa Moore and Ashley Bathgate), ASCAP, San Jose Opera, ETHEL, Great Noise Ensemble, American Opera Projects, The Secret Opera, the Da Capo Chamber Players, Cadillac Moon Ensemble, Transit, Redshift, Nadia Sirota, Jennifer Choi, Lara Downes, Blair McMillen, Metropolis Ensemble, Two Sides Sounding, Kristin Elgersma, Eleanor Taylor and Jen Devore, Alcyone Ensemble, Parhelion Trio, Bryan Haslettm Xanthos Ensemble, Friction Quartet, Momenta Quartet, Nouvelle Ensemble Moderne, Cornelius Duffallo, Emily Manzo, Stephianie Mortimore, Mellissa Hughes, Corey Dargel, Jenny Lin, New York City Opera (VOX), ACME, New Gallery Concert Series, Gabriella Diaz, Jody Redhage, Caroline Worra, Kristin Chambers, Marcy Richardson, Kamala Sankaram, The Jessold Consort, New England Conservatory Philharmonic in venues such as Carnegie Hall, Galapagos Art Space, The Kimmell Center, Jordan Hall, the Kitchen, Miller Theatre, Merkin Hall, Wigmore Hall, Stanford University, Harvard University, National Sawdust, The Stone, Brown University, Le Poisson Rouge, City Winery, and the Kennedy Center in Washington, D.C, and as part of the BEAT Festival, MATA Festival, Make Music New York, 21c Liederabend, Ecstatic Music Festival, Opera Grows in Brooklyn, New Brew, Serial Underground, and John Wesley Harding's Cabinet of Wonders. When rapper Jay-Zperformed in Carnegie Hall, along with Alicia Keys and Nas, backed by a full orchestra, Felsenfeld was asked to do all of the orchestrations and arrangements. He also collaborated with The Roots (offering music on their Grammy-nominated record Undun, appearing with them and the Metropolis Ensemble on the Jimmy Fallon Show) and ?uestlove with Keren Ann and David Murray. He also wrote arrangements for noth ShuffleCulture and Electronium, shows at the Brooklyn Academy of Music with ?uestlove, Sasha Grey, Deerhoof, Reggie Watts, and How to Dress Well and the Metropolis Ensemble. He is also the Court Composer for John Wesley Harding's Cabinet of Wonders, for which he wrote the theme—and which can be heard as an NPR Podcast. Residencies include Yaddo, the MacDowell Colony, The Hermitage, and the Atlantic Center for the Arts.
Felsenfeld is also an accomplished essayist, annotator, and author, with eight books to his name as well as articles for the New York Times, Listen, Playbill, Time Out New York, Symphony Magazine, Strings Magazine, New Music Box, and Early Music Magazine; program notes for the Metropolitan Opera, New York City Opera, Philadelphia Orchestra, Miller Theatre, Wigmore Hall, and Carnegie Hall; liner notes for Naxos, Bridge, Koch, EMI, Sony, and Adjustable Music. He served as curator for The Score in the Opinionator Section of the New York Times, he co-founded the New Music Gathering (an annual conference-concert series hybrid) which took place in San Francisco in 2015, as well as for Music After, a marathon concert on 9.11.11 he co-produced with Eleonor Sandresky. He is a teaching artist at the New York Philharmonic's Very Young Composers program, and lives in Brooklyn with his wife and daughter.
Dennis Sullivan
Born in Akron, Ohio, Dennis K. Sullivan II is a percussionist and composer based in Queens, NY. Dennis explores  cross-genre  coalescence  between  acoustic,  electronic  and timbral  based  noise  music.  As a percussionist, Dennis is a founding member of the performance duo, Radical 2 with percussionist/engineer, Levy Lorenzo and Popebama, a high octane experimental percussion/saxophone duo with composer/saxophonist Erin Rogers. In addition, Dennis has shared the stage with The International Contemporary Ensemble, Ensemble ECCE, Ensemble Court Circuit, Wavefield Ensemble, Either/Or, Ensemble Pamplemousse, The Argento New Music Project and others.
His compositions have recently been performed by Yarn/Wire, Decoder, flutist Kenneth J. Cox, New Thread Saxophone Quartet, Hypercube, N/A Ensemble and others while being featured on the International Contemporary Ensemble's OpenICE series, nymusikk Bergen, SPLICE Festival, Ball State Festival of New Music, Omaha Under the Radar, Cleveland's reSound Festival and the Edmonton Fringe Festival. Upcoming projects include new works for Unheard-of// ensemble, guitarist Jay Sorce, flutist Kennith J. Cox, and "Fight. Songs," an evening of music curated with Popebama  bandmate Erin Rogers written for and performed with Decoder to be premiered at Hamburg's Elbphilharmonie in March 2020.
Dennis holds a Doctorate of Musical Arts (DMA) from Stony Brook University. He currently serves as adjunct professor of percussion and director of the wind ensemble at Adelphi University as well as adjunct professor of music at Manhattan College. Dennis's other interests include hiking, Cleveland sports and heavy metal music.  He owns an embarrassing amount of hats!
Douglas Hertz
Director of Operations
Douglas Hertz (b. 1993) is a composer, percussionist, and educator based in Brooklyn, NY. He first became involved with The Walden School as a Young Musicians Program Student in 2010 and has since participated in the Creative Musicians Retreat and held both staff and faculty roles.
Hertz's compositions have been heard around the United States, having been recently programmed by the Aries Composers Festival, Midwest Composers Symposium, PASIC, Nief Norf Summer Festival, Atlantic Music Festival, the Dynamic Music Festival, Bard College's Music Alive series and the Deer Valley Music Festival. He has also held recent residencies with the Gabriela Lena Frank Creative Academy of Music and Periapsis Music and Dance.
His music has been either performed or recorded by the University of Michigan Philharmonic Orchestra, Wet Ink Ensemble, Da Capo Chamber Players, American Symphony Orchestra, Boston Philharmonic Youth Orchestra, Calidore String Quartet, Vanguard Reed Quintet, Up/Down Percussion Quartet, and BrassTaps Duo. He is also an avid collaborator, having worked recently with choreographer Al Evangelista, visual artist Lizzy Chiappini, and performance group, Call Your Mom.
Hertz holds a B.A. in music from Bard College a M.M. from the University of Michigan. His past teachers have included Evan Chambers, Bright Sheng, Kristin Kuster, George Tsontakis, Joan Tower, Kyle Gann, and Janet Weir.
Erin Cameron
Erin Cameron enjoys a diverse career as a clarinetist, composer, and educator. Her clarinet playing has been heard in performances across the country, including appearances on Toledo's WGTE radio station, with the North Texas Wind Symphony and Toledo Symphony, and on the Sounds Modern concert series in Fort Worth, Texas. Erin is an active educator and has worked with young musicians and artists at Blue Lake Fine Arts Camp and the Missouri Fine Arts Academy, in addition to serving as a Teaching Fellow at the University of North Texas. An avid proponent of new music, she has performed over 30 world and regional premieres of new works. Her compositions have been performed in collaboration with the International Contemporary Ensemble and Chicago's Zafa Collective. In her free time, Erin enjoys vegetarian cooking and nature walks. Erin is currently pursuing her doctorate in clarinet performance at the University of North Texas; she also holds degrees from Bowling Green State University and Northwestern University.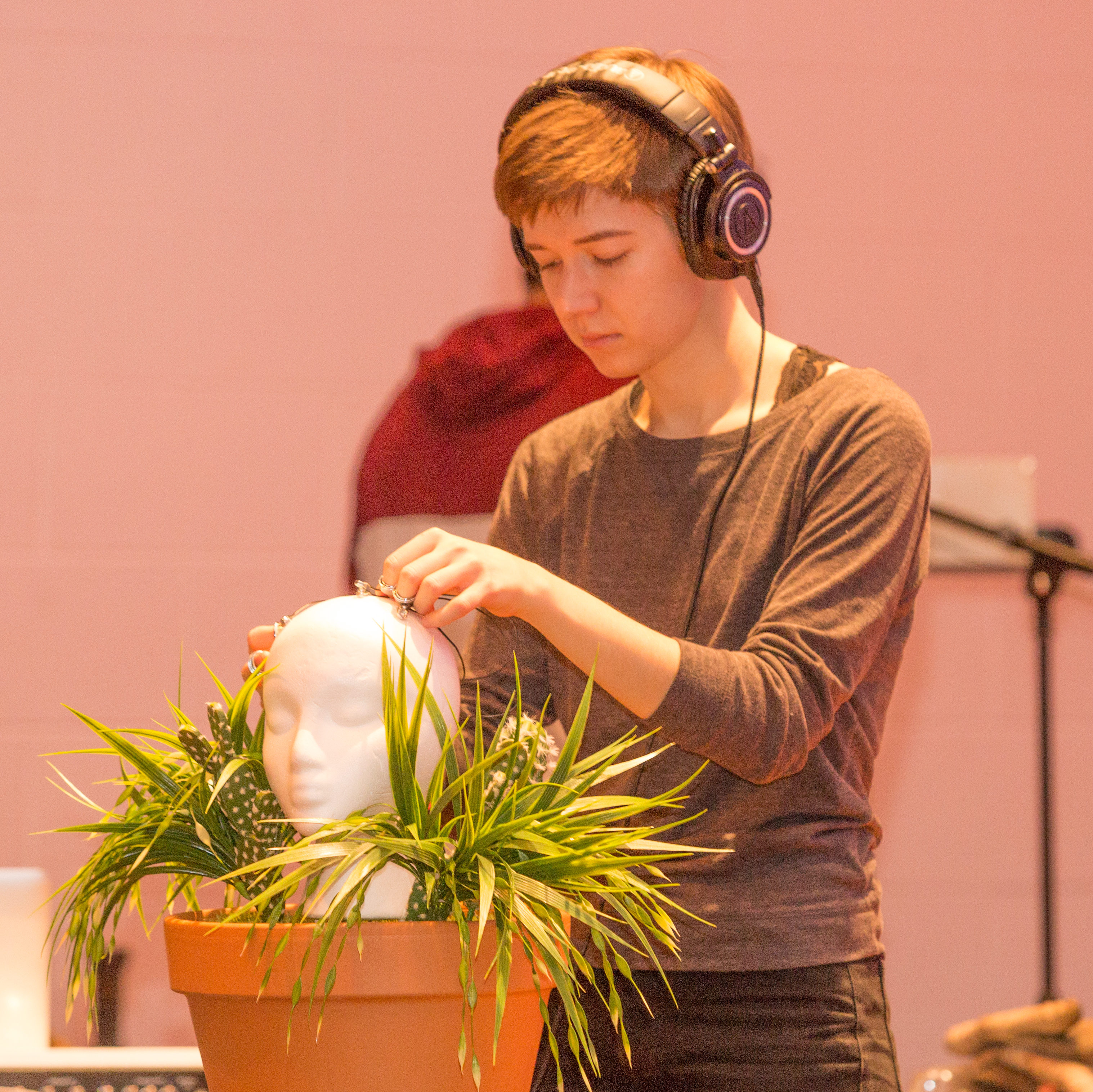 Kittie Cooper
Assistant Director of Composers Forums, Young Musicians Program
Kittie Cooper is a composer, performer, and educator based in Charlottesville, Virginia. She makes art that incorporates feminism and explores the spectrum between silliness and seriousness. Her work has been called "highly original and wonderfully fun". She is interested in text and graphic scores, improvisation, and DIY electronic instruments. She has recently performed and presented at festivals and conferences including SPLICE, the International Alliance for Women in Music Conference, Electronic Music Midwest, N_SEME, and MOXsonic Festival. She also performs locally in Charlottesville as a guitarist, electronic musician, and improviser.
Kittie teaches music for students with visual impairments at the Virginia School for the Deaf and the Blind. She has taught in many settings, including public schools, self-contained special education schools, and a private progressive school. She holds a BM from Northwestern University in music education and guitar performance, and is pursuing a Master's degree in special education at George Mason University. Kittie has spent the past five summers at Walden working as faculty, Assistant Director of Composers Forums, and staff. In her spare time, she enjoys counting down the days to Halloween and taking care of the stray cats in her neighborhood.
Luke Schroeder
This is Luke Schroeder's first year with Walden. Luke was born in Fairbanks, Alaska, but grew up and currently lives in Wichita Falls, Texas. In the fall, Luke will be entering his sophomore year at Texas Tech University, where he majors in Music Education.  He hopes to become a teacher one day and share his passion for music with his students.  At Texas Tech, Luke plays Viola in the University Symphony Orchestra.  He has played with the Wichita Falls Symphony Orchestra as well. Luke enjoys listening to a wide range of music and spending time with good friends.  His hobbies include collecting records, discovering different coffee shops, and watching football.  Luke is looking forward to a fun and exciting summer at Walden!
Michael Kropf
Michael Kropf is a composer whose work deals with hidden emotions and evocative places. He has collaborated with Marin Alsop, the Telegraph Quartet, the San Francisco Conservatory Orchestra, and the Aspen Contemporary Ensemble. In 2016, Michael was commissioned by the Cabrillo Festival of Contemporary Music, in partnership with John Adams and Deborah O'Grady's Pacific Harmony Foundation, to write a new orchestral work called "Spinning Music." The work was later described as "a brilliant, rapid fire stretch of perpetual motion," by the SF Chronicle's Joshua Kosman. Recent projects include a collaboration with the Apple Hill String Quartet, as well as a piano quartet for the 2018 Aspen Music Festival.
Michael completed his Master's degree in Composition at the San Francisco Conservatory of Music in 2016, where he won First Prize in the Highsmith Orchestral Composition Competition, the Bienial Art Song Composition Competition, and the Telegraph Quartet Composition Competition, as well as Third Prize in their Biennial Choral Competition. In 2014, his composition for chamber ensemble "Kinesthesia" received an honorable mention at the ASCAP Foundation Morton Gould Young Composers Awards.
He served as Co-Director of the Hot Air Music Festival, a daylong marathon of new music which takes place annually at the San Francisco Conservatory of Music. He is also a Co-Founder and Artistic Director of the Dynamic Music Festival, a two day concert-series in New York City focused on creating a dialogue between student composers from different schools in and around the Tri-State area. He currently teaches composition and musicianship at the Walden School in New Hampshire and the San Francisco Conservatory Pre-College.
Michael was born in Danbury, Connecticut and received his Bachelor of Music degree from New York University. His teachers and mentors have included David Conte, John Adams, Justin Dello Joio, Luboš Mrkvička, and Youngmi Ha. He will be beginning a doctoral degree in music composition at the University of Michigan this fall.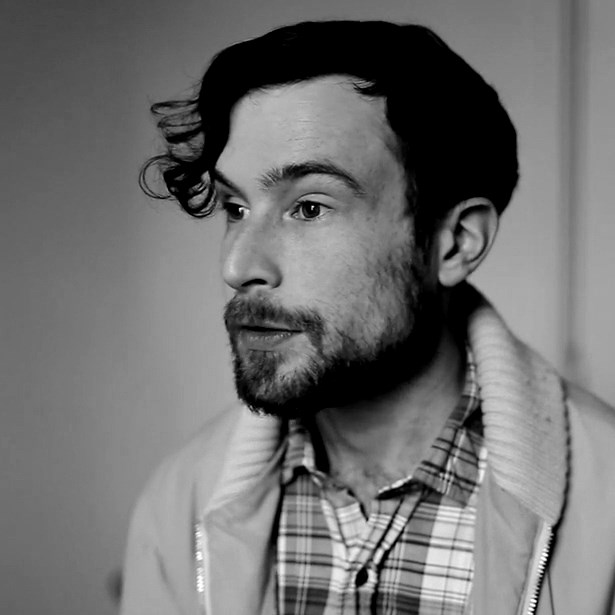 Nate May
Nate May (B. 1987) is an American composer whose music draws on research and imagination, often treating contemporary issues of place, migration, and environment with textural intricacy, rhythmic drive, and a taste for repurposed sounds. Raised in Huntington, West Virginia, much of his work stems from a "fascination, love, and respect for the people" of Appalachia (Soapbox), including his oratorio State—premiered by singer Kate Wakefield (Lung) and MUSE, Cincinnati's Women's Choir—and his monodrama, Dust in the Bottomland—set in present-day West Virginia and sung by lyric bass Andrew Munn, which has been performed twelve times in seven states and broadcast on radio and television. He has been a fellow at the highSCORE festival (Pavia, Italy) and the Sō Percussion Summer Institute (Princeton, New Jersey), and was selected as one of three U.S. composers to participate in the Los Angeles Philharmonic's 2017 National Composers Intensive. He has received commissions from the Walden School, Brianna Matzke, Thea Rossen, and Neutrals Duo, and his work has been performed by Eric Wubbels, Adam Sliwinski, Nathan Nabb, Patchwork Duo, Hajnal Pivnick, Quartetto Indaco, and many others. Large-scale collaborations include the world-touring work Spiral by choreographer/dancer Wanjiru Kamuyu, and Kalahari Waits, the debut album of indigenous experimental trio Khoi Khonnexion, produced during a year in South Africa on a Reese Miller scholarship from the Telluride Association.
Currently pursuing a D.M.A. in composition at Yale, he holds degrees from Cincinnati's College-Conservatory of Music (M.M., Composition) and the University of Michigan (B.F.A., Jazz and Contemplative Studies), and has studied with Christopher Theofanidis, Geri Allen, Ellen Rowe, Stephen Rush, Miguel Roig-Francolí, and Michael Fiday. His work has received support from ArtsWave, People's Liberty, and the Berea College Appalachian Sound Fellowship. He currently serves as a Teaching Fellow at Yale, and previously served on adjunct faculty at Cincinnati's College-Conservatory of Music. This is his second summer teaching at Walden.
Nina Kindrachuk
Nina Kindrachuk is a pop/indie-folk singer and songwriter based in Nashville Tennessee. Studying music at Belmont University, with a major in music business, Nina has Walden to thank for the lifelong friendships with camp friends and the rigorous musical environment she thrived on during her time at YMP! Stumbling upon the Walden School's exciting direction of music as a young composer forever changed her love for music-creation for the better and has since introduced her to numerous opportunities in work and school.
Outside of attending Walden for two wonderful summers, she attended Brentwood, TN's JAM Camp for one summer; working on collaboration in jazz band as the solo singer and sang in a small vocal ensemble. In the summer of 2016, Nina attended Middle Tennessee State University's Governor's School for the Arts (GSFTA), learning classical voice and has been involved in All-state and Mid-state choirs in Tennessee since middle school and vocal lessons since middle school.
She is an avid psychology geek and loves to listen to podcasts in her spare time (though judgmental stares are sure to come from her reactions to said podcasts).
Sammi Stone
Director of Operations
Sammi Jo Stone is an oboist, saxophonist, and composer, originally from Baker City in rural northeastern Oregon. She holds degrees in music from Williams College in Williamstown, MA and the University of California San Diego. She has worked around the United States in pit orchestras and chamber ensembles, and as a senior counselor at the innovative Woodwinds @ Wallowa Lake chamber music camp in Joseph, OR.

She is passionate about learning and teaching music, going on hikes, and knowing which birds are which. She composes music and writes texts intended for musical setting, and aspires to honor the complex sounds of the natural world with songful compositions informed by spectral study.
In addition to working for the Walden School, she is an oboe lessons teacher and small-batch coffee roaster.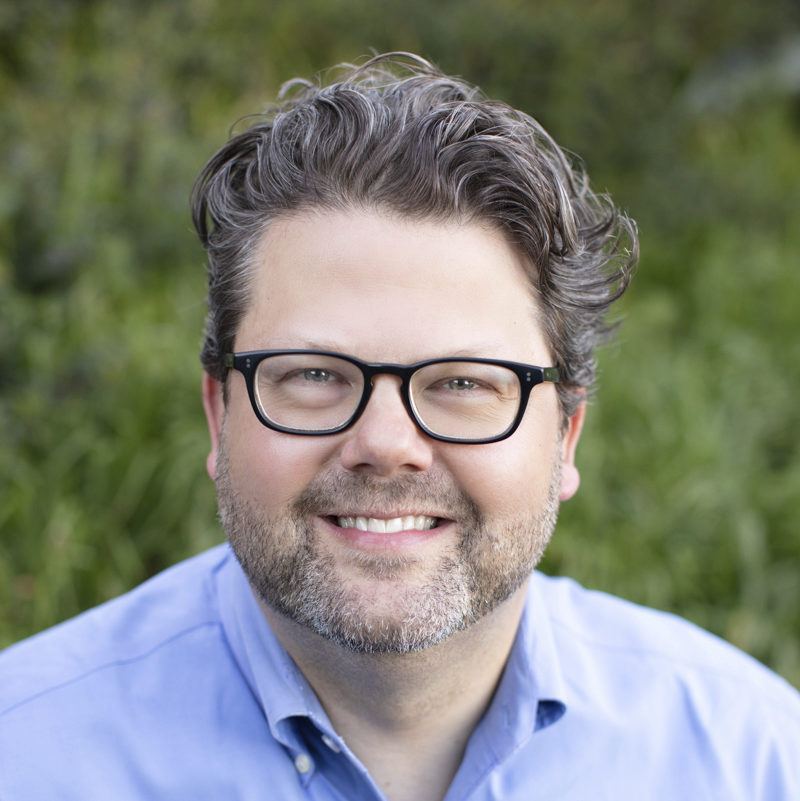 Seth Brenzel
Executive Director & Director, Young Musicians Program
Seth Brenzel, Executive Director, has been associated with The Walden School for more than 30 years. He was fortunate to be a student at Walden for six magical summers (1985-1990), and since 1994, has served the School as a staff member, faculty member, Director of Operations, and as the Associate Director from 1996 to 2003, when he became the School's Executive Director. Since 1995, he has sung tenor with the Grammy Award-winning San Francisco Symphony Chorus, and is currently a professional member of that ensemble.
Seth has served as the co-clerk of the Board of Trustees of the San Francisco Friends School, and in the past, he has served on the boards of The Walden School, Swarthmore College, and Earplay, a San Francisco-based new music ensemble. Seth received his B.A., with degrees in Music and Political Science, from Swarthmore College, where he served as President of the College's Alumni Association. He received an M.B.A. from the Haas School of Business, University of California, Berkeley, with a focus in non-profit management and marketing; he has also served on the Haas School's Development Council. He is a 2012 graduate of Leadership San Francisco, where he serves as an alumni advisor.
Prior to becoming Walden's first full-time Executive Director, Seth worked part-time for Walden during the year and held positions as a senior consultant at Deloitte Consulting, in marketing and public relations at the San Francisco Symphony, and led both the marketing and the enterprise sales teams for an internet software company, now part of Adobe. When not at Walden, Seth lives in San Francisco with his husband, Malcolm Gaines, and their daughter, Cora.
---
Concerts and residencies bring artists of the highest caliber to The Walden School.
Through the performance of diverse music, guest artists play an active role in helping stimulate students' creativity. Guest performers have included The Alexander String Quartet, Phyllis Bryn-Julson, Calliope Duo, Cyrus Chestnut, Clogs, Cross Country, Del Sol String Quartet, Bryce Dessner, Fantasy Duo, Thomas Hecht, Julian Martin, Teresa McCollough, The New Millenium Ensemble, Odd Appetite, Judith Panill, The Peabody Trio, The Phoenix Chamber Orchestra, The PRISM Saxophone Quartet, Claudia Stevens, and Robert Weirich.
More Visiting Artists