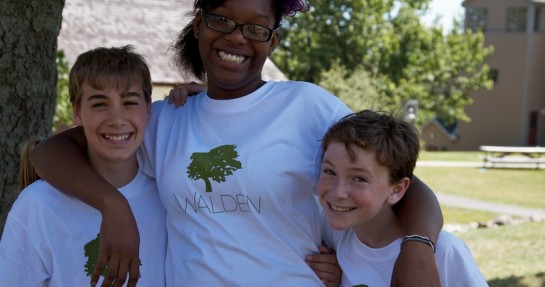 Where else can you find a place where people gather in a circle at night and hug each other after singing goodnight to music? Where else can you find a place where people climb up to the top of a mountain and sing? Where else can you find a place where so many unique people live music every day? There is no place like Walden and I will never forget the experience I had there.
– Young Musicians Program Alumna
Why Walden? Because The Walden School's remarkable offerings cannot be found anywhere else. Please take a moment to read the testimonials in the Impact menu to the left. Read the words of our students, parents, and teachers, explaining "What Walden Means to Me…"
Young Musicians Program
From the youngest child's early experiments at the keyboard to an older teen's sophisticated work for a small ensemble, every student at The Walden School has an unparalleled opportunity to exercise his or her creativity in a warm, supportive environment.
Your support of Walden's Young Musicians Program helps talented young people develop into confident composers, songwriters and performers. However, it is the exploration of music as a language and a community-building tool that is the central pillar of the Walden experience, inspiring students to develop a personal, creative voice within the context of an intellectual and artistic community.
Creating one's own music in this kind of community instills self-confidence, discipline, a sense of belonging, and the pride of accomplishment, things that stay with participants regardless of where their lives take them after Walden.
Creative Musicians Retreat
Your gift to Walden's Creative Musicians Retreat nurtures a life-long commitment to creative expression, enabling adult composers and performers of many levels to take classes, sing in chorus, write music, and improvise.
Participants are exposed to a variety of Walden musicianship elements, including acoustics, drills with intervals and triads, resolving structures, rhythms, solfege and harmonic analysis. Classes also include topics in contemporary music, computer music, The Walden School Musicianship Course, and applied skills (conducting, improvisation and more). Composition lessons and tutorials are also offered.
Teacher Training Institute
By supporting Walden's Teacher Training Institute, you enable Walden to expand its reach beyond its summer program for young musicians. Drawing on more than 50 years of collective teaching experience at The Walden School and its predecessor program, the Junior Conservatory Camp, The Walden School Teacher Training Institute offers professional development opportunities that help music educators sharpen their own musicianship skills, enrich their teaching with inventive activities, and more effectively guide the creative voices of their students.