Message from Seth Brenzel, Executive Director
Greetings!
Summer is almost here, with wonderful Walden programs ahead. May 1 is the application deadline for our 2019 programs. This edition of InterNetzo offers a glimpse of the amazing projects our Walden community members are working on, and the delightful Walden events happening around the country. Stay tuned in May for our summer concert series lineup. Until then, happy reading.
Apply now for Walden's 2019 programs! Spaces are available in the Young Musicians Program, and we offer need-based financial aid.
Kati Agócs will be the Composer-in-Residence. Other guest artists will include Ensemble Dal Niente, The Walden School Players, and the International Contemporary Ensemble (ICE). Faculty members will include Cara Haxo, Ted Moore, Sarah Riskind, Cody Wright, Terry Greene, Nate May, and Rebekah Griffin Greene, among others. See the full list here.
5 week program: June 29 – August 4
3 week program: June 29-July 21
Final deadline: May 1
Walden in Washington
On April 7, Walden Board members, alumni, faculty, staff, donors, family, and friends gathered at the Arts Club of Washington to celebrate our upcoming season and raise funds for student scholarships and artist residencies. We offer our deepest thanks to all our donors–your generosity makes everything we do possible.
Eric Huebner, pianist for the NY Philharmonic, gave an amazing performance of Beethoven, Chopin, Ligeti, and a recent work by a current Young Musicians Program student. It was a wonderful afternoon of music, conversation, and delicious refreshments, with all attendees entered into a raffle to add to the fun. Thank you to everyone who made the event so special!
Upcoming Events
Join us for celebrations to benefit Walden, featuring music, refreshments, and wonderful Walden community. We will be in San Francisco on May 11, and Dublin, New Hampshire, on August 3. We hope to see you there!
featuring Dave Eggar
 Saturday, May 11
Dave Eggar is regarded as one of the finest cellists
performing today. A musical prodigy as a child, Dave began playing the cello and piano at age three, performed on Broadway and with the Metropolitan Opera at age seven, and debuted at Carnegie Hall at age 15. A virtuoso performer and improviser of many styles, Dave has appeared worldwide as a cellist and pianist, both as a soloist and as an ensemble musician. His work is Grammy-nominated, and he has performed, recorded, and arranged with and for artists in many genres, including Tony Bennett, Beyoncé, Harry Belafonte, Bon Jovi, Foreigner, Imagine Dragons, Talib Kweli, John Legend, Wynton Marsalis, Frank Ocean, Robert Redford, Pete Seeger, Paul Simon, Meryl Streep, James Taylor, The Manhattan Transfer, and Amy Winehouse, among many others. He has been a Fellow at the MacDowell Colony. He has been a visiting artist at The Walden School, was a member of The Walden School Players for two summers, and performs frequently at Walden events throughout the United States.
Walden in Dublin
A Festival Week celebration in Dublin, New Hampshire, at the end of our 2019 Young Musicians Program. Artist to be announced.
For details or to RSVP, contact Gaela Dennison-Leonard, our Development Manager, at events@waldenschool.org or (415) 587-8157. Check out our calendar for other great concerts and events throughout the year.
In the Spotlight – Nnenna Ogwo
We are so grateful to our donors and the vital support they provide. Your generosity inspires us and ensures generations of musicians find a creative home and lifelong friends at Walden. Whether you are a member of our alumni community, a parent, a visiting artist, a faculty, staff, or Board member, or simply a friend who believes in our mission, thank you.
As we celebrate our donors, we asked Nnenna Ogwo to share with us some of what Walden means to her. Nnenna attended the Young Musicians Program for six summers, was a faculty member and visiting artist, served on Walden's Board of Directors, and most recently returned to Walden as a Creative Musicians Retreat, and performed at Walden's 2018 Alumni Reunion.
How and when did your relationship with Walden begin?
I was a student at Peabody Preparatory, and Lynn Taylor Hebden was the director of the Preparatory Department there. She was the one who had made it possible for me to attend Peabody, through scholarships and whatnot. She got talking to my mother, and suggested Walden. I spent six summers at the Young Musicians Program, 1982-1987. Once I got to Walden, it was significant because I had been on a very serious piano track, and so should have been at a more piano-focused camp such as Interlochen, but it wasn't until my last year of high school that I did that. Walden didn't take me away from piano, because I still went to Oberlin and majored in piano, got my masters in piano. But I've always had an inquisitive mind and been stimulated by different types of learning. That holistic approach to music, even if I wouldn't have called it that then, was clearly something I was thirsty for. I was a kid who really liked to be challenged, so I loved finding out how music was built, and creating it myself. I had often been in conflict with my piano teacher because I didn't like to practice the same things, until the summer at Walden I took Pam Quist's class on Renaissance counterpoint, and after that, I came back from Walden, and my teacher was blown away. She said "This is what happens at Walden? You can go then." Because normally a teacher won't have the time to get a student to understand counterpoint.
What has been your involvement with Walden since then?
I was on faculty. I joined the Board while I was still in grad school. I've sent students, and I went to the Creative Musicians Retreat in 2014. In July I attended the reunion and performed on the alumni concert. I remember being part of Board conversations, and I was in the board room when we were saying "Why can't there be a Walden for adults?" so it was amazing to be at CMR as a participant.
What is your favorite Walden memory?
I have to really think about this, because there are so many great Walden memories. My last summer there, I think the guest artist was the New England Brass Quintet. I wasn't normally down to the wire with scores, but I had worked a lot on the first movement, still had a lot to do, and they were going to be reading my score the next day. That was also the year the older girls were living in the attic floor of the Main House. There were five of us, Kate Hollander, Sarah Brown, Leila Ellis, Rachel Burdick, and me, and we had all known each other a long time. We were realizing that we had all come to Walden at 11 or 12, and we'd heard these amazing pieces and thought we could never write like that, and suddenly here we were writing on that level. It was a really dark and stormy night, and we pulled all our desks into the main foyer, put our desks together, and kept each other company as we did our work. I'd never had that before, people working together like that. If someone finished early, they might take a nap and then they'd come back and help us copy parts. It was really stormy, thunder and lightning, and the lights went out. We were wondering what we would do, and then Lynn Taylor Hebden (aka Mrs. H) came up with a plate of snacks and candles and we got back to it. Most of us were up most of the night. And that moment bonded us. I'm sure we all remember it. My piece that year won an MTNA award and was a runner-up for a national award, but whenever it was acknowledged, I'd think "This was really a team effort." It takes a village. It was the first time I ever experienced that sort of communal support. It was extraordinary.
Why do you give to Walden?
I was the recipient of scholarships that made it possible for me to experience something musically transformative in the summer. Everything that I contribute to Walden, whether by sending students, giving concerts, past service on the Board or donating is simply about helping to realize that possibility for others.
When you graduate college and get your first real job, your first paycheck, there are all these little indicators that you're an adult. I sat down with my mom to talk about financial planning, and she said 'I know you're not making a lot, but you need to calculate how you want to give.' And I said, "I'm giving to Walden." You give to what has impacted you, because you have an intimacy with certain issues. People don't make consistent gifts to things they're not deeply emotionally connected to. My time at Walden included some of the most transformative musical experiences I've ever had. Because of that, Walden will always be on my list for giving.
Tell us about the roles music and creativity play in your life now.
I'm still a pianist and a teacher, I make my living that way. I started taking jazz piano lessons recently. I realized and had to laugh that I know a lot, but a lot of it is frozen on paper. That often happens with classically trained musicians. Jazz forces you to have working harmonic knowledge in real time. Walden teaches that, even if they don't put it quite that way, and it's one of the few places that does. It's not tied only to jazz. I feel like a real student again, my brain freezes, and it's funny. Once we're teaching, we forget, we start to take knowledge for granted where it doesn't exist yet. It's good to be reminded how bewildering things were at age 11. In piano, I like to boldly try new things. I'm a pretty good improviser, but then because I'm highly technically trained, I can be very facile, watch my fingers fly and think, ah, that's what all that training was for.
What would you want to tell a first-time Walden student before they arrive at camp?
I don't think I would have anything to say. When I send my students, I tell them things to pack on a very pragmatic level. But students normally decide to go because they've heard my story. Students get anxious about "Will there be people who look like me? Will I fit in?" and they've heard music coming out of Walden and they're intimidated. But I tell the story of feeling those things, of finding my place, of making lifelong friends.
It's built into the ethos of the institution—good, decent-hearted people who are also very interesting and creative people. That checks a lot of boxes for who you want to surround yourself with for your life in general. So I just tell students, you will meet some of the most interesting people you'll ever meet. You will grow in ways you couldn't have imagined, no matter what people have told you, and your experience will be uniquely your own. You will grow and thrive in ways you can't elsewhere, you can't in a year-round school, no matter how good a school you attend. Go forth with an open heart, and see what happens."
Community News
Shawn Crouch and Splinter Reeds
Stained Glass, a piece for reed quintet written by YMP alumnus and former faculty member Shawn Crouch, was performed by Splinter Reeds on April 13. Splinter Reeds was the Ensemble-in-Residence for Walden's 2017 Faculty Commissioning Concert, and bassoonist Dana Jessen is a member of the 2019 Walden School Players. The concert was at Maurice Gusman Concert Hall at the University of Miami.
New work by Michael Daugherty
Past CMR Composer-in-Residence Michael Daugherty's new work, To the New World, was premiered April 11, 12, and 13 in Costa Mesa, California. To the New World is an orchestral work composed in celebration of the 50th anniversary of the Apollo 11 mission, and the first step on the moon by astronaut Neil Armstrong on July 20, 1969. The piece was commissioned and premiered by the Pacific Symphony, under the direction of Jean-Marie Zeitouni.
Jasmine Galante studies composition at Peabody
Jasmine Galante is currently studying composition at the Peabody Institute of The Johns Hopkins University. Jasmine spent three summers at YMP, and is a pop music artist, singer, songwriter, classical pianist, and actress. Jasmine's debut EP, "The Moon Also Rises", was released in January of 2017.
Francesca Hellerman and PRISM Quartet

This June, PRISM Quartet will present a program of world premieres, featuring work by YMP alumna Francesca Hellerman. She composed From Here to There as the winner of the PRISM Quartet/Walden School for Young Composers Student Commissioning Award. The piece plays with different iterations of a single musical idea, challenging the listener to consider how the material moves from one world to another. This marks the 19th consecutive year of longtime collaborator PRISM Quartet premiering Walden student pieces. The concert will be performed in Philadelphia on June 2 and New York on June 3.
Ruby Landau-Pincus and Ensemble Dal Niente
Thanks to the Evanston In-School Music Association, Ensemble Dal Niente brought its unique musical interpretation to the Evanston community with a concert on March 17, with music for flutes, oboe, clarinet, harp, and voice. They premiered a piece by YMP alumna Ruby Landau-Pincus, which she wrote through Walden's Dal Niente Commissioning Award. Dal Niente will perform the piece again on Sunday, May 5, at a concert premiering Undersea, a a new work for piccolo, English horn, and bass clarinet by Walden alumna Victoria Cheah
Sam Pluta awarded Guggenheim Fellowship 

Sam Pluta has been awarded a Guggenheim Fellowship in Musical Composition. Sam spent nearly 20 consecutive summers at Walden, as a faculty member, staff member, YMP Academic Dean, and visiting artist. Sam is a Chicago-based composer, laptop improviser, electronics performer, and sound artist. Though his work has a wide breadth, his central focus is on the laptop as a performance instrument capable of sharing the stage with groups ranging from new music ensembles to world-class improvisers.
Alicia Jo Rabins teaches Torah through art
Girls in Trouble is an indie-folk song cycle and curriculum by YMP alumna Alicia Jo Rabins, exploring the complicated lives of women in Torah. The curriculum is a set of in-depth study guides, each following a woman through story, Rabbinic interpretation, visual art, and a Girls in Trouble song. With this project, Alicia Jo mines the complex and fascinating stories of Biblical women, exploring the hidden places where their lives overlap with her own. Alicia Jo is also currently on tour for her new book of poems, Fruit Geode.
Leah Reid wins 2019 Call for Electroacoustic Works

Winners have been announced for the 2019 Call for Electroacoustic Works, and among them is Sketch, a piece by YMP alumna Dr. Leah Reid. Leah is a composer of acoustic and electroacoustic music. Her primary research interests involve the perception, modeling, and compositional applications of timbre. Leah is on faculty at the University of Virginia, where Walden faculty members Chris Luna-Mega and Alex Christie, also a YMP alumnus, are pursuing their doctoral studies. Sketch will be included in a new album produced and released this year. As part of the prize, RMN Music will fund the development of the album cover and the chart registration in the US, the UK and Canada.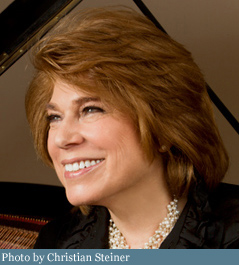 Vivian Adelberg Rudow among Johns Hopkins Distinguished Alumni 2018
JCC alumna Vivian Adelberg Rudow is among the 2018 recipients of the Johns Hopkins Distinguished Alumnus Award. In 1982, Vickie was the first Maryland-based composer to have an orchestral piece premiered in Joseph Meyerhoff Symphony Hall by the Baltimore Symphony Orechestra. Vickie was founder and Artistic Director of Res Musica Baltimore/Res MusicAmerica, Inc., and produced concerts of music composed mostly by American living composers, from 1980-91 including 52 concerts, 26 symposia, and 22 youth concerts for the Baltimore City Public Schools.
Pamela Z awarded Rome Prize in Musical Composition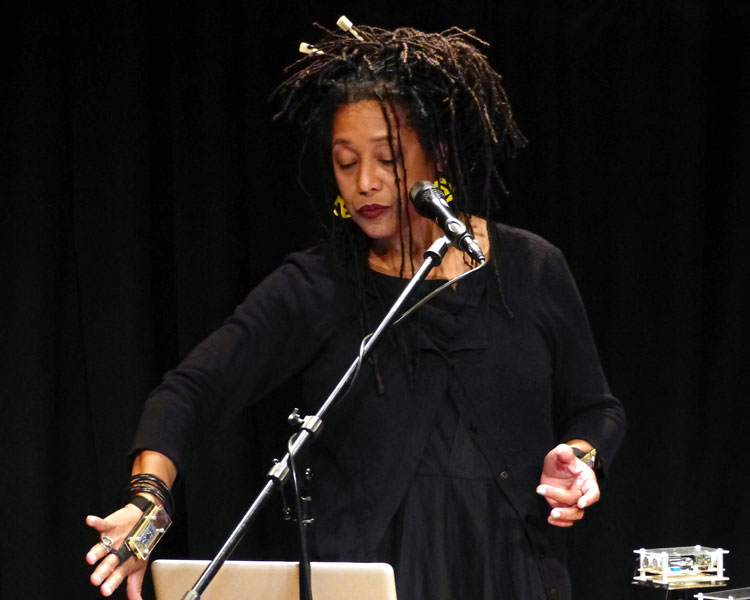 Pamela Z, a past visiting artist at the Young Musicians Program, has been awarded the Rome Prize in Musical Composition. Pamela Z is a composer/performer and media artist who works primarily with voice, live electronic processing, sampled sound, and video. A pioneer of live digital looping techniques, she processes her voice in real time to create dense, complex sonic layers. This year, Rome Prizes were awarded to thirty American and six Italian artists and scholars.
We want to hear from you!
What's been going on? If you have a recent or upcoming premiere, publication, award, new job or program, or a celebratory life event, please share the news. Email your news to alumni@waldenschool.org.
Stay in Touch
You can like The Walden School page on Facebook and join The Walden School private group to hear about events and opportunities throughout the year, including upcoming regional alumni Composers Forums and Holiday Parties. You can also find us on Instagram, Twitter, and at waldenschool.org.
2019 Peter Carpenter Fellowship
Applications Open
The BMI Foundation is pleased to announce the opening of this year's Pete Carpenter Fellowship, a competitive residency for aspiring film, television, and video game composers. The program will award a $2,000 stipend for four to five weeks of intensive mentorship with award-winning BMI composers Christopher Lennertz and Timothy Wynn at their Sonic Fuel Studios in Los Angeles, CA. The 2019 fellowship begins in October and also includes opportunities to consult with other distinguished composers and leaders in the entertainment industry. The Fellowship is open to U.S. citizens or residents who are 21 years of age or older pursuing a career in film, TV, and/or gaming composition.
Deadline: June 30
For other upcoming deadlines and competitions, check out our resources page.