Message from Seth Brenzel, Executive Director
Dear friend,
Summer is here, bringing with it Walden's 50th season! After wrapping up a phenomenally successful Creative Musicians Retreat (CMR), we are now in the second week of our Young Musicians Program, where nearly 50 students are spending another transformative summer composing, improvising, singing, and building a lifelong creative community.
I hope you enjoy this July edition of InterNetzo, which includes reflections from Caroline Mallonee on this summer's CMR, an announcement of our July 25 Giving Day and our fabulous fundraiser on July 30 in New Hampshire, and plenty of exciting community news.
Plus, read a fascinating interview with Junior Conservatory Camp (JCC) alumnus Bob Weaver, and watch a video made by JCC faculty member Ron Nelson with priceless footage from Walden's predecessor program.
Stay tuned throughout the summer for announcements of our free, public, livestreamed concert series. I wish you a fun-filled and creative summer, and I hope our paths cross soon!
Best wishes,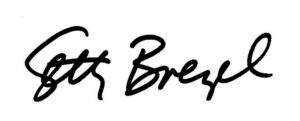 Seth Brenzel
Executive Director
(603) 563-8212
Reflecting on the 2022 Creative Musicians Retreat (CMR)
From Caroline Mallonee, Director of CMR
It all seems a bit of a dream. The Creative Musicians Retreat feels like Walden in fast-forward. Nine quick days of music-making in New Hampshire, including all the salient elements of Walden: composition, improvisation, electronic music, musicianship, chorus, Composers Forums, concerts, lake swimming, a mountain hike…
We held CMR in a different place this summer, on the campus of Brewster Academy in Wolfeboro, New Hampshire. It proved a stunning setting for the Retreat: There were views of Lake Winnipesaukee from every building! Tom Colohan led choral rehearsals in the boathouse, a gorgeous space with a vaulted ceiling, from which we could gaze at the blue water.
There were world premieres of nearly 40 works, including five new choral pieces performed by the CMR Chamber Choir, led by Thomas Colohan. The three Composers Forums and two concerts featured amazing performances by our artists-in-residence, Kyle Flens, David Friend, Tyler J. Borden, and members of the International Contemporary Ensemble (Teagan Faran, Isabel Lepanto Gleicher, Dan Lippel, and Emmalie Tello,) as well as many talented participants.
Composer-in-Residence Lei Liang gave an illuminating talk on his own music, moderated the three Composers Forums, and hosted two master classes. What a kind and inspiring presence!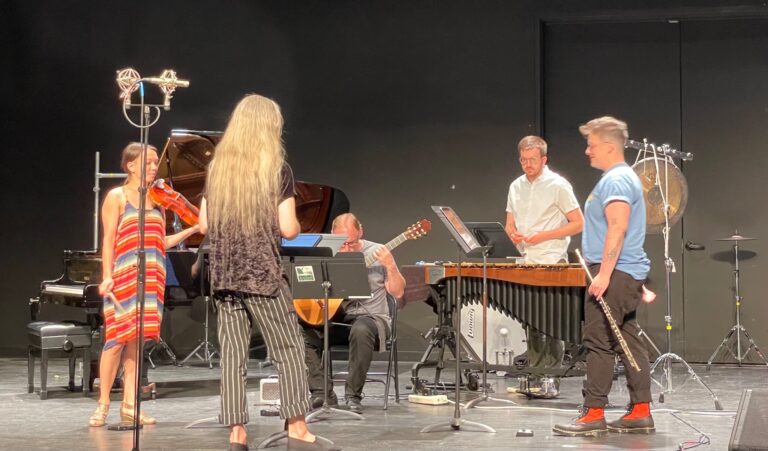 One cannot say enough about Sammi Stone and the Walden staff (Kittie Cooper, Anastasia Baker, Arté Warren, and Luke Schroeder), all of whom had worked at Walden previously. Such pros! They ensured that the week was smooth. Our faculty was also entirely made up of veteran Walden teachers: Alex Christie, Renée Favand-See, Osnat Netzer, Loretta Notareschi, Sam Pluta, and me (Carrie Mallonee). The classroom demo showcased their inspired teaching and deep expertise, as well as their creativity and sense of humor.
Our participants came from seventeen states plus Canada, and they ranged in age from 19 to 88! We welcomed 13 CMR alumni back. This year, more than ever, the group felt like a huge family, supporting and learning from each other. There were nightly fire pits where we toasted marshmallows and roasted weenies, and a final CMR open mic which, for at least the fourth time, ended in dancing. The Walden magic is strong. I can't wait for next year!

Caroline Mallonee
Director, The Walden School Creative Musicians Retreat
Upcoming Events
TONIGHT: YMP Faculty Commissioning Concert featuring Warp Trio
Friday, July 8, 7:30 pm Eastern
Louise Shonk Kelly Recital Hall
Dublin School, Dublin, New Hampshire (and online!)
A concert of world premieres by YMP faculty members, performed by this summer's YMP commissioning ensemble, Warp Trio.
As Walden's concerts are open to the public, we are asking all audience members, including Young Musicians Program students, to wear a mask while attending any of our events that take place indoors.
Described as "a talented group that exemplifies the genre-obliterating direction of contemporary classical music" (Columbia Free Times), Warp Trio is an internationally touring cross-genre chamber music experience. Reflecting the combination of Juilliard-trained members juxtaposed with members steeped in rock and jazz styles, the one-of-a-kind trio (which even has a fourth member!) can be seen performing classical works in prestigious halls on the same tour where they headline a standing-room-only show at a rock venue. In addition to their electrifying public performances, they have gained a reputation for their innovative educational workshops with students from grade school through university level.
Featuring music by Walden YMP faculty composers Emi Ostrom, Cara Haxo, Kittie Cooper, Rebekah Griffin Greene, Lila Meretzky, Terry Greene II, Lukáš Janata, Michael Kropf, Nate Trier, and Loretta Notareschi.
Watch the livestream here.
July 25: Giving Day
On July 25, we will be sharing live video updates from our Young Musicians Program in Dublin, New Hampshire. Join us online as we share the joy of music and community with Walden friends near and far. Stay tuned for more information about this opportunity to experience and support Walden!
July 30: New Hampshire Fundraiser

Save the date for a fabulous Festival Week celebration at the end of our 2022 Young Musicians Program. The event will feature a performance by award-winning concert pianist Mackenzie Melemed, a YMP alumnus and 2022 Avery Fisher Career Grant recipient.
For details or to RSVP, contact Noah Mlotek, our Interim Development Manager, by email or at 415-587-8157.
In the Spotlight
Bob Weaver

Bob Weaver is an alumnus of the Junior Conservatory Camp (JCC), the predecessor program to The Walden School, and has been a participant at Walden's Creative Musicians Retreat (CMR). Bob and his wife Anne, a fellow JCCer who is a physician as well as an accomplished musician and choral director, are longtime Walden donors and active members of the JCC/Walden alumni community. Bob is Professor Emeritus of Mathematics and Computer Science at Mount Holyoke College. He is a published composer, particularly of hymns and anthems, and an avid choral singer. Bob and Anne live in a retirement community in Needham, Massachusetts.
Bob began attending JCC in 1956. Anne started in 1962, which is when they first met.
How did you first get involved with the Junior Conservatory Camp, and what has been your involvement with JCC and Walden since?
My brother John, a concert organist, composer, and teacher, started as a teenager at the JCC in about 1952. My family and I, from Baltimore, visited camp at Manor Vail in Lyndon Center, Vermont, for a couple of days in summer 1955, and I knew right away that I wanted to be a part of this friendly and supportive community and to study with Mrs. Grace Cushman. So I started there the following summer and continued coming to camp for eight years—right through college. I was on the dishwashing crew and later served as boys' counselor. Many will remember that the dish crew filled the kitchen with wonderful vocal harmonies and resolving seventh chords while we scraped and loaded the dishwasher.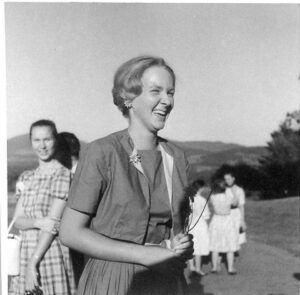 For my last two summers at camp, Anne Conley attended, and we were married when she graduated from Wellesley College in 1967. Later, when we were living in western Massachusetts, we saw an article in our local newspaper, the Greenfield Recorder, announcing a concert to be given by JCCer Nansi Carroll at The Walden School. Not wanting to miss that, we made our first trek up to Dublin, New Hampshire. We were immediately impressed that the warmth and supportive atmosphere that we had known at JCC, years earlier, was most palpably present at Walden in a way that brought back vivid memories of our camp experience. We have since attended all of the JCC/Walden reunions at the Dublin School, and some of the Composers Forums, and we have taken part in fundraising and committee work for the school. Several years ago, I attended the Creative Musicians Retreat (CMR), a week full of inspiring musical events and superb faculty and fellow attendees.
Many JCC folks will remember singing the hymn tunes that I wrote while at camp ("Dear Lord and Father" and "Lord, Thy Glory Fills the Heavens"). Over the years, and especially since I retired from teaching at Mount Holyoke College, I have continued composing and have written a number of other hymn tunes, setting some beautiful texts by my friend, William Pasch, of Atlanta. Together, Bill and I have expanded these tunes into choral anthems and have published with Augsburg Fortress Publishers and the St. James Music Press.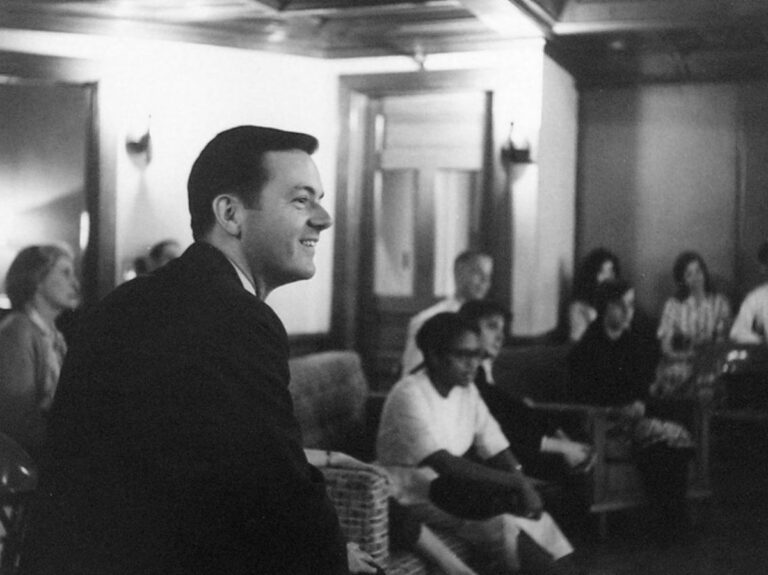 I understand you have a video of JCC that you'd like to share with us. How did the video come together, and what does it show?
In 2007, we attended the JCC/Walden reunion in Dublin. Dr. Ron Nelson, who had been a JCC faculty member and composer-in-residence for a number of years, was unable to be there but made a video to share. It was a silent video with footage from JCC that Ron had taken in 1960. Last spring, I rediscovered the video and worked with Ron to edit it and add some of Ron's original compositions in the background. You can watch the video here. Ron is now living in Arizona in retirement from the music department of Brown University.
Why do you give to Walden? Do you have any hopes for Walden's future as we embark on its 50th summer?
Anne and I know how profoundly the Junior Conservatory and Walden have affected and enriched our lives. We contribute to the school in the knowledge that the Walden experience (in both of its forms, YMP and CMR) can have the same positive effect on others who want to learn and compose and share interests. This is a precious program that must be preserved and extended into the future. I urge everyone to give generously to Walden.
Do you have any stories of Walden/JCC connections that you have made and maintained over the years?
So many of the people whom we knew in our summers at JCC have remained our valued friends to this day. We hear of their musical accomplishments, we remain close through email, Zoom, letters, and visits in person. We were so pleased when Walden arranged for a Zoom gathering of JCC alums this past year. That was a real treat that got many of us together for a wonderful virtual sharing of memories.
And here is a "small world" anecdote. At the 2018 Walden reunion at the Dublin School, Anne and I were chatting with a group and mentioned that we are living at the North Hill Retirement Community in Needham, near Boston. Former JCCer Tom Terwilliger said that his mother had lived at North Hill. At that moment, Solon Snider, who was himself a Young Musicians Program alumnus and attending the reunion, overheard us and interjected: "North Hill—my grandparents live there." It turned out that his grandparents, Stanley (now deceased) and Mary Ann Snider, were fellow residents whom we knew and had visited with over dinner.
Not long ago, I happened to meet a gentleman, Jim Snider, who was reading in one of the lounges at North Hill, and we struck up a conversation. He said that he has a son, Solon, who is very much into music. I immediately recognized that name and said, "I've met your son!" He looked puzzled until I said it was at the Walden School! And yes, Jim knew all about Walden and its wonderful programs.
We all have heard that your brother John and his wife Marianne both passed away in 2021. They had a profound effect on the sacred musical scene in this country, and both are remembered for their many years at JCC.
Yes, John graduated from the Curtis Institute and remained a fixture at JCC as a faculty member and as Assistant Director of the camp, except for the years when he was drafted into the Army. For his Army service, he was named the organist and choir director of the Post Chapel at the U.S. Military Academy at West Point. Later, when John's teacher, Alexander McCurdy, retired from Curtis, John was recruited to replace him in the Organ Department there. Also the organist of the Madison Avenue Presbyterian Church in New York City, he happily commuted to and from Philadelphia by train—his favorite form of transportation. Some years later, the Juilliard School asked him to chair their organ department, which he did while continuing at Curtis for many years until his retirement in 2005.
Marianne was a wonderful flutist who performed frequently with John, including at JCC where she was on the staff for many years. She helped lead the music ministry at Madison Avenue, including directing the Junior Choir, and earlier, she and John established the Bach cantata series at Holy Trinity Lutheran Church in New York. John and Marianne spent their summer months at a house that they built in their beloved northern Vermont, not far from Lyndonville, and they eventually retired there.
For more details about John and Marianne, and about my own music, check out my website. There is a link on that site to the JCC/Walden connection. There is also a page that I've developed describing John's career, including videos of John and Marianne in concert in New York and a wonderful 90-minute Public Radio interview ("Pipedreams") from 2007 in honor of John's 70th birthday. My contact information is also there, and I'm always happy to hear from people in the JCC and Walden communities.
Community News
Eliza Brown composition premiered by Spektral Quartet
In one of its final performances as an ensemble, Chicago-based Spektral Quartet (former YMP visiting artists) premiered a work by YMP alumna, past YMP staff member, and and current YMP faculty member Eliza Brown, who is an assistant professor of music at DePauw University. The five-song cycle for soprano and string quartet, entitled the light that blurred the stars, was co-commissioned by Spektral and Scrag Mountain Music, and the performance featured soprano Mary Bonhag. Setting poetry by Susan Stewart, the work touches on themes of human survival and renewal.
Christopher Luna-Mega featured on Music from Other Minds
Composer Christopher Luna-Mega, a former YMP faculty member, was featured on the radio program Music from Other Minds, in an episode that aired May 8 on KALW in the Bay Area. Luna-Mega discussed growing up in Mexico City, his use of nature as a musical model, and the compositional approaches used in the pieces on his new album Time's Arrow. Listen to the episode here.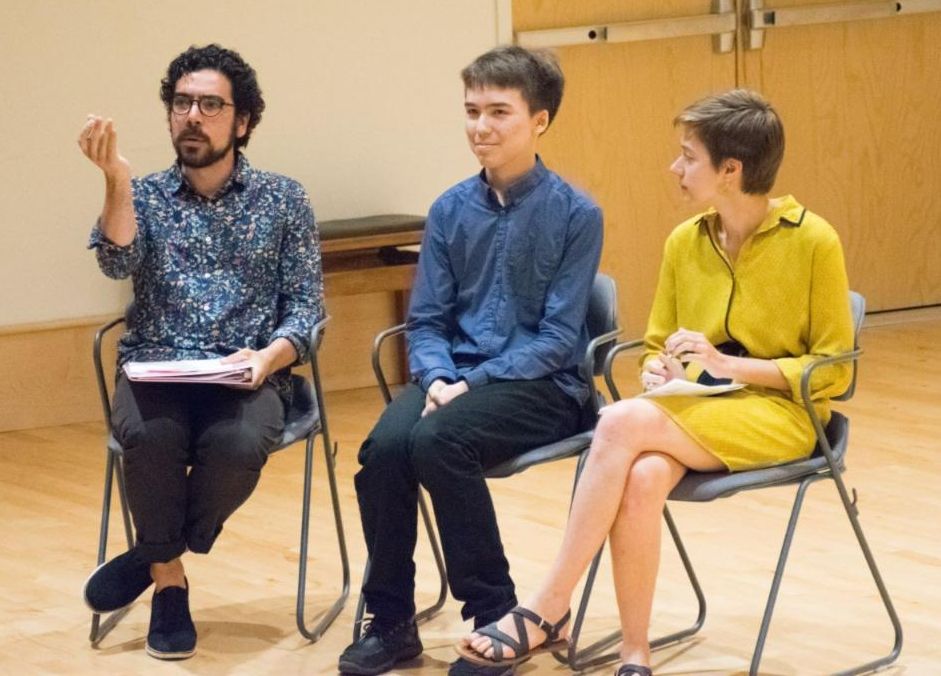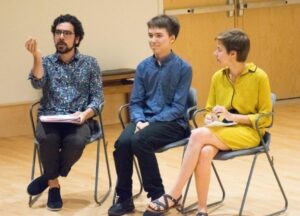 Marco Roberts and Ensemble Dal Niente
On June 10, Chicago-based Ensemble Dal Niente performed the world premiere of On the Road to Urhoy by YMP alumnus (and current Walden intern) Marco Roberts. The piece is inspired by traditional Assyrian, Armenian, and Syrian folk and sacred music, and evokes the bloodstained history of the Jazira region (Upper Mesopotamia) during its occupation by colonial powers, specifically the creation of the state of Turkey and its relationship to tragedy and resistance by the people of the region today. The piece was commissioned as part of an annual collaboration between Walden and Dal Niente, providing an invaluable opportunity for young composers to receive professional performances of their work. Congratulations, Marco!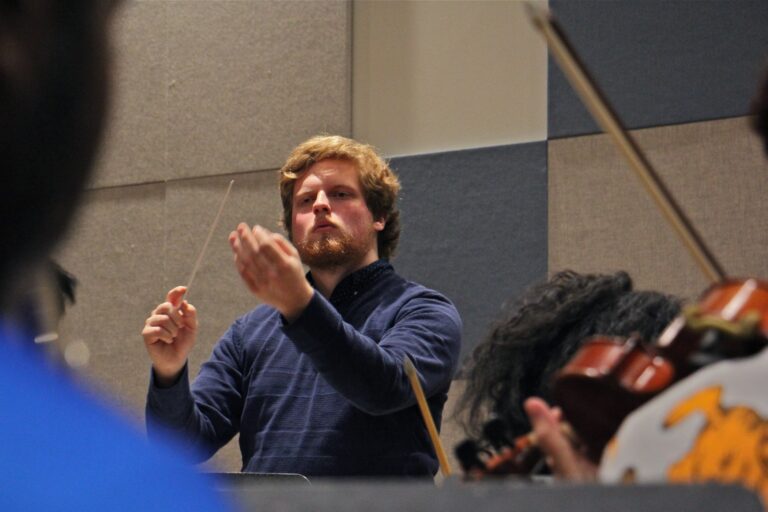 Davey Hiester leads performance with Center City Chamber Orchestra 
YMP alumnus Davey Hiester is music director, president, and a co-founder of the Center City Chamber Orchestra, an ensemble that unites a diverse group of student musicians in the Philadelphia area. On May 27, Davey led the orchestra in REORCHESTRATION, a concert that included the premiere of his own orchestration of Remembrance, a song cycle by E. A. Alexander. Watch the concert here.
Nnenna Ogwo presents Juneteenth Celebration Concert
Nnenna Ogwo, a YMP and CMR alumna, former YMP visiting artist, an
d former Walden Board member, presented her popular annual Juneteenth Celebration Concert in four locations across New York City from June 14 to 19. The concert is part of The Juneteenth Legacy Project (of which Dr. Ogwo is the founder and artistic director) is a musical collaborative whose mission is to share the music of the African Diaspora through the unique lens of black classically trained musicians with a focus on access, outreach, and community building through music. Watch one of the performances here.
New theater work and book from Alicia Jo Rabins
YMP alumna Alicia Jo Rabins presented a staged reading of her new work in progress, a theatrical adaptation of her Girls in Trouble song cycle, weaving stories of biblical women with personal narrative, at the Oregon Jewish Museum and Center for Holocaust Education on June 16. The working title is Girls in Trouble: A Feminist Mystery Play. Rabins has also written a book, Even God Had Bad Parenting Days: Ancient Jewish Wisdom for New Parents, which is available for preorder and will be published in September by Behrman House. An excerpt from the book, on the rabbinic concept of "the pain of raising children," was published in Kveller.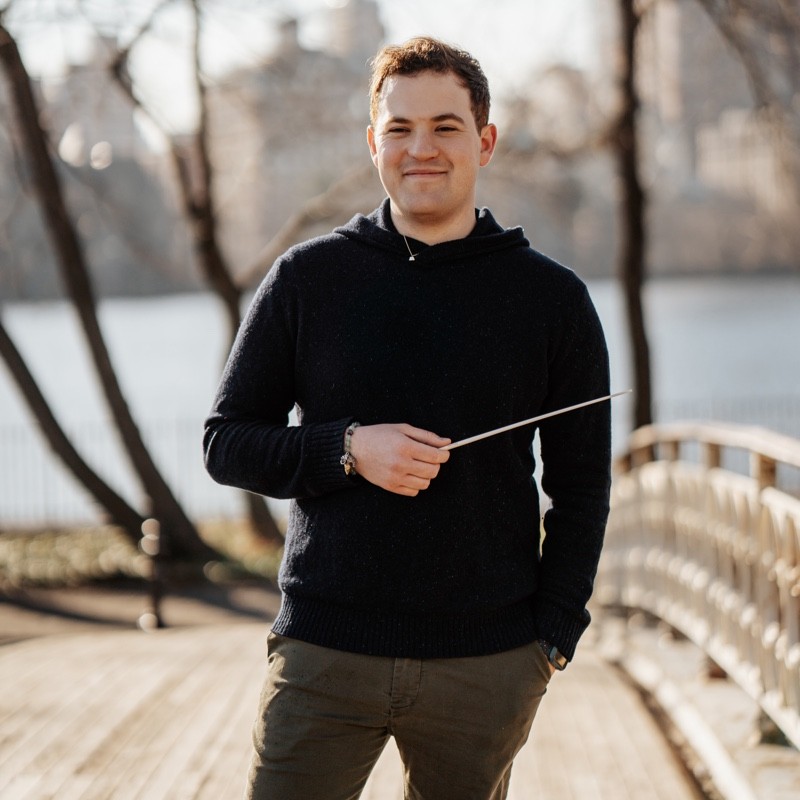 Solon Snider starts new job at Princeton
YMP alumnus Solon Snider has taken up a full-time faculty position at Princeton University as Lecturer in Music Directing and Choral Programs. This is a joint appointment between the Department of Music and the Lewis Center for the Arts Programs in Theater and Music Theater. At Princeton, Solon is the founding director of the Playhouse Choir and Playhouse Orchestra. He also works with Trenton Arts at Princeton as Director of the Trenton Youth Singers. Congratulations, Solon!
Two premieres of choral works by Caroline Mallonee
With Streaks of Light, a suite of Shakespeare songs by CMR Director and Walden alumna Caroline Mallonee, was premiered by the Cecilia Chorus in New York on May 25. The piece was commissioned by the Cecilia Chorus and its director, Mark Shapiro. A conversation between Mallonee and Shapiro about the work can be viewed here. And on June 4, another choral commission, The Right and True, was premiered by Concentus Women's Chorus in Pittsford, New York. The piece was written in honor of the centennial of the 19th Amendment, which guaranteed women's suffrage in the United States. Watch a video about the piece here.
Premiere of Matthew Cummings's composition for video game and orchestra
Tropical Trial, a composition by Online Young Musicians Experience (OYME) alumnus Matthew Cummings, was premiered on May 22, in Alexandria, Virginia, by Matthew's former youth orchestra, the American Youth Philharmonic. The piece was accompanied by the video game "The Legend of Zelda: Breath of the Wild," which was spliced by Matthew and projected onto a video screen during the performance. Matthew's composition shared a program with works by Jim Colonna, Sibelius, and Dvořák.
Lukáš Janata co-organizes Concert of Compassion for Ukraine
CMR alumnus and current YMP faculty member Lukáš Janata was a co-organizer of the Concert of Compassion, a benefit that raised more than $100,000 for groups aiding the Ukrainian people. Held at Congregation Sherith Israel in San Francisco on May 9, the evening featured musical talent including Frederica von Stade, Jake Heggie, musicians from the San Francisco Symphony, the Artists' Vocal Ensemble (including Walden's Interim Development Manager, Noah Mlotek), The Bay Brass, Orthodox bells authority Victor Avdienko, and Ukrainian soprano Alina Ilchuk, conducted by Jonathan Dimmock and Nicole Paiement. The event also included a powerful statement by Ukrainian Consul-General to San Francisco Dmytro Kushneruk. Watch the concert here.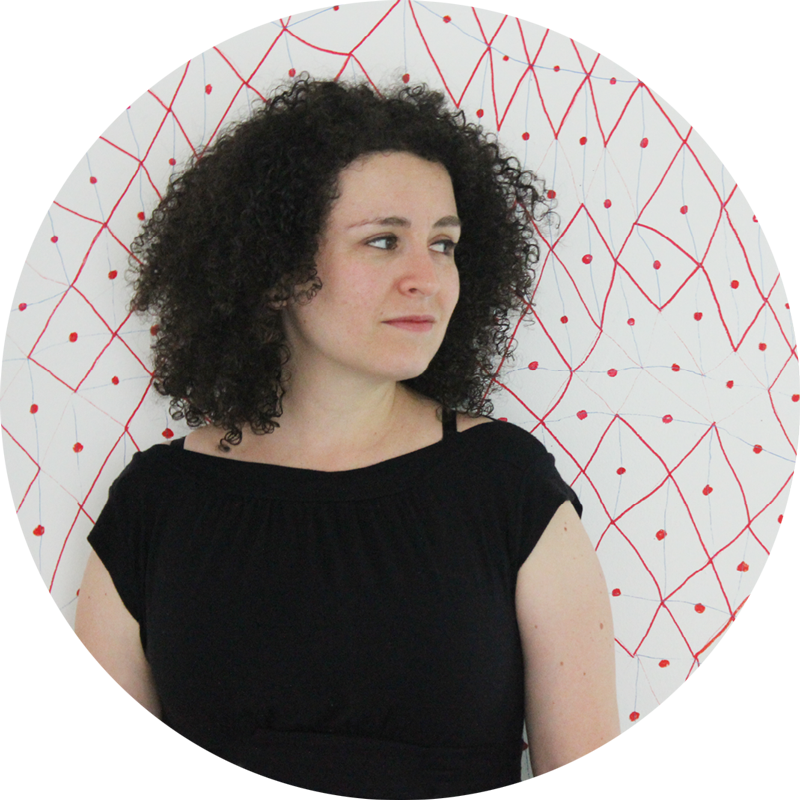 Osnat Netzer choral work premiered
In celebration of its 20th anniversary, Boston-based Jewish community chorus Koleinu commissioned a new piece of choral music, A Funkl Gleybik (A Spark of Belief) by Osnat Netzer, a TTI alumna and former YMP and current CMR faculty member. The work was premiered on June 9 at Temple Shalom in Newton, Massachusetts, by Koleinu with Hankus Netsky and Ezekiel's Wheels Klezmer Band. The piece is an evocation of nature and time on poems by Rosa Nevadovska, Malka Tussman, and Anna Margolin.
Ruby Landau-Pincus and Annie Gosfield at YIVO
After graduating from Columbia University with a BA in Yiddish Studies, YMP alumna Ruby Landau-Pincus (seen at right with parents Caroline Pincus and Esther Landau, Walden's former Development Director) has started a new job as an exhibition developer for the YIVO Institute of Jewish Research in New York. Mazel tov, Ruby! In other Walden-YIVO news, a new piece for string quartet by former YMP and CMR composer-in-residence Annie Gosfield, Rivulets Ripple and Rivers Flow, was premiered as part of YIVO's festival "Continuing Evolution: Yiddish Folksong Today." The piece was inspired by the Yiddish song "Ale vaserlekh flisn avek" ("All the Rivers Flow Down to the Sea"). You can watch the concert here.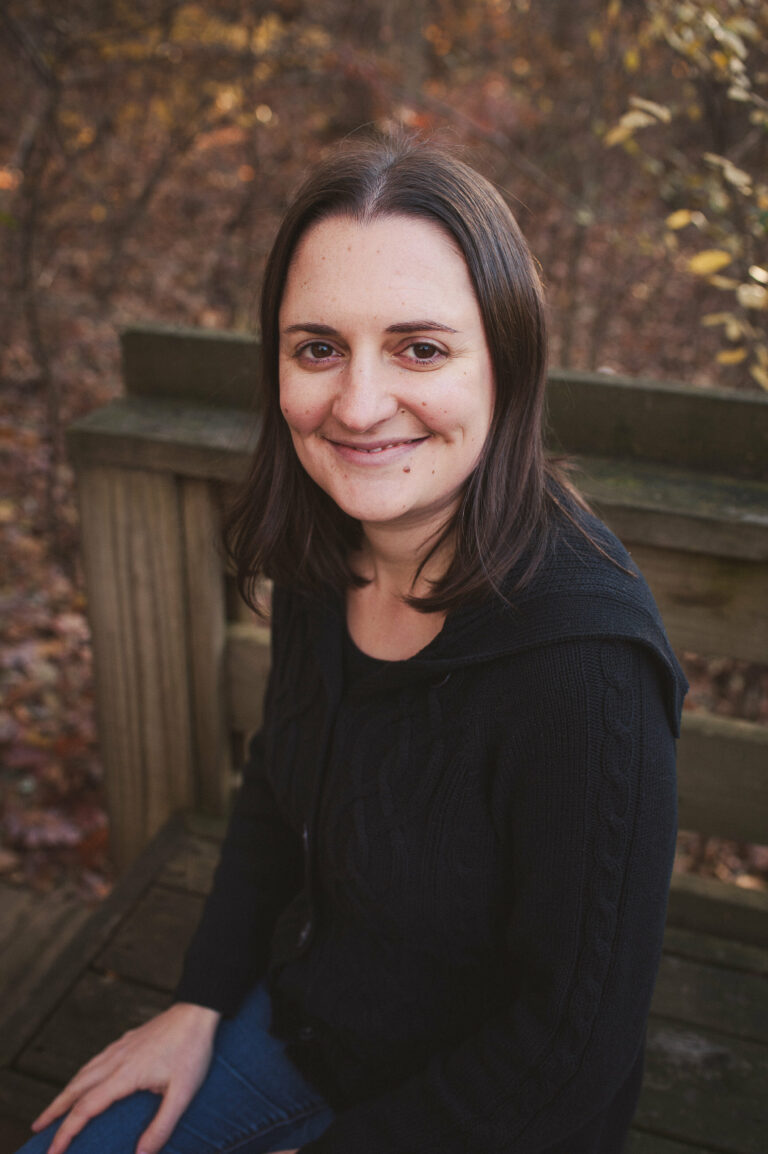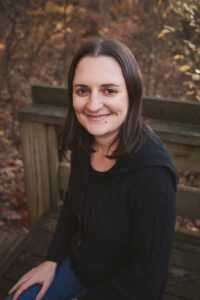 Sarah Riskind presents music by Italian nuns
Sarah Riskind, a former YMP and CMR faculty member and former YMP choral director, conducted a concert entitled "Behind the Walls: Music from the Italian Convents" with the Baroque Artists of Champaign-Urbana, of which she is the music director. The concert featured music written by Italian women composers in the 1500s and 1600s and was led by Riskind with "scholarly expertise," according to a review in the Champaign-Urbana News-Gazette. Riskind is also the director of choral activities and an assistant professor of music at Eureka College.
Joel St. Julien releases album
CMR alumnus Joel St. Julien's album Masking was released June 10 on Dragon's Eye Recordings. St. Julien's inspiration for the album came from a midlife discovery that unexpectedly pushed him into understanding his neurodivergence, and the work mirrors his shift from self-blame toward self-acceptance. Jay Adams contributed artwork, visuals, and creative direction for the album, the last two tracks of which can be streamed with visuals here.
Nicolas Lell Benavides's opera Tres minutos premiered
A new one-act opera by CMR and Teacher Training Institute (TTI) alumnus Nicolas Lell Benavides was premiered in Seattle and San Francisco on May 15 and 22. With a libretto by Marella Martin Koch, Tres minutos follows the story of a sister and a brother who wrestle with questions of identity, duty, and belonging during their brief reunion at the US-Mexico border. Benavides, a doctoral student at USC Thornton School of Music, conducted the performances of the opera, which was commissioned by Music of Remembrance.
Shawn Crouch releases album
A new album of compositions by YMP alumnus and former YMP and CMR faculty member Shawn Crouch was released on June 7 by the label Acis. Chaos Theory and Other Chamber Works features Crouch's instrumental chamber works, inspired by science, autobiography, and news cycles, written over the past 25 years. The album features performers including past YMP visiting ensemble Yesaroun' Duo, [Switch~ Ensemble], cellist Craig Hultgren, and Ensemble Ibis, of which he is the artistic director.
Hub New Music releases Requiem of the Enslaved
Requiem for the Enslaved, an album featuring former YMP visiting ensemble Hub New Music, was released by Decca Classics on June 17. The album premieres a work by Carlos Simon honoring the lives of 272 enslaved people sold in 1838 by Georgetown University, where Simon is an assistant professor of music. The work, which was profiled in an NPR article, was commissioned by Georgetown University with support from the President's Office and the committee for Slavery, Memory, and Reconciliation.
We want to hear from you!
What's been going on? If you have a recent or upcoming premiere, publication, award, new job or program, or a celebratory life event, please share the news at waldenschool.org/contact.
Stay in Touch
You can like The Walden School page on Facebook and join The Walden School private group to hear about events and opportunities throughout the year. You can also find us on Instagram, Twitter, YouTube, bandcamp, and at waldenschool.org.