Message from Seth Brenzel, Executive Director
Dear Walden community members,
I hope you will enjoy the March issue of InterNetzo. As there is so much uncertainty in this challenging time, we hope that our monthly communication to the Walden community will help maintain a sense of constancy in our disrupted world. Know, too, that we are still planning for summer and imagining being together again in Dublin, New Hampshire. If you missed my message from Friday, March 20, you can read it here.
We are accepting applications for our Summer 2020 Young Musicians Program and Creative Musicians Retreat; our Spring application deadline is April 3 and our final deadline is May 1.
In this edition of InterNetzo, be sure to check out the "In the Spotlight" section to meet Sammi Stone, our new Director of Operations! Check out our Community News section to see some of the ways people are continuing to find creative community, despite physical distancing.
I send you my best wishes for health and peace during this difficult time.
Best wishes,
Seth
Community Events
New York celebration on March 7
On March 7, alumni, family, and friends of Walden gathered for a delightful evening of music and community at Tenri Cultural Institute in Manhattan. Walden alumna Hilary Kole, accompanied by bassist Paul Gill, performed a number of Hilary's original compositions, as well as some beloved jazz standards. Many thanks to Ian Munro, Walden alumnus and past faculty and staff member, for providing delicious food for the event!
Thank you to our host committee and all of our event donors for their generosity. With everyone's help, we raised more than $7,300. Thank you! Your support helps ensure creative musicians find a home at Walden for generations to come.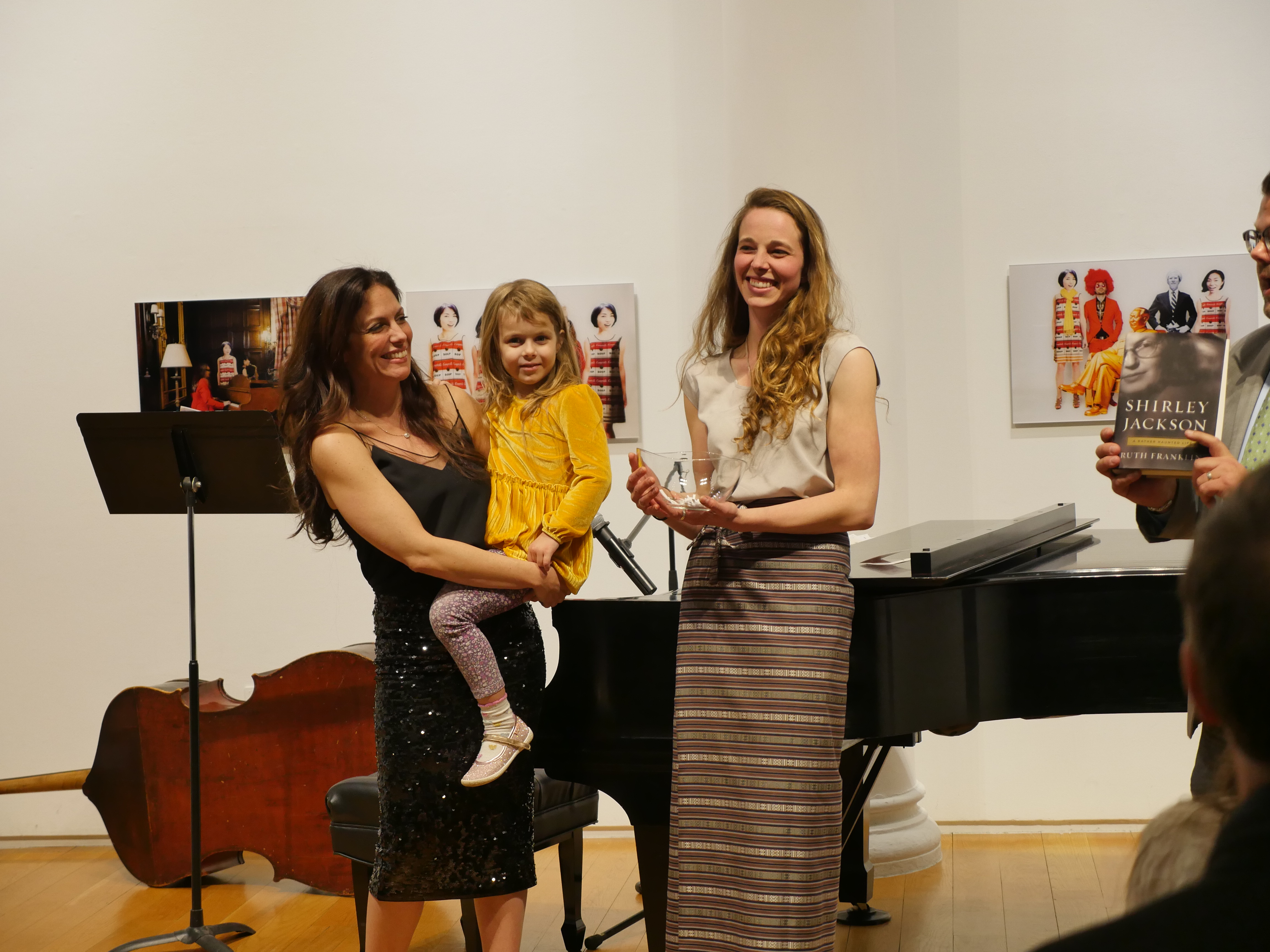 Special thanks to Whit Bernard, Ruth Franklin, and Jennifer Weidman for donating prizes for our raffle. Thanks also to our wonderful volunteers, Katie Balch and Cara Dibdin for keeping the event running smoothly, Paula Ortiz for photography, and Aliza Simons for her help in the kitchen.
If you or people you know are interested in future Walden events, please write to events@waldenschool.org.
Concert with Face the Music on March 10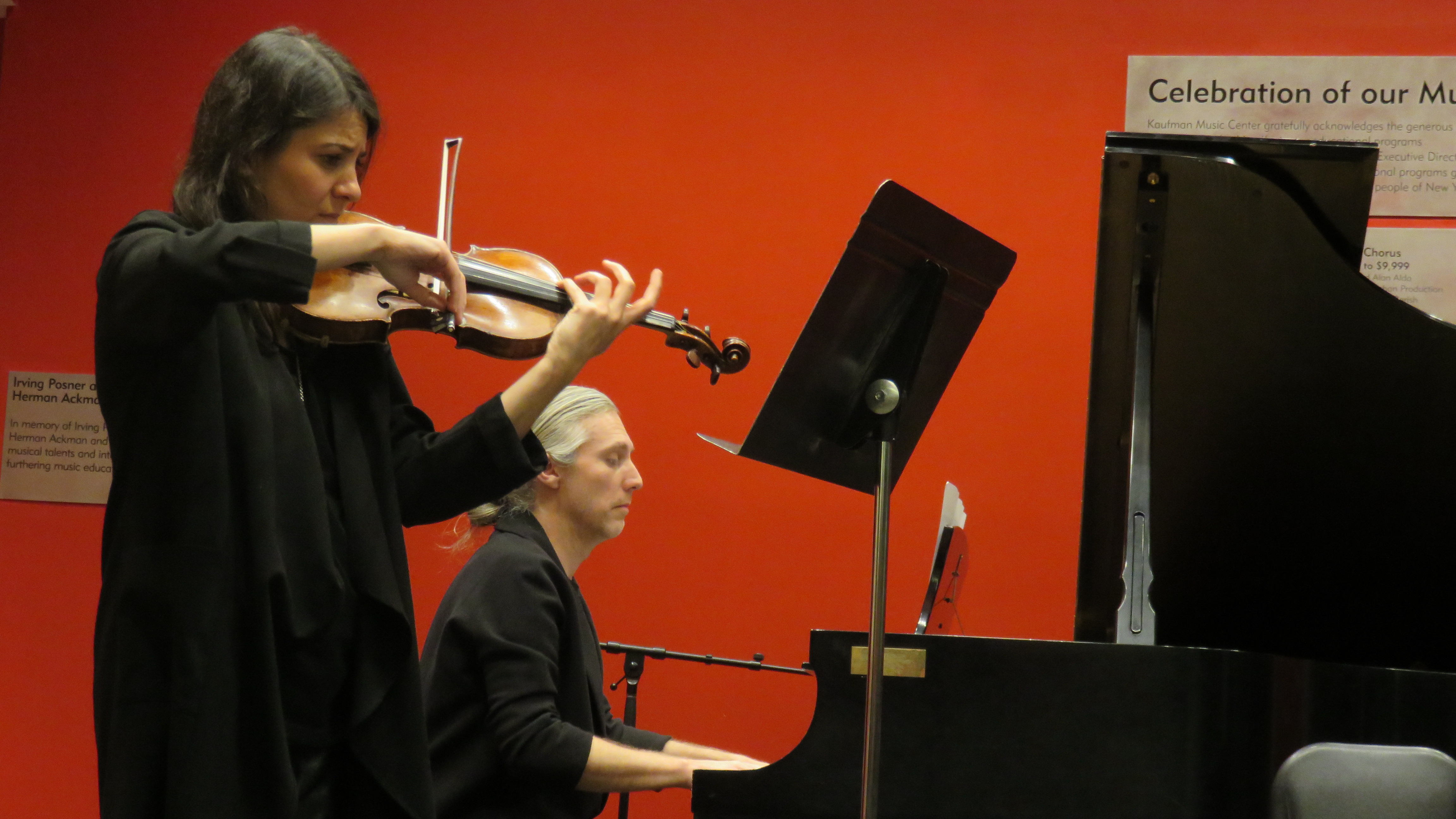 On March 10, The Walden School and Face the Music collaborated to present a concert featuring students of both programs. The concert at Kaufman Music Center in New York featured Laura Cocks and Erica Dicker, members of The Walden School Players, CMR Artist-in-Residence David Friend, and musicians of Face the Music. The featured composers included alumni of both Walden's Young Musicians Program and Creative Musicians Retreat.
Walden's featured composers:
Jack Bettigole – Rolf A Nu Ed Ad Iv A L (composed during YMP 2018)
Cashel Day-Lewis – The Long Path Down (composed during YMP 2018)
Darlene Castro Ortiz – Three Haiku (composed for CMR 2019)
Julian Hofstetter – Moon Song (composed during YMP 2017)Maggie McGinity – A-OK (composed for CMR 2019)
Upcoming
May 2: Josh Modney performs to benefit Walden
Save the date! On May 2, violinist Josh Modney will perform a concert to benefit Walden, which you can watch via livestream. Look out for details coming soon by email, and we hope you'll join us online on May 2.
Josh Modney is devoted to creative music-making. A "new-music luminary," "superb violinist" (The New York Times), and "multitasking virtuoso" (The New Yorker), hailed for "jaw-dropping technical skill" (Bandcamp Daily), Josh is a frequent visiting artist at Walden.
Summer 2020 Programs
Walden 2020
We continue to accept applications for summer 2020, and our spring application deadline is coming up! We hope you (and all of the people you know!) will apply to join us at one of our programs this summer.
Creative Musicians Retreat: June 13-21, 2020 (for musicians ages 18-98)
Young Musicians Program: June 27 – August 2, 2020 (for pre-college musicians, ages 9-18); a 3-week program, from June 27-July 19 is an option for students through 7th grade.
Application materials are available for both programs at waldenschool.org/apply/.
Spring application deadline (postmark): April 3 
Final application deadline (postmark): May 1 
Please write to us at applicants@waldenschool.org with any questions.
In the Spotlight
Sammi Stone
Meet Sammi Stone, Walden's Director of Operations! Sammi is an alumna of the Creative Musicians Retreat. Sammi grew up in Baker City, Oregon, and played oboe in middle and high school band and a community orchestra. She went to chamber music summer camp growing up, went to undergrad at Williams College, then did a Masters in Composition at the University of California San Diego. Now she is back in Baker City, helping her family with their coffee business. Sammi does all the small batch roasting, except during the summer, when she is looking forward to being at Walden.
How and when did your relationship with Walden begin?
I learned about Walden from one of my professors at Williams, Matthew Gold, who is involved with the Creative Musicians Retreat (CMR). I got into percussion in college, and Matt was my teacher. We worked together a lot, and I was also a composition student, so he encouraged me to go to CMR after I graduated from Williams. I had a really nice time at CMR, and really enjoyed the place and the people. I've been too busy in subsequent summers to think about going back, but I had a really wonderful time when I went.
What are music and creativity part of your life now?
My musical practice is pretty much private right now. I write music at home, make oboe reeds, and play the oboe. I teach oboe lessons to some high school students, which is really fun, and I learn a lot from that as well. I have a growing stack of composition sketches by my piano at home and I hope to get those out into the world and performed in the future, and to return to performing music myself. For now, I'm really enjoying being able to have a relaxed and solitary musical existence, after years in school for music.
What is a non-music hobby you love?
I love bird watching. It is really rewarding to me to see a bird and know what it is and know what its life history is like and what to call it. Even if I don't see the bird, it is a worthwhile challenge to hear a bird song and try recognize the caller just by that sound. I also love to go hiking and take walks in nature. And I love to cook.
Could you describe a favorite Walden memory?
One standout memory from CMR was doing a Pauline Oliveros meditation out on the quad on a beautiful day. I don't even remember which meditation, maybe the one with rocks, but the whole moment was just really beautiful. Everyone was joining in with a lot of sincerity, which in combination with the beautiful outdoor environment made for a meaningful memory.
What is something you're looking forward to this summer?
I am excited to meet people – coworkers, CMR participants, and YMP students. I am really looking forward to seeing YMP in action. I have never experienced or been a part of it, and the whole concept is really inspiring to me. I am especially looking forward to hearing compositions written by the students.
New Music Solidarity Fund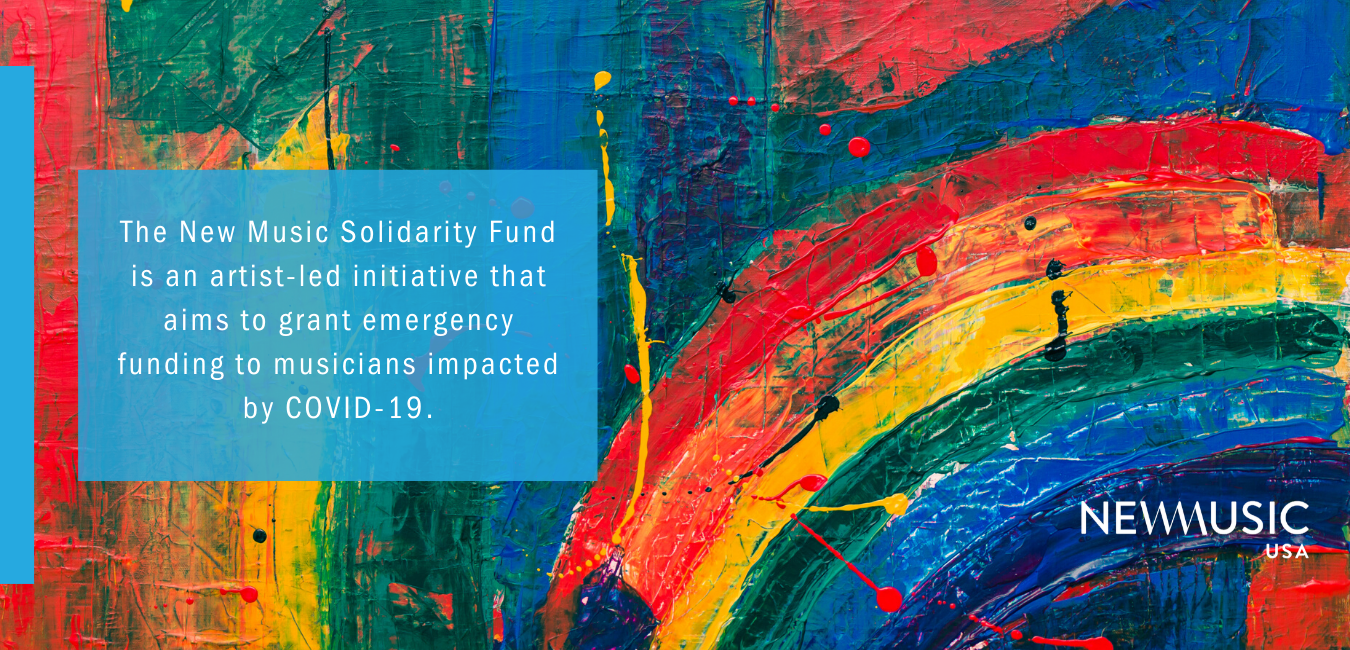 New Music USA is collaborating with composers and musicians to establish the New Music Solidarity Fund to help freelance performers with urgent financial needs following cancellations of their work in this initial phase of the COVID-19 pandemic. More than 100 artists, arts leaders, and professors in the field have announced the New Music Solidarity Fund, an initiative that aims to grant emergency funding to musicians impacted by COVID-19. At the time of the announcement, more than $130,000 has been pledged, with donations coming first from musicians, composers, and others from the new music community wishing to show their solidarity for those whom they know to be suffering.
The New Music Solidarity Fund will distribute at least two hundred and sixty, $500 emergency assistance grants. Any musician who has had a project involving a living composer canceled because of the pandemic is invited to apply. The New Music Solidarity Fund opens to applicants at 12 pm Eastern time on March 31, and will run until April 30. Grants will be available on a first-come, first-served basis as funds last.
Community News
Our Community News looks a little different in this edition of InterNetzo, as so much of our community is impacted by cancellations and postponements. As we adjust to reduce the spread of COVID-19, new virtual gatherings are springing up. We are inspired by how community members are continuing to build creative connections, making this a time of physical distancing and social bridging.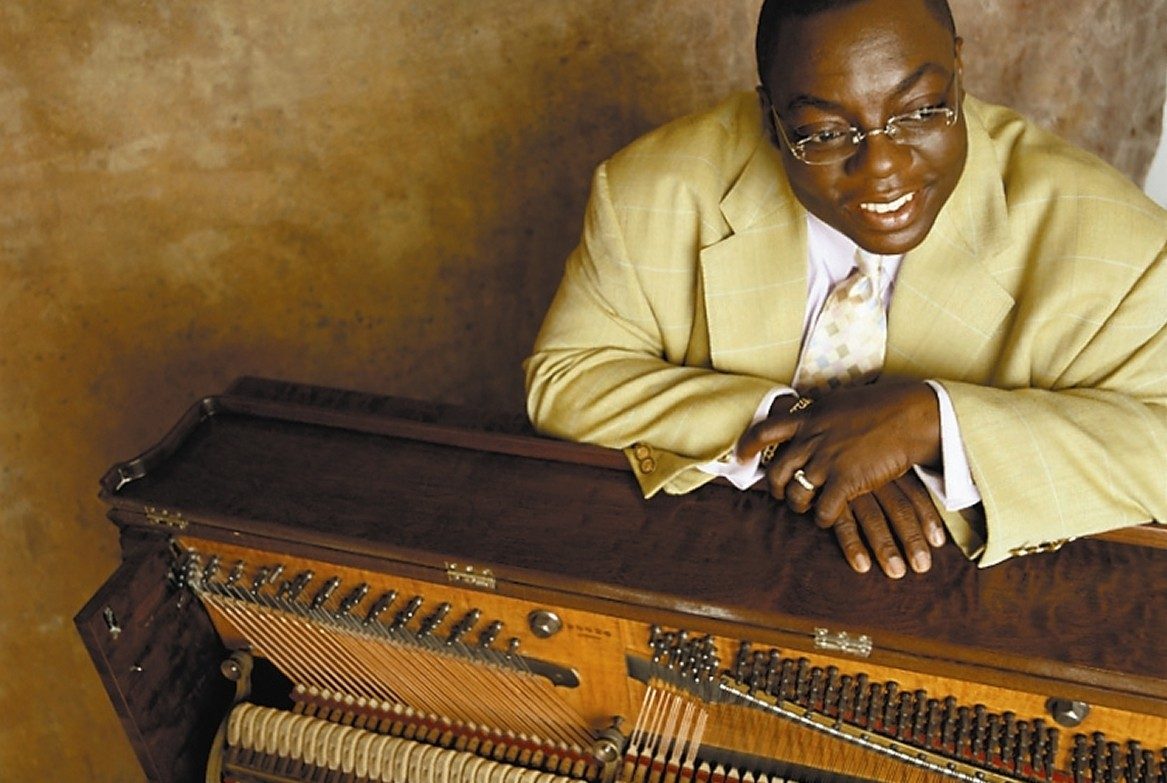 Cyrus Chestnut performs concert via livestream.
Walden alumnus Cyrus Chestnut performed a concert online via Facebook live on March 22. If you are on Facebook, you can watch the concert here. Cyrus is a jazz pianist, composer, band leader, and educator. Executive Director Seth Brenzel also hosted a "Watch party" in the Walden Facebook group, so keep your eyes out for future watch parties!
Del Sol String Quartet livestream
Charlton Lee and Kathryn Bates of Del Sol String Quartet performed a concert on March 21 via Facebook live. If you are on Facebook, you can see a recording of that concert here. Del Sol String Quartet is a past visiting artist at Walden, and performed on our Alumni Composers Forum in San Francisco in February.
Rebekah Griffin Greene livestreams concert
On March 22, Rebekah Griffing Greene offered an all-improvised concert via Facebook live, her first performance on this platform. Rebekah performed number of pieces for bass, as well as bass and vocals, and even took requests. Rebekah is a Walden alumna, and has been on faculty at the Young Musicians Program.
Horszowski Trio performs on 24-hour virtual festival
Jesse Mills (violin) and Reiko Aizawa (piano) of the Horszowski Trio will participate in Music Never Sleeps NYC, a 24-hour virtual festival beginning at 6pm Eastern time on Friday, March 27. You can tune into this 24-hour livestream marathon on Facebook or YouTube. You can find the list of performers here–you may see some more familiar names! Reiko and Jesse are past visiting artists at Walden.
ICE hosts Pauline Oliveros' Tuning Meditation
On March 28 at 5 pm Eastern, the International Contemporary Ensemble (ICE) will host Pauline Oliveros' Tuning Meditation, led by Claire Chase and IONE. This will be a world-wide musical exchange, and you can sing along live from your computer, no music experience necessary. Pauline Oliveros was a visiting artist at Walden, and served on Walden's Advisory Council. ICE is a frequent visiting artist at Walden.
Hilary Kole composer-judge for Young Jazz Composers Competition
Walden alumna Hilary Kole served as one of three composer-judges for The ASCAP Foundation 2020 Herb Alpert Young Jazz Composers Competition. Winners were announced on February 26, 2020. The recipients, who receive cash awards, range in age from 17 to 29 and are selected through a juried national competition. Hilary is a jazz vocalist and composer, and attended the Young Musicians Program for five summers.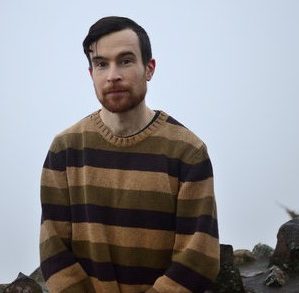 Nate May performs improvised piano concert
Nate May performed a concert of improvised piano music on March 18 at 9 pm Eastern. Intending to calm the nerves of anyone who tuned in, Nate streamed the concert live via Facebook. Nate has served on faculty at the Young Musicians Program for the past three summers. Nate is a composer, performer, and educator whose interest in human ecosystems has impelled explorations of a wide variety of sounds and interactions.
Henry Samuels performs Bach
On March 23, Henry Samuels performed Bach via Facebook live. If you're on Facebook, you can see the recording here. Henry is a double bass player and music teacher living in Cleveland, Ohio, and also adapts violin and cello repertoire for double bass players. He is an alumnus of the Creative Musicians Retreat.
Steinberg Duo Online Concert Series
The Steinberg Duo, as part of their project Ashuelot Concerts, has launched a series of online lecture-concerts called Classically Curious? You can tune in on YouTube every Wednesday and Saturday at 8 pm Eastern time, and find the series schedule here. Each evening begins with a performance, then a talk about of the story of the composer and what makes the music so special. At the end, there is a repeat performance, allowing a new listening experience. Q&As will be available on their YouTube channel at the end of each event. The Keene-based Steinberg Duo was a visiting artist at Walden in 2019.
Drew Thams and The Liquorsmiths Virtual Concert
On March 25, Drew Thams performed a virtual concert with his band The Liquorsmiths. They streamed the concert live on both Facebook and YouTube. The Liquorsmiths (formerly Second Tuesdays) are a folk rock group born from a collision of contrasting ideas, styles and musicality. Vocalist/guitarist Drew is a past member of Walden's administrative team.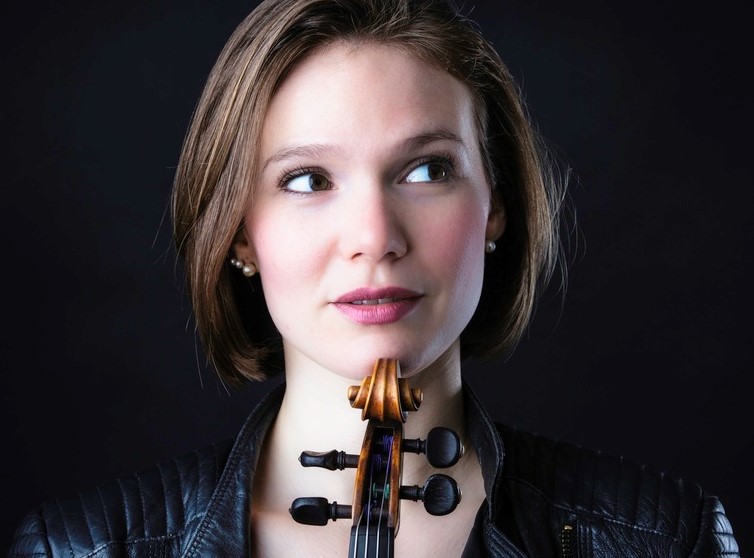 Tamsin and Freya Waley-Cohen launch Living Room Live
In light of current events, Tamsin and Freya Waley-Cohen are collaborating with George Fu and Daniel Ross to launch Living Room Live, a collaborative platform for world class musicians to share their music from their living rooms around the world. As musicians and audiences find their normal concert schedules fully cancelled, they hope that this will be a way to share the joy of live music-making for all involved! The first concert of the series was on March 26, and you can see upcoming concerts on their website or Facebook page. Freya is a YMP alumna, and her sister Tamsin has been a visiting artist at Walden.
We want to hear from you!
What's been going on? If you have a recent or upcoming premiere, publication, award, new job or program, or a celebratory life event, please share the news. Email your news to alumni@waldenschool.org.
Stay in Touch
You can like The Walden School page on Facebook and join The Walden School private group to hear about events and opportunities throughout the year, including upcoming regional alumni Composers Forums and Holiday Parties. You can also find us on Instagram, Twitter, and at waldenschool.org.