Table of Contents
Message from the Executive Director
Applications Still Being Accepted For This Summer's Programs
Calling All Superheroes: the Music-a-thon is Underway
Walden/JCC Reunion: Register Today!
PRISM Quartet to Premiere Work by Walden Alumnus at Upcoming Concerts
Walden Announces 2012 Concert Series
Alumni Composers Forums in New York and San Francisco
Love Walden? Let the World Know
Community News & Goods
Opportunities & Organizations Listing
Now Hear This! Work by 2011 Walden Participants
Message from the Executive Director
Greetings from 37,000 feet! I am currently speeding my way across the country, moving east for an annual summer migration to New England. Today begins 10 weeks for me on the east coast as Walden 2012 ramps up. I am so excited about the coming summer of Walden programs and events. There is a palpable energy amongst the staff, faculty and administration as we gear up for Walden's 40th season, and we cannot wait to greet our program participants in the coming days and weeks!
I look forward to two PRISM Saxophone Quartet concerts – one tonight, Thursday, in New York City and the other on Saturday, June 2, in Philadelphia. Sam Phillips-Corwin, Walden alumnus, is having a brand new piece for the quartet premiered, continuing a more than 10-year close partnership between Walden and PRISM.
I am excited to see many Baltimore area donors, alumni and supporters on June 3 at Jack and Lucy Henningfield's home. Seth Knopp, former artist-in-residence at Walden and current artistic director of Yellow Barn, will perform a benefit concert. It's still not too late to join us, and I hope you will – it promises to be a fantastic afternoon of music and food catered by Walden's very own Laura Mehiel (board member, alumna and chef extraordinaire!).
More than 15 alumni, faculty and staff are engaged in fun and interesting projects to help raise funds for Walden's financial aid programs. This year's Music-a-Thon has already raised more than $5,000 toward a goal of $10,000, which will be matched dollar-for-dollar, up to $10,000. Projects include daily improvisation, writing music, orchestrating pieces, new mobile phone ring tones, practicing instruments, blogging about musical activities and more. I can't wait to see the fruits of these endeavors, and I hope you will join me in supporting the work of these diligent musicians!
I look forward to the reprise of Walden's Creative Musicians Retreat (for which there remain a few additional spots!) at Smith College. Last year's inaugural season was a great success, and this year's participants include alumni from all three of Walden's programs as well as many musicians new to Walden. James Mobberley, former board member and composer-in-residence, will join us this year as the composer-in-residence at the Creative Musicians Retreat. Alumni visiting artists Wet Ink, co-led by Walden's own Sam Pluta, will be the ensemble-in-residence, and they will rehearse, workshop and perform new works by many of the program's participants. The program's faculty and staff this year, enthusiastically led by program director Caroline Mallonée, is composed of Shawn Crouch, Marguerite Ladd, Sky Macklay, Ian Munro, Loretta Notareschi, Sam Pluta, and Bill Stevens.
I eagerly anticipate the Walden and Junior Conservatory Camp Alumni Reunion, June 22-25 on the campus of the Dublin School. More than 60 alumni have already signed up for a weekend of fun and reminiscing: an alumni concert, a Composers Forum, a hike up Monadnock, a dance, a 'slide' show, Goodnight Music, and plenty of time for catching up with old friends and making new ones. "With a moonbeam or star for light…"
And of course, I can't wait for June 30th, the day students arrive from around the world for the 40th season of Walden's Young Musicians Program! This year's team of faculty and staff comprises Erica Ball, Meade Bernard, Alex Christie, Carol Thomas Downing, Renée Favand-See, Ann Goehe, Dana Jessen, Marguerite Ladd, Sky Macklay, Tony Makarome, Emil Margolis, Ted Moore, Ian Munro, Tierney O'Brien, Sam Pluta, Sarah Riskind, Peter Thompson, Leo Wanenchak, and Marie Whiteford. The aforementioned include 10 alumni of Walden's Young Musicians Program, 10 alumni of our Teacher Training Institute summer intensive workshops and 1 alumna of our Creative Musicians Retreat. 10 of this year's 13 teaching faculty have taught at Walden before, and 5 of this year's staff have worked on staff at Walden before. Cumulatively and collectively, this year's faculty & staff have at least 175 summers at Walden under their belts. The group, when not in Dublin, New Hampshire, lives in Massachusetts, Minnesota, Oregon, Virginia, Singapore, California, Georgia, New York, Maryland, Tennessee, Connecticut, Louisiana, Vermont, Pennsylvania, Delaware and Wisconsin. No matter where we come from, we cannot wait to greet our students for a summer of musicianship, composition, choral singing and community!
Our summer Concert Series, which begins June 10 with a concert by Wet Ink Ensemble on the campus of Smith College and concludes with the annual choral concert on August 3 at the Peterborough Town House, features a solo guitar recital by Michael Poll; Aurora Nealand, bandleader, and her Royal Roses; Duo Prism; Yarn/Wire performing nine brand new works by Walden faculty composers; and The Walden School Players (Jane Cords-O'Hara, Jane Chung, Matt Gold, Rane Moore, Tawnya Popoff, Jessi Rosinski, and Aaron Wunsch) performing a concert as well as in three Festival Week Composers Forums, where they will showcase brand new works by Walden students. Eve Beglarian will be our composer-in-residence. All in all, the series features more than 20 Composers Forums, concerts, open rehearsals, presentations and Community Connections events. All of these events are free and open to the public, so please tell your friends, family and colleagues about Walden's exciting musical offerings this summer.
None of what Walden is planning for the coming summer could happen without the tireless efforts of our board of directors, year-round administrative team and program leadership and our hundreds of financial supporters. I want to take this opportunity to say a special thanks to Brendon Randall-Myers, who departs Walden's year-round administration at the end of June as he pursues an advanced degree in composition at Yale University. He's been an integral part of improvements to Walden's online presence, newsletters and development efforts over the past three years. Thank you, Brendon – you will be missed!
I also want to thank three board members whose terms end in July. David Callan, Arno Drucker and Leslie Stephens have had a great impact on Walden during their years of service on Walden's board. In numerous small and big ways, they each brought something unique to the ever-important work of Walden's dedicated board of directors, and they will be sorely missed. Thank you David, Arno and Leslie!
Finally, I want to thank our hundreds of loyal and generous donors. Without your support, we could not conduct our programs and plan for Walden's bright future. You provide financial aid; you help defray operating costs so as help keep program tuition from rising faster; you underwrite our artist residency and concert series programs. Thank you for leading the way.
There is much to look forward to over the next 10 weeks of Walden 2012. I hope to see you along the way, and if not, we will keep you posted of the summer's goings on via event announcements and additional issues of InterNetzo. Please enjoy the rest of this installment of Walden's newsletter, and as always, please contact me with any questions, comments, suggestions, rants and/or raves.
With warmest wishes for a terrific summer,


Seth Brenzel
Executive Director
Applications Still Being Accepted For This Summer's Programs
There are still a few remaining places in both of Walden's 2012 programs, the Creative Musicians Retreat and the Young Musicians Program. If you or someone you know is a musician between the ages of 9 and 999 who seeks a fun and fulfilling creative experience this summer, now is the time to let us know! Just fill out our on-line contact form to request application materials for either program. We look forward to hearing from you!
Walden's Music-a-thon: Pow! Blam!
Picture this:
Scene: A city street. The sky is full of dark clouds rolling in. Ominous music rises.


WOMAN ON STREET: (hand to forehead) Gadzooks! Walden needs to raise an additional $20,000 by June 15 to make it possible for deserving students to attend this summer. But how???
WALDEN SUPERHERO: (clutching pencil and manuscript paper) Never fear: The Music-a-Thon is here! From now through June 15, participants in Walden's Music-a-thon will be doing projects that will challenge them as creative people – composing, improvising, performing, singing, writing about music – even building instruments! – and you can support their creativity and hard work by visiting their fundraising pages and making a donation to Walden. All proceeds will benefit financial aid for the Young Musicians Program.
WOMAN ON STREET: (looking anguished) But can the Music-a-thon alone close that $20,000 fundraising gap?
WALDEN SUPERHERO: (exhilarated) Yes! Super-Donors to the rescue! A group of mystery donors has stepped forward to match every Music-a-thon donation dollar for dollar, up to $10,000. But we can't do it without the help of every citizen, including you, Formerly Panicky Woman. Will you do it right now?
WOMAN ON STREET: (considerably calmer) Yes! Where do I click?
WALDEN SUPERHERO: Right here on this "Blam! Pow!!"


Scene closes as ominous music fades and is replaced by the sound of keyboard drills. Clouds part, birds chirp. Crisis averted.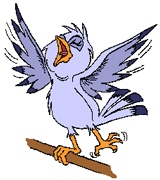 I hope you will join Walden Superhero, Walden Super-Donors and Formerly Panicky Woman to help students who need financial aid at Walden this summer.
Visit the Music-a-thon site, browse the projects and pick one to support. Your donation of any size will make an immediate difference.
As of the end of day 16 of the Music-a-thon, the event has already raised $6,495. Walden Super-donors to the rescue!
Calling all alumni of The Walden School & Junior Conservatory Camp!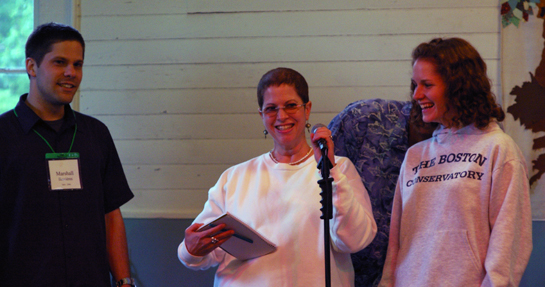 If you were a student, teacher, staff member, or visiting artist/composer at either Walden or JCC you're invited to the upcoming Reunion in June! It runs from Friday, June 22 through Monday, June 25 in beautiful Dublin, New Hampshire.
Friday night we'll have a dance with live music. Saturday morning the intrepid will leave to hike Monadnock (singing at the top, of course!), returning for optional workshops and more singing, a festive dinner, a concert featuring stellar Walden and JCC alumni, and a slide show. Sunday will include a Composers Forum, more workshops, a barbecue, and Evening Music. Every evening will conclude with the singing of Shari Fleming's Good Night Music, followed by socializing. Those staying overnight on Sunday can enjoy Monday breakfast before hitting the road.
Bring your family! If your spouse doesn't know what makes Walden so special, now you can show them. This is also a great opportunity for a future Walden student to experience life on campus and get a taste of what happens at camp. Children are welcome at all reunion activities. There will also be activities arranged especially for children.
For more details, including information on housing options, the weekend schedule, and to see a list of who's already registered, go to waldenshool.org/reunion. We don't have these every year, so don't miss your opportunity for music, fun and camaraderie in 2012!
Walden Alumnus to Premiere Work at Upcoming PRISM Concerts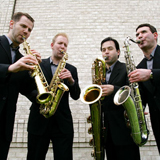 A long partnership between Walden and the PRISM Saxophone Quartet has resulted in the annual commission of a new work by a graduating Walden student. This year the winning composer is Sam Phillips-Corwin. Sam, from Seattle, attended Walden's Young Musician's Program from 2008 through 2011. His work will share the program with minimalist masters Terry Riley and Philip Glass, as well as John Adams and Michael Torke. Join Sam, as well as Executive Director Seth Brenzel and local friends of Walden and PRISM at either of these two performances, one on May 31 in New York, the other on June 2 in Philadelphia. For more information and to buy tickets, go to PRISM's website.
Walden Announces its 2012 Concert Series
The Walden School has gained increasing attention for the eclectic array of concerts offered free of charge to the music-loving public throughout the summer. In fact, we received the 2011 Adventurous Programming award from Chamber Music America/ASCAP! The 2012 Concert Series will be no exception, and we hope you'll join us for as many of the events — world premiere performances, solo and ensemble recitals, Composers Forums, open rehearsals — as possible.
Something for Everyone: Alumni Composers Forums on Two Coasts
New York and San Francisco were host cities this spring to two Alumni Composers Forums. Works by a total of 15 alumni of Walden and the Junior Conservatory Camp ran the gamut from electronic works to string quartet. Read on for details about each event.
New York City
On April 29th about forty alumni and guests gathered at the Ann Goodman Recital Hall near Lincoln Center to listen to a program of new music, four of the pieces being world premieres. Co-moderators Tamar Bloch (JCC '69-'72, YMP Faculty '87-'04, TTI '08) and Rebekah Griffin-Greene (YMP Faculty '99-'11, TTI '10) led insightful discussion that was enhanced by thoughtful and appreciative comments from audience members. To give you a taste of the evening, composers Matt Siffert (CMR '11) and Nicole Gutman(YMP '11) worked with the members of Trio KAVAK (flute, viola and cello) to prepare terrific world premiere performances of their works. Aaron Krerowicz (TTI '11) performed his own work for solo mandolin and electronics, and Carolyn Gollance (TTI '10) performed her piece for solo piano built solely on fourths, a creative exercise with which many Walden and JCC alumni are familiar!
San Francisco
Walden alumni and friends gathered in San Francisco's Noe Valley neighborhood for our fourth annual SF Bay Area Alumni Composers Forum, which featured the huge range of styles and moods that has become a hallmark of these events. Moderated by YMP faculty members Alex Christie (YMP '02-04, TTI '10-11, Staff '09, Faculty '10-11) and Ruth Rainero (Visiting Artist '07, Faculty '10), the Composers Forum began with three pieces for string quartet plus or minus a member, performed by the young, enthusiastic group Friction.
Nico Samanez's (TTI '10) trio Stuffed started the concert with a bang, with the members of Friction dashing off imaginative passages of extended techniques and tricky rhythms, to impressive effect. Nick Benavides' (TTI '09-10 , CMR '11) s.f.i.f. followed, with gorgeous harmonies and expressive melodic lines, realized beautifully by the group. The third piece, Cole Porter Fantasy (full title What if Cole Porter got the blues, heard some gospel music, met an Angel, learned to tango, and then wrote Night & Day?), by Ellen Hoffmann (JCC '60-67), added flutist and Development Director extraordinaire Esther Landau to the quartet. The piece was by turns colorful, jazzy, lush, and a lot of fun.
The second half of the concert featured composer/performers. First up were two beautifully constructed and emotionally resonant songs by Mary Fineman (JCC Alumna), followed by a virtuosic Rondo from Victor Xie (YMP '11). Hernando Buitrago(TTI '11) brought an almost Andean flavor to an arrangement of his song Love Disaster for classical guitar and double bass, originally written for a full rock band. And finally, Gabriel Kyne (YMP '11) presented an electronic score he had composed for a filmed modern dance piece. All told, the forum was a varied, stimulating experience, and we look forward to the next one!
Love Walden? Tell the World!
You have an exciting opportunity to help The Walden School make even more of a difference in the world. GreatNonprofits – a site like Amazon Book Reviews or TripAdvisor – is a website where people can share their stories about nonprofits that have touched their lives. Won't you help us raise visibility and support for our work by posting a review of your experience at Walden? All reviews will be visible to potential donors and volunteers. Go to: greatnonprofits.org/reviews/the-walden-school — it's easy, and only takes 3 minutes. Many thanks for your help!
Community News and Goods
The Walden School welcomes news and information from members of the Junior Conservatory Camp and Walden School communities to include in our print and online newsletters. News may be sent via mail or email. We will publish your contact information only if you specifically request that we do so. Please contact us on-line or send info to The Walden School, 31A 29th St., San Francisco, CA 94110. We reserve the right to edit submissions and regret we cannot publish all information provided. For upcoming event listings, go to www.handoverhand.org. (Note: YMP=Young Musicians Program; TTI=Teacher Training Institute; CMR=Creative Musicians Retreat; JCC=Junior Conservatory Camp).
Carol Prochazka Battye (JCC '72) just completed a Master of Arts in Spiritual and Pastoral Care from Loyola University.
Shawn Crouch (YMP '93-95,'96, TTI '08, Staff '97, Faculty '99-00,'02,'05-07) reports that Chanticleer performed his piece The Garden of Paradise, composed for Chanticleer in 2008, in the San Francisco Bay Area on their multimedia concert "What Do You Think I Fought For?" (March 31- April 4). On April 27, the Texas A&M Century Singers performed A Kind Goodbye, a setting of a moving early poem by Mark Twain, on their American Word concert.
This spring was an eventful one for former Walden board member Ruth Franklin, (YMP '84-89) who is a 2012 Guggenheim fellow in the Biography category, a 2012 recipient of The Center for Fiction's Roger Shattuck Prize for Criticism, given to annually to support and encourage emerging critics, and finally a Fellow at The New York Public Library's Dorothy and Lewis B. Cullman Center for Scholars and Writers.
Cara Haxo (YMP '04-09) was awarded second prize at the 2012 statewide Ohio Federation of Music Clubs Student/Collegiate Composers Composition Contest in March for her piece "The Giving Tree" after Shel Silverstein's children's book of the same name, which was composed for the PRISM Quartet (Visiting Artist '05).
Caroline Mallonée (YMP '87-92, TTI '07, YMP Faculty '98-'11, CMR Faculty '11) had two exciting performances in May – first, the Da Capo Chamber Players performed Unless Acted Upon: Manifestations of Newton's First Law in Carnegie hall's Weill Recital Hall.
This quintet was commissioned last summer by The Walden School for the Firebird Ensemble. Second, The Florilegium Chamber Choir, conducted by Nicholas DeMaison (Faculty '04-07), premiered her new choral work, Da Pacem Domine in late May. Works by Erica Ball (YMP '06-07) and Nick himself were also premiered on the same concert.
Danielle Oberdier (YMP '04-07) has founded AK Kerani, a fashion company that uses fashion to make a positive change in the current media and world.
Nat Osborn's (YMP '00-03) band went on a miniature east coast tour this May, playing in Maryland, Delaware, New York and Washington, D.C.
The PRISM Quartet (Visiting Artist '05) is the first saxophone ensemble to conduct a residency at the Curtis Institute of Music. The residency culminated in PRISM concerts on May 9 and 10 in Philadelphia and New York City, respectively, featuring compositions by two Curtis faculty members and five extraordinary student artists from Curtis's composition department.
In May, Alicia Rabins (YMP '88-93) had a work-in-progress showing of A Kaddish for Bernie Madoff, a musical meditation on themes of money, communal responsibility, and the intersection of mysticism and finance, supported by the Six Points Fellowship and the LABA fellowship.
Nico Samanez's (TTI '10) Senior Composition Recital, Organic Abnormality, was on Sunday, May 20th in the Recital Hall at Santa Clara University.
John (Faculty '51-68, Visiting Composer '97, Advisory Council '02-11) and Marianne (JCC '66-68) Weaver were honored in April at an American Guild of Organists event at Kimmel Verizon Hall in Philadelphia.
Transitions:
Alicia Rabins (YMP '88-93) and her husband Aaron are overjoyed to announce the birth of their baby girl, Sylvia Tallulah Hartman, born April 15 2012 at 8:03 pm. Her band Girls in Trouble's first post-baby show to welcome Sylvia Tallulah, was on May 23 in Park Slope.
Margaret ("Marge") Wanenchak, long-time Walden donor/supporter and mother of Leo Wanenchak (Faculty '77-84, '89-11, Admin '99-11, Board '04-09) passed away in April 2012. You can read an obituary here.
Opportunities & Organizations Listing
An opportunities listing for composers of multiple levels and age ranges, as well as organizations that provide services to composers, improvisers, and experimental musicians, is available here.
Now Hear This! Works by 2011 Walden Participants
In Arvind Ranganathan's Colors, the composer explores his self-diagnosed synesthesia — in other words, he sees different colors when hearing certain sounds. Active visual imagination encouraged while you listen to this performance by Walden School Players Jessi Rosinski, flute; Jane Chung, violin; Steven Beck, piano; and Matthew Gold, percussion. Click here to listen.