A Walden 50th-Anniversary Celebration in San Francisco
Join us for a Walden celebration in San Francisco!
As The Walden School celebrates its 50th anniversary of transforming lives through experiential music education, we are hosting a reception and concert in San Francisco to raise funds for student scholarships and world-class artist residencies.
This event will feature a performance by the internationally acclaimed Del Sol Quartet, a past Walden visiting ensemble, and will include music by past Walden visiting artist Pamela Z, former Walden faculty member Michael Gilbertson, and Chen Yi, a past composer-in-residence at Walden and a member of the School's Advisory Council.
Join us for an evening of music and friendship, with refreshments and wonderful Walden community!
When: Saturday, March 11, 2023, from 6 to 8 pm
Where: Hayes Valley, San Francisco
Please write to donors@waldenschool.org or call (415) 587-8157 for details and location. We hope to see you there!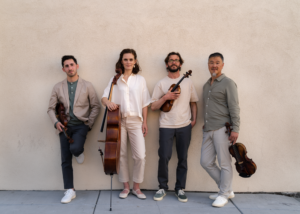 About Del Sol Quartet
The internationally-acclaimed Del Sol Quartet champions music by living artists, exploring social change, technology, and artistic innovation. Hailed by Gramophone as "masters of all musical things they survey" and two-time winner of the top Chamber Music America/ASCAP Award for Adventurous Programming, the Quartet has been a visiting ensemble at The Walden School.