Message from Seth Brenzel, Executive Director
Dear Walden friend,
I hope this newsletter finds you well. Winter is about to turn into spring, which means summer cannot be that far off. If you're like me, you are already dreaming of all things summer—and Walden!
I urge you to check out the In the Spotlight section to hear from Junior Conservatory Camp (JCC) alumna and Walden donor Amy Catlin-Jairazbhoy. She has a unique story to share with all of us.
We have not published in a few months, and so there is lots of Community News to share, with still more to come in our April issue. Do you have news to share with us? Please contact us at waldenschool.org/contact, and if we can include your news (career, personal, musical, community, family, etc.), we will.
I hope you enjoy this edition of InterNetzo.
Best wishes,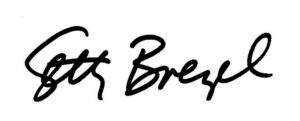 Seth Brenzel
Executive Director
(415) 587-8157
Walden News
Apply to be part of Summer 2022!
Applications are open for Walden's summer programs, the Young Musicians Program (ages 9–18) and the Creative Musicians Retreat (ages 18-88+).
We are thrilled to welcome back so many returning faculty members for both programs, including Sam Pluta, Osnat Netzer, and Renée Favand-See for the Creative Musicians Retreat and Cara Haxo, Alex Christie, and Lukáš Janata for the Young Musicians Program, among many others. Lei Liang will be the composer-in-residence for the Creative Musicians Retreat, and Amy Beth Kirsten will be the composer-in-residence for the Young Musicians Program.
Start your application today at waldenschool.org/apply. Please tell your friends, family, and colleagues that Walden is currently enrolling for summer 2022!
Application Deadline
April 1
2022 Program Dates
Creative Musicians Retreat
June 11–19, 2022
on the campus of the Brewster Academy in Wolfeboro, New Hampshire
Young Musicians Program
June 25–July 31, 2022
June 25–July 17 (3-week option available to students 7th grade and younger)
on the campus of the Dublin School in Dublin, New Hampshire
Financial aid is available. Applications received after April 1 will be reviewed as they are received until our programs are fully enrolled.
Walden West has moved
We have moved Walden's year-round administrative office to:
7 Joost Avenue, Suite 204
San Francisco, CA, 94131
Please update your records.
Our lease was up, and we found a wonderful new office just around the corner from our most recent administrative office. Seth and Elizabeth Susskind (Walden's administrative assistant) are excited to be in our new place, and many thanks to Elizabeth and Walden alumnus Noah Mlotek for all of their help in effecting the move.
We hope you'll come visit us soon!
Comings and goings at Walden
We are thrilled to welcome past Walden staff member and Walden alumnus Noah Mlotek as Walden's interim Development Manager. In February, we bid adieu to Gloria Yehilevsky, who ably served in the development role after Gaela Dennison-Leonard departed Walden in May 2021 to pursue graduate studies. We thank both Gaela and Gloria for their service to Walden and wish them the very best in all of their future endeavors.
Noah will be with Walden in his role for the coming months, and we are also still searching for a more permanent Development Manager to work with our team in San Francisco and with our donors, alumni, and board throughout the world. Know anyone? Check out the job posting here.
We are delighted to welcome two new wonderful board members to Walden's board: Bob Bassett and Sarah Stroud. Bob is a CMR alumnus who lives in the Denver area, and Sarah is parent to YMP alumna and staff member Francesca Hellerman and resides in Chapel Hill, North Carolina. This year, we also bade farewell to outgoing board members Carlos Shimizu and Matthew Levy. We were so grateful to have their service and support, and we look forward to staying connected in the months and years ahead.
Walden ends year with strong Annual Fund results
During fiscal year 2021 (October 1, 2020–September 30, 2021), Walden raised more than $370,000 with the help of more than 300 donors, foundations, and other organizations, with the community coming together to raise approximately $100,000 just during September, the final month of our Annual Fund drive. We are so grateful to all of our donors who help make possible amazing artist residencies, critical scholarships, and our amazing faculty and staff each and every summer. We can't wait for Summer 2022—we're already making wonderful plans. Walden's loyal and generous community of supporters ensures that we can dream about summer hikes and swims in Dublin Lake all year long. THANK YOU to our donors and supporters who help us create the music, community, and memories each and every summer.
Community Events
Giving Day Summer 2021
On the last full day of classes at the Young Musicians Program (YMP), and first day of YMP Festival Week, we held our Giving Day fundraiser, sharing a day at Walden via Facebook Live. This included classes, rehearsals, student and faculty interviews, and more insights, culminating in our first Festival Week Composers Forum streamed on YouTube.
This fundraiser brought in a total of $8,003 in donations, surpassing our goal of $4,900 in honor of Walden's 49th season. We were happy to see the Walden community so engaged online, and even saw some fresh faces wander our way and support us.
WOW! Walden Online Workshop featuring Matt Gold
Percussionist and Walden visiting artist Matt Gold presented FROM THE EARTH, this year's first Walden Online Workshop (WOW), on February 22. In this interactive workshop, participants explored how the material qualities of percussion instruments directly influence the sound and structure of a piece. Participants explored innovative works by Frederic Rzewski, Nomi Epstein, John Cage, Carolyn Chen, and Juri Seo. Then, they created music collaboratively using objects from everyday life.
Thanks to Matt and our participants for a wonderful workshop!
In the Spotlight
Amy Catlin-Jairazbhoy
Amy is a Junior Conservatory Camp (JCC) alumna with deep ties to Grace Cushman and her teachings. She is also a donor to Walden who carries herself with a lively and passionate spirit that shines through her research, teaching, music, and everything she does.
Learn more about her work at Apsara Media, and read her full biography on UCLA's website.
How and when did your relationship with the Junior Conservatory Camp (JCC) begin?
My piano teacher in Montgomery County would take me with her every Saturday to Peabody Preparatory; we would take Musicianship classes with Grace Cushman together. Within two years I was teaching my piano teachers' students musicianship as well.
This naturally led to attending the Junior Conservatory Camp for two years, then coming three more years as a faculty member.
In my last two years of high school I studied Bharatanatyam classical dance of South India with Georgia Cushman (one of Grace Cushman's two daughters) in Baltimore. She had just come back from Madras, India (which is Chennai today), where she had studied at Kalakshetra. I was a devoted student, but it's very difficult when you start at 16 years old! That Indian connection was one reason I went to India as a graduate student. I chose college instead of staying at the Conservatory, because I wanted to know more about the rest of the world, especially during the Vietnam War years.
Could you describe a favorite memory from your time at JCC?
I have an aversion to favorites . . . it seems that you are ranking things. I have many favorite memories. The composer forums were stupendous. The performances were breathtaking. To have my own compositions performed—a Robert Frost poem that I set for piano and violin, performed by soprano Shari Fleming. It was the second time I heard my own composition performed.
Also, singing in some of Humphrey Evans' compositions. He was a great inspiration and in my cohort of students. He was a close friend until his last days. He was a genius and iconoclastic, funny, witty. We used to play ping pong together at camp!
What is something from JCC that you have carried with you?
How to improvise with the material you're learning in musicianship. How to make creative use of the knowledge that you acquire was the main teaching that Grace taught all of us. To use what you've learned: if you're just learning facts, you're not making use of it, and you're not using it creatively. That's what I've done with my scholarship also. I try to use it in creative ways, applying music research to address community problems, both in India among underserved communities and here (in the US) with refugees from Southeast Asia: Hmong tribal refugees from Laos and Khmer refugees from the killing fields of Cambodia.
It's so deep. It's so fundamental, the methods that Grace used—not to mention her enthusiasm and her passion!
Mrs. Cushman taught me how to plan a lesson and how to evaluate a lesson after you've taught it. She was very aware of each student's needs, backgrounds, disabilities, insecurities. I still do that—I plan my lectures; I write out every word when I teach now, and afterwards review every line of what I did and what I added. I keep in touch with as many students as I can; it's been born into me because of Grace.
How are music and/or creativity part of your life now?
I've been teaching one course at UCLA for the past 10 years. It's not about classical folk music of India, not about music of the sacred (all topics I taught with my applied work in ethnomusicology); it is called "Music of Bollywood and Beyond." It covers 100 years: from silent films to the present. This history of cinema and music relates deeply to the history and the people of India. I tell my students, most of whom are of Indian heritage, that "you can talk to your grandparents about this." They come back and say they've had the best conversations with their grandparents and parents . . . it bridges the generational gap. Suddenly you have something to share that you both love.
I teach in an applied sort of way. I design the courses myself, and the students are the subjects. We have some great discussions about how films composed 50 years ago might relate to today, about whether they were created before or after independence. It gives it a historical foundation to talk about the films, and the music, and the influence of Western music and jazz.
I also still play the piano. I like to improvise in an Indo-Jazz fusion style which I do sometimes with a partner who plays the saxophone. I've taught him how to improvise in different Ragas (singular Indian Raga), especially one raga that my husband called a "hypothetical" raga because it never occurred, but it should have. It uses the pentatonic (all black keys) with C (tonic) and G (dominant).
What is a non-musical hobby that's part of your life?
Ping pong! It's a great game for musicians. We have an outdoor ping pong "stadium" in our home. It's very good for hand-eye coordination. It's the fastest game there is, good for mental & physical agility. Great for elders, as the sudden movements are good for preventing Alzheimer's.
I also love to dance: couple dancing, or ballroom dancing and Middle Eastern dance. Coordinating with the music is so important—and so good for the brain. I also exercise at the gym on the elliptical trainer while watching the news. I watch Indian news every day on three different channels.
Why do you give to Walden?
Transformation.
When I went to the Peabody, I was teaching there in my Junior and Senior years of high school. In fact, I had left home.
She [Grace Cushman] made it possible for me to leave by getting me this job as a live-in cook and babysitter for the six children of the Rector of St. Paul's cathedral. So, I could afford to leave Chicago where my parents had moved, which I hated! I was able stay on in Baltimore after camp.
See what a difference this made in my life? It made me independent from the time I was 16 . . . I didn't see my parents for two years. I'm telling you: she transformed my life. I owe my life to her. So, when you ask why do I give to Walden? That's why. The transformation of my life.
What hope do you have for Walden's future?
I would love to see a connection with NPR's "From the Top," and to see more international scope, incorporating music from different cultures!
Community News
Leah Reid wins The American Prize; Shawn Crouch ties for 3rd place
YMP alumna Leah was selected from applications reviewed from across the United States, for one of the nation's most competitive non-profit awards offered by The American Prize National Nonprofit Competitions in the Performing Arts. Leah won in the professional vocal chamber music division for her composition Apple; Single Fish. View the full announcement here.
Also, third prize was tied with YMP alumnus and past faculty member Shawn Crouch.
Congratulations to Leah and Shawn!
Freya Waley-Cohen named Composer in Residence of London Chamber Orchestra
YMP Alumna Freya Waley-Cohen has been announced as the London Chamber Orchestra's Composer in Residence for 2021–22, the orchestra's 100th Anniversary season. View the full announcement of Freya's residency here. On the 26th of October, the LCO opened their concert season with Freya's composition Saffron. This year, Freya will work closely with the LCO on performances of her music, compose two new works for the ensemble, and run workshops for young composers.

New arrangement of Carol Thomas Downing's Walden by Loretta Notareschi
YMP alumna Loretta Notareschi arranged Walden for choir, violin, and piano with a video assembled by the Skagit Valley Chorale. The Chorale recorded the parts from home, which were put together, edited, mixed, and mastered by artistic director Dr. Adam Burdick. In lieu of solo violin, six tracks were compiled for a section sound.
Mivos Quartet travels to Europe

Past visiting artists Mivos Quartet completed a tour to Salzburg, Vienna, Monheim, and Düsseldorf—their first trip abroad since the pandemic. They performed works by Michaela Catranis, Hannah Kendall, Peter Kramer, Henry Threadgill, Jennifer Walshe, Sam Amidon, Sofia Gubaidulina, and past YMP and CMR Composer-in-Residence George Lewis.
Walden alumna and past faculty member Nnenna Ogwo's Juneteenth Legacy Project
On June 18, 2021, Juneteenth Legacy Project (Juneteenth LP), founded by Nnenna, presented a Juneteenth celebration entitled "Songs of Resistance and Restoration" at Bunker Hill Community College (BHCC) in Boston.
For Juneteenth, the group performed outdoors in Astor Place in New York City, joined by guest artist Donnie Johns playing percussion. This event was free and open to the public, hosted by Joe's Pub, as part of Make Music New York.
Alistair Wen receives honorable mention from MTNA for Walden festival piece
YMP student Alistair Wen was recognized by the California Music Teachers National Association for his composition Lunar Waltz, composed at the Young Musicians Program 2021. Congratulations, Al!
Brent Morden writes, conducts Dante-inspired musical
In October, CMR alumnus Brent Morden announced the opening of Infernal the Musical at The Flea Theater in New York. Infernal is a "rock musical based on Dante's Inferno that explores consequences, remorse, and our own inescapable demons" and features music composed and conducted by Morden. Learn more about Brent's musical projects on his website. Congratulations on your premiere, Brent!
Nat Osborn releases The Quarry Island Sessions
In June 2021, YMP alumnus and former visiting artist Nat Osborn released this collection of music recorded while quarantined in Nova Scotia the previous year. "The record plays as a week-to-week musical diary of the early pandemic months when I was stuck in Nova Scotia. Each song is one week's reflection of those uncertain times, ordered chronologically." Learn the story behind the music and view associated images. It is available on Spotify, Apple Music, and all other streaming platforms.
Peter Thompson invited to serve as Vicar of St. Bartholomew's Church
YMP alumnus Peter Thompson has enthusiastically accepted an invitation to serve as Vicar of St. Bartholomew's Church in the City of New York. View the Facebook announcement by St. Bart's of New York City, and read the full announcement, as letters from Bishop Wolfe and Reverend Peter Thompson, here.
Congratulations, Peter! We wish you the best in this exciting new role.
Live Splinter Reeds concert in Oakland
On November 21, Splinter Reeds presented an in-person program of music by Amadeus Regucera and Yannis Kyriakides at Dresher Ensemble Studio in Oakland, California, as part of the Dresher Ensemble Artist Residency. Splinter Reeds is a reed ensemble comprising Kyle Bruckmann (oboe), Bill Kalinkos (clarinet), David Wegehaupt (saxophone), Jeff Anderle (bass clarinet), and Dana Jessen (bassoon). Splinter Reeds has been a visiting artist and faculty commissioning ensemble at YMP, and Dana Jessen is a current member of The Walden School Players and past YMP faculty member. Read more about Splinter Reeds and stay apprised of future performances on the ensemble's website.
Josie Spencer sculptures exhibited
An exhibition of work by sculptor Josie Spencer, a YMP alumni parent, was on display through January 3 at Riverside Studios, Queen Caroline Street, Hammersmith, London, U.K. The exhibition featured 19 sculptures forming the set of Damage Control, an audio play written by Polly Wiseman.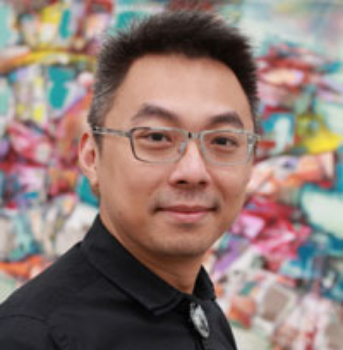 Alan Chan Jazz Orchestra
Alan Chan, former Young Musicians Program faculty member and alumnus of the Teacher Training Institute (TTI), will perform this season with the Los Angeles-based Alan Chan Jazz Orchestra and the Alan Chan Moo-sic Quartet in venues across the United States. A Moo-sic Quartet concert at the Huntington Botanical Gardens in San Marino, California, in September featured vocalist Laura Dickinson singing jazz standards and songs in English, Mandarin, and Cantonese. Read more about upcoming performances on Chan's website.
Tune in to Lisa Bielawa's Broadcast from Here Radio
BFH Radio (Broadcast from Here) is a continuous and evolving soundscape composed by Lisa Bielawa, incorporating words, voices, and found audio from participants all over the world. Anyone, anywhere can visit the Broadcast from Here page to read more about the project, listen to the broadcast live, or contribute speech, singing, or instrumental performances through the BFH Radio portal. Contributions are integrated into the BFH Radio stream on a rolling basis, and the stream is live 24/7. Lisa Bielawa was Composer-in-Residence at the Online Creative Musicians Experience (OCME) in 2020.
Mary Fineman performs at Flower Piano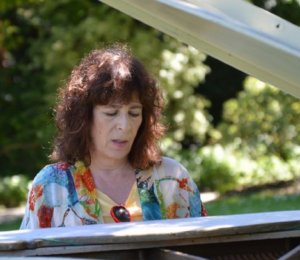 Mary Fineman, an alumna of the Junior Conservatory Camp (JCC), the predecessor program to The Walden School, performed in September at the San Francisco Botanical Garden as part of Flower Piano. This five-day event, held last year in September after a two-year hiatus, featured over 75 piano performances throughout the Botanical Garden's many exhibit gardens.
Nathan Davis announces fatherhood and new projects
Our heartfelt congratulations to composer, percussionist, and many-time Walden School visiting artist Nathan Davis, who announced the birth of his son this year. Davis's new work Seedling for harmonium and electronics was recorded by frequent Walden visiting artist Jacob Greenberg and released on Greenberg's album Bright Codes in November of this year. A new album of solo music by Davis is slated to follow.
Denise Ondishko Premieres New Music in Cleveland
YMP alumna, faculty member, and past board member Denise Ondishko's new work A More Perfect Union: Reflections on American Equality, Justice, and Hope was performed in September 2021 by members of the Cleveland Chamber Orchestra at Shrine Church of Stanislaus in Cleveland. A More Perfect Union will be professionally recorded by Pantheon Ensemble during summer 2022.
American Academy honors Walden composers
Four Walden-affiliated composers were among the winners of 2022 music awards from the prestigious American Academy of Arts and Letters. Former YMP faculty member Katie Balch won the Wladimir and Rhoda Lakond Award in Music. Arts and Letters Awards were given to Marcos Balter (past YMP and CMR composer-in-residence) and Jim Mobberley (also past YMP and CMR composer-in-residence and former Walden board member). And former YMP faculty member Michael Gilbertson won a Goddard Lieberson Fellowship. These awards recognize outstanding artistic achievement. All of us at Walden send our heartfelt congratulations to these wonderful artists and teachers!
George Brandon and Blue Unity Sextet
In February, CMR alumnus George Brandon's Blue Unity Sextet presented an online watch party as part of the New York City Multicultural Festival's series "The Healing." Performing Jazz, blues, and folk music, Brandon's musical practice is firmly rooted in the cultures of Africa, the Caribbean, and the United States. The watch party, which also features an interview with Brandon, can be viewed here.
Elizabeth R. Austin interviewed
Elizabeth R. Austin was interviewed about her accomplished career as a composer as part of Composers Corner, a series hosted by the Jenks Center in Winchester, Massachusetts. The interview can be viewed here. Austin is an alumna of the Junior Conservatory Camp (JCC), starting in its very first year!
Shawn Crouch's choral music performed

Shawn Crouch's piece Lullaby from Paradise, in a new TTBB version, was written for Cantus for their fall 2021 tour. The performance can be viewed here. Shawn is a YMP alumnus and former YMP and CMR faculty member. He is currently Assistant Professor of Practice of Composition and Theory at the University of Miami's Frost School of Music, where he is artistic director of the Ensemble Ibis New Music Ensemble.
Sam Pluta and Kate Soper release new album
The Understanding of All Things, a new album by Sam Pluta and Kate Soper, was released March 4 on New Focus Recordings. This bracing collection explores the ever-shifting hierarchy between text-driven and music-dominated vocal work. Composer/electronic musician Sam Pluta was a Walden faculty member for more than 15 summers, and will be back at CMR on faculty in 2022! Along with composer/vocalist/pianist Kate Soper, he is also a member of Wet Ink Ensemble, which has been a visiting ensemble on several different occasions at Walden.
Eric Wubbels profiled in New York Times

Pianist/composer Eric Wubbels, a former member of The Walden School Players and a member of Wet Ink, was profiled in the New York Times. The article charted Wubbels's growing exploration of improvisation and his new album, Field of Action / contraposition, with Walden alumna Charmaine Lee and Weston Olencki.
Condolences to Eve Sybor
Walden alumnus David Saslav let us know that Walden alumna Eve Sybor's husband recently passed away. All of us at Walden send our condolences to Eve and her family.
In Memoriam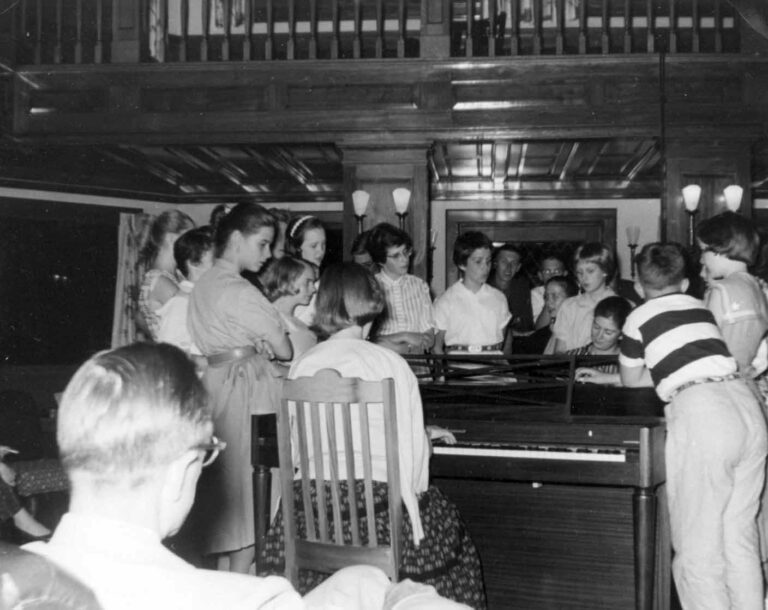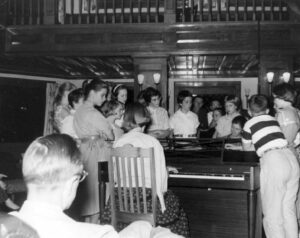 Shari Fleming
Junior Conservatory Camp (JCC) alumna and faculty member Shari Fleming, the original composer of "Good Night, Music," passed away on January 17, 2022, in Bradford, Vermont, at the age of 87. The Walden School mourns her loss with her family, friends, and all who loved her. All of us who are touched every summer by her music will cherish her memory. An obituary can be found here.
George Crumb

Pioneering American composer George Crumb died on February 6, 2022, at the age of 92. A longtime member of Walden's Advisory Council, he was an inspiration for generations of creative musicians. The Walden community mourns his loss and is grateful for his legacy.
We want to hear from you!
What's been going on? If you have a recent or upcoming premiere, publication, award, new job or program, or a celebratory life event, please share the news at waldenschool.org/contact.
Stay in Touch
You can like The Walden School page on Facebook and join The Walden School private group to hear about events and opportunities throughout the year. You can also find us on Instagram, Twitter, YouTube, bandcamp, and at waldenschool.org.