Message from Seth Brenzel, Executive Director
Dear friend,
I hope you will enjoy the April edition of InterNetzo. We have an online benefit concert coming up on Saturday, May 2, featuring violinist Josh Modney. Learn more about how you can attend and support Walden in the Community Events section.
We are accepting applications for our Summer 2020 Young Musicians Program and Creative Musicians Retreat; our final application deadline is Friday, May 1. We continue to plan for our summer in New Hampshire, and we are monitoring information from various camp, health, and governmental resources as we discern the best path forward. For more information, please visit this page on our website.
Be sure to check out our "In the Spotlight" section to hear from Rosemarie Greenwald, parent of alumnus Mark Greenwald and longtime Walden supporter.
In this difficult time, I send you my best wishes for health and peace.
Sincerely,
Seth
Community Events
May 2: Josh Modney performs to benefit Walden
The Walden School is hosting an online concert to celebrate and raise funds for Walden's inspiring music programs.
Saturday, May 2, 2020
4 – 5 pm Eastern time
Zoom video call
While there is no charge to be part of this event, contributions to support Walden's award-winning programs are encouraged and may be made online at waldenschool.org/donate or by check mailed to The Walden School, 30 Monterey Blvd., Ste. E, San Francisco, CA 94131.
The event will feature violinist Josh Modney, hailed as a "new-music luminary," "superb violinist" (The New York Times), and "multitasking virtuoso" (The New Yorker). Josh is also a frequent visiting artist at Walden.
The concert will feature works by J. S. Bach, Taylor Brook, and three Walden alumnae: Caroline Mallonee, Darlene Castro Ortiz, and Genevieve Evans.
You can read about Josh and our three featured alumnae composers here. You will also find some recipes we'll be making at home on May 2, and we hope you'll join us. Many thanks to Walden faculty members Katie Balch and Cara Haxo for these delicious and festive recipes.
This event will take place via Zoom video call. Call information and other details will be sent out to attendees before the event.
If you have questions, please write to events@waldenschool.org.
Summer 2020 Programs
Walden 2020
We continue to accept applications for summer 2020, and we have an application deadline coming up on Friday! We hope you (and all of the people you know!) will apply to join us at one of our programs this summer.
Creative Musicians Retreat: June 13-21, 2020 (for musicians ages 18-98)
Young Musicians Program: June 27 – August 2, 2020 (for pre-college musicians, ages 9-18); a 3-week program, from June 27-July 19 is an option for students through 7th grade.
Application materials are available for both programs at waldenschool.org/apply/.
Final application deadline (postmark): May 1 
Please write to us at applicants@waldenschool.org with any questions.
You can read about Walden's response to COVID-19 here.
In the Spotlight
Rosemarie Greenwald
Rosemarie and David Greenwald are parents of alumnus Mark Greenwald, who came to Walden for four summers, beginning in 1975.  Rosemarie and David have been supporting Walden ever since, and we are so grateful for their generosity. We caught up with Rosemarie to hear some of her Walden memories and hopes for the future.
How and when did your relationship with Walden begin?
I attended Peabody Preparatory from 1973 to 1977, the same time my son, Mark, was there, studying classical guitar. Jim Graham, my musicianship teacher, was on Walden's faculty, and suggested that my son go to Walden. So Mark went to Walden at ages 14 to 18. He returned to Walden as a visitor in 1979.
What has been your involvement with Walden since then?
My involvement has mostly been as the parent of a former student. My husband David and I used to go up every year for Festival Week and hear the performances of all the students' works. We also had a reception for Walden in our previous home in the Baltimore area.
Why do you give to Walden?
Mark had such a positive experience at Walden, and we wanted to help give that experience to other children. Mark experienced camaraderie at Walden, and he certainly developed his musical skills. Being an only child, it was important for Mark to share in community, and to learn discipline through music. Being away from home gave him some independence from his parents, and of course, the fresh air and beautiful countryside were great.
How are music and/or creativity part of your life now?
I sang from early childhood and participated in school choirs and musical events.  I'm a trained singer; studied with Ruth Drucker when I matriculated and graduated in January 1983 from Towson University, with a major in Vocal Performance. (My husband is often fond of saying he had two kids in college, at the same time.)  I continued private study with Ruth for years after, and held my final recital in 2014.  I have filled in for cantors; have been a soloist at churches; been a Choir Director; sung at weddings and funerals and was a choir member of my current synagogue.  My husband and I are former New Yorkers, and we have enjoyed Broadway shows; the Baltimore Symphony Orchestra, and we continue to hear other concerts at smaller venues.  David is not an opera fan, so mostly I went alone to operas in Baltimore and at the Met in New York City.  I was also the Administrative Assistant for Arno Drucker's Festival Chamber Players, and it was Arno who introduced me to computers.
What is a non-music hobby you love?
I love to travel, sew and do machine embroidery and make jewelry in a home studio. Before my knee replacement surgery in April 2018, I was doing yoga.  The coronavirus has now curtailed that. I would like to start sewing protective equipment for healthcare workers, as soon as I can.
What is your hope or dream for Walden's future?
I hope Walden continues to bring musical training to young people from all over the world, and that Walden will have solid funding and the resources it needs for the future. My son got excellent training at Walden, and that's instilled in him. He didn't make music his career (neither did I) but it calms our souls.
Community News
Alexander String Quartet virtual Eastern concert
On April 10, the Alexander String Quartet performed Joseph Haydn's The Seven Last Words of Christ, with texts prepared by Alan Jones, Dean Emeritus of Grace Cathedral in San Francisco. The quartet performed the virtual concert from their respective homes, and you can watch the performance on YouTube here. The Alexander String Quartet is a past visiting artist at Walden.
MusicWise Interview with Katie Balch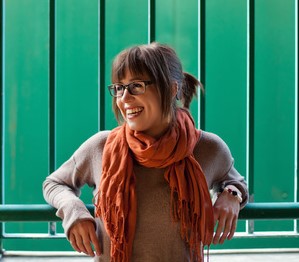 "MusicWise – Conversations about Arts & Culture with Donato Cabrera" is a weekly Facebook Live series hosted by Donato Cabrera, Music Director of the California Symphony and Las Vegas Philharmonic. On April 28, the series featured Katherine Balch, as Donato interviewed her about her time as Young American Composer-in-Residence with the California Symphony, and what's next for her. Katie has been on faculty at the Young Musicians Program.
Nicole Balsirow to attend Columbia-Juilliard
YMP student Nicole Balsirow has been accepted early decision to Columbia University and The Juilliard School. She will begin her studies with the Columbia-Juilliard program this fall, and plans to major in composition. Nicole attended YMP in 2019, and is planning on returning in 2020.
Julia Bruskin and Aaron Wunsch perform Beethoven
On April 8, cellist Julia Bruskin and pianist Aaron Wunsch performed Beethoven's variations on the theme Bei Männern, welche Liebe fühlen ("In men, who feel love") from Mozart's opera, The Magic Flute. They streamed the performance live on YouTube, and you can watch it here. The performance was part of MET Orchestra Musicians' series Music.Connects.US, as musicians offer performances from their homes. Julia and Aaron are past visiting artists at Walden.
Helen Feng named 2020 ACF NextNotes winner
The American Composers Forum (ACF) has announced the winners of the 2020 NextNotes High School Music Creator Awards, selected for their skill, originality, potential, and strong creative voices. YMP alumna Helen Feng was one of six winners, selected for her piece, Soaring to the Past: Jin Se, for voice and piano, which was premiered at Walden in 2019. YMP alumni Nicole Balsirow, Krishan Rai, and Marco Roberts all received honorable mentions.
Mark Greenwald named Gertrude Levin Endowed Chair
Mark Greenwald was recently appointed as the inaugural Gertrude Levin Endowed Chair in Addiction and Pain Biology. Supported by a $1.5 million philanthropic gift to Wayne State University (WSU), the endowed chair will help to advance a comprehensive program in addiction and pain biology and therapies for these intertwined conditions. Mark is Professor, Associate Chair for Research, and Director of the Substance Abuse Research Division, in the Department of Psychiatry and Behavioral Neurosciences at WSU School of Medicine in Detroit, MI. Mark attended the Young Musicians Program for four summers.

New album from PRISM Quartet
On April 17, PRISM Quartet released a new album, Surfaces and Essences, featuring music written for the ensemble by Walden alumna Victoria Cheah, along with Christopher Biggs, Viet Cuong, Emily Koh, and Joseph Sowa. NewMusicBox's Frank J. Oteri writes, "PRISM has now served as a muse for generations of composers, so it is perhaps fitting that, for this latest addition to their extensive discography, the group features a set of new works written for them by five younger composers, only one of whom was born before PRISM came into existence." PRISM is a past visiting artist, and has long partnered with Walden commissioning new works from Walden alumni.
David Saslav and Melissa Smith perform Bach
David Saslav and Melissa Smith streamed a live rendition of Myra Hess' two-piano, four-hand arrangement of Bach's "Jesu, Joy of Man's Desiring" on Bach's birthday, March 31, from their self-imposed home studio quarantine in Great Falls, Montana. You can check out the Renditions Music Services website or Facebook page for other events and news. David attended YMP for five summers and is a past Walden board member.
New projects from Wet Ink Ensemble
Wet Ink Ensemble has a new album coming out, Glossolalia/Lines on Black, featuring works by Sam Pluta and Alex Mincek. Sam is a longtime Walden faculty member. You can find the album on their bandcamp page. Kate Soper has also started a YouTube series, Unwritten Operas. Wet Ink will have new initiatives for online programming rolling out soon, so keep your eyes out for more Wet Ink news. Wet Ink Ensemble has been a visiting artist at Walden.
We want to hear from you!
What's been going on? If you have a recent or upcoming premiere, publication, award, new job or program, or a celebratory life event, please share the news. Email your news to alumni@waldenschool.org.
Stay in Touch
You can like The Walden School page on Facebook and join The Walden School private group to hear about events and opportunities throughout the year, including upcoming regional alumni Composers Forums and Holiday Parties. You can also find us on Instagram, Twitter, and at waldenschool.org.