Message from Seth Brenzel, Executive Director
Dear Walden friend,
I hope your 2023 is off to a wonderful start! As the hours of sunlight grow longer, we are dreaming of long, bright summer days at Walden, filled with music and joy.
This year is the 50th anniversary of Walden's founding. I am excited to celebrate that milestone with all of you at events throughout the year, including an Alumni Reunion in Dublin, New Hampshire, during the weekend of August 4–6! Stay tuned for more details about what is sure to be a memorable gathering of the Walden and Junior Conservatory Camp communities.
We are still accepting applications for our 2023 Young Musicians Program (YMP) and Creative Musicians Retreat (CMR). Read on for information about program dates and locations, the application deadline, and upcoming YMP info sessions. And please spread the word to any creative musicians who may be interested in learning more about Walden!
I hope you enjoy this edition of InterNetzo, which features an interview with YMP alumna Ofurhe Igbinedion and her mother, Rita Lewis, both of whom are longtime donors to Walden. I am inspired by their support for Walden and by the lasting positive impact Walden has had on their family.
I hope to see you at a Walden event or program soon!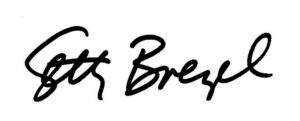 Seth Brenzel
Executive Director
415-587-8157
Join us for a Walden School/Junior Conservatory Camp Alumni Reunion!
Save the date: August 4–6, 2023
We are delighted to invite you to save the date for our next alumni reunion! This summer, The Walden School is hosting a weekend of events to celebrate Walden's 50th anniversary and the 70th anniversary of the Junior Conservatory Camp (JCC), Walden's predecessor program.
During the weekend of August 4–6, 2023, dozens of alumni and Walden friends will gather on the Dublin School campus to experience a bit of the Walden/JCC magic once again. We hope you will make plans to join us!
Registration will be available soon on our website, but you are welcome to email us now at alumni@waldenschool.org to let us know of your plans to attend.
Summer 2023 Programs
Apply to be part of Walden 2023!
We are still accepting applications for our summer 2023 programs:
Creative Musicians Retreat: June 10 – June 18, 2023, at Brewster Academy, Wolfeboro, New Hampshire (for musicians ages 18–98)
Young Musicians Program: June 24 – July 30, 2023, at Dublin School, Dublin, New Hampshire (for pre-college musicians, ages 9–18)
Application materials for both programs are available here.
Spring application deadline: April 5
Write to us with any questions.
Upcoming Fundraising Events
Saturday, March 11: A Walden 50th-Anniversary Celebration in San Francisco
Join The Walden School as it celebrates 50 years of lives transformed through experiential music education. To honor its legacy and support its future, Walden is hosting a reception and concert in San Francisco that will raise funds for student scholarships and the School's world-class artist residencies.
Del Sol Quartet, a past Walden visiting ensemble, will perform music by Chen Yi, Pamela Z, and Michael Gilbertson—composers who have taught, performed, or been in residence at Walden—among others. Hailed by Gramophone as "masters of all musical things they survey" and two-time winner of the top Chamber Music America/ASCAP Award for Adventurous Programming, Del Sol Quartet champions music by living artists, exploring social change, technology, and artistic innovation.
Join us for refreshments, music, and community at this very special Walden benefit event! For more information, email donors@waldenschool.org or call (415) 587-8157.
Plans for additional spectacular Walden benefit events are in the works, so stay tuned for more updates!
Walden is hiring
Join our summer team
Walden is hiring for 2023 summer positions at our programs in New Hampshire. We are seeking new teammates to join our creative community, and we hope that you might help spread the word about these opportunities to your friends and colleagues.
The positions currently open are:
Faculty Member—Young Musicians Program (June–July, 2023; Dublin, NH)
Staff Member—Young Musicians Program (June–July, 2023; Dublin, NH)
Please direct any questions and inquiries to us at jobs@waldenschool.org. All positions are open until filled.
Community Events
A Walden holiday party in New York

On January 22, Walden held a wonderful winter get-together in New York—our first Walden holiday party since 2020! Executive Director Seth Brenzel and Development Director Noah Mlotek were joined by Walden alumni, faculty, staff, board members, parents, and artists for a festive potluck gathering. Thanks to all who attended for an afternoon full of Walden community, delicious food, and spontaneous group singing! And a special thank you to Yvetta Fedorova and Scott Menchin for hosting us.

Walden at the International Contemporary Ensemble Gala
A group from Walden's administration and board were honored to attend the International Contemporary Ensemble's 20th anniversary gala on January 23 in New York. The spectacular event celebrated the Ensemble's founder, Claire Chase, a past visiting artist at Walden, and its Artistic Director, George Lewis, a past Composer-in-Residence at both of Walden's programs. There was also a moving tribute in memory of Ryan Muncy, an Ensemble member, a breathtakingly talented saxophonist, and a beloved member of the Walden community, where he was a visiting artist during multiple summers at both the Young Musicians Program and the Creative Musicians Retreat. There were many Walden alumni, friends, and supporters who attended this celebratory evening, and all of us at Walden are honored to be part of the International Contemporary Ensemble community.
Young Musicians Program (YMP) Information Sessions
Join us at one of our online interactive information sessions led by Walden's Executive Director, Seth Brenzel, alongside YMP faculty and staff members.
Learn more and register for one of the info sessions below:
Tuesday, February 28, 2022, at 7 pm Eastern / 4 pm Pacific
Tuesday, March 21, 2023, at 7 pm Eastern / 4 pm Pacific
These events are open to prospective students, music teachers, and anyone else who would like to learn more about Walden's award-winning Young Musicians Program—the music camp that changes lives.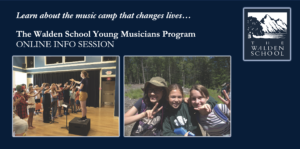 Walden on the Road
Walden faculty, staff, and administration members will be participating in two upcoming conventions, spreading the word about Walden's award-winning programs:
The American Choral Directors Association (ACDA) National Conference is being held in Cincinnati, February 22–25. Look for Walden's Director of Operations, Sammi Stone, at booth #114 in the Duke Energy Center Grand Ballroom. Kari Francis, Choral Director at the Young Musicians Program (YMP), and Sarah Riskind, who formerly held that role, will also be at the booth for part of the conference.
The Music Teachers National Association (MTNA) National Conference will be in Reno, Nevada, at the Nugget Casino Resort, March 25–29. Look for Executive Director Seth Brenzel and Director of Operations Sammi Stone at booth #612.
If you're planning to attend one of these conventions, stop by and say hello! And please spread the word to any choral directors or music teachers who might be interested.
In the Spotlight
Rita Lewis and Ofurhe Igbinedion

Ofurhe Igbinedion attended the Young Musicians Program (YMP) from 1999 through 2001. She recently completed a PhD in Geography at the University of California at Davis and works as a transportation planner for the Oakland Department of Transportation.
Her mother, Rita Lewis, has worked as a Registered Nurse for 30 years. She lives in Emeryville, California.
Veda Igbinedion, Ofurhe's brother and Rita's son, also attended YMP for one summer. He works as an attorney in the U.S. Army JAG Corps.
Rita and Ofurhe are longtime donors to Walden, and they both have set up recurring gifts through Walden's online donation platform.
How did you and your family first get involved with Walden?
Ofurhe: My first year at the Young Musicians Program (YMP) was 1999. My brother, Veda, had gone the year before me. I remember being impressed when Veda came home from Walden with a piece of music that he wrote. I just thought it was like the coolest thing. I didn't realize that was something you could do, you know?
I did piano and ballet, and I had been to Interlochen in my fourth-grade summer. And then I went to Walden the summer after that. I went to Walden for three summers. In high school I ended up going to boarding school in Vermont, not far from the Dublin School. So I feel like Walden kind of prepared me for boarding school.
Our summers were always filled with academic camps. Coming from a family with a single mom who was working, we had to do something in the summers. And I'm a nerd. I love school, but over the summers I got to choose which subjects I wanted to spend more time with. And I can't spend enough time playing music.
Rita: I first learned about Walden by seeing a poster at the former Tupper & Reed music store in Berkeley. When my son, Veda, went, he was the youngest kid there at age ten. He had a wonderful time and came home with his first composition. His first week at Walden he went to the music store, and the first CD he bought was of Thelonious Monk in Paris, and I thought: I have the coolest kid! That's what first established our family's relationship with Walden.
I also want to mention that Walden has always been very generous with us and given financial aid. I was a single parent with two kids, and I feel very, very grateful and responsible to pay that forward to the extent I can. I just can't say enough about how Walden has augmented my children's musical education, especially in giving them choral singing experience. Veda was involved in choral singing from a very young age and went on to sing in a cappella groups in high school and at Williams College, which has a wonderful music program. And when Ofurhe was at the University of Chicago, which can be cold and grim at times, she was in the choir. I went to visit her there and saw the room that they practice in. It's this beautiful old wood-paneled room with leaded glass ivy in the windows. And I just thought how wonderful it was that she could do this every day. I feel like that gift was very much established from her experience at Walden, not to mention the friendships that she made.
Ofurhe: That's totally true. Pretty much all of my college social life was from Motet Choir. When I went to audition, being able to say that I had experience with movable-do solfege from Walden, I was able to breeze through the audition. I had to sight-read something, and when I made a mistake, the director told me I could actually go through it using solfege. And then I was able to sing through it, because I knew the intervals. All of my musicianship that has stuck with me is from what I learned at Walden.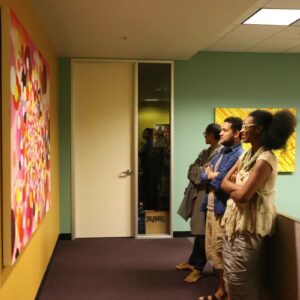 What are some highlights of your time at Walden or of Walden's impact on your life?
Ofurhe: One of the biggest things about Walden, aside from the musicianship, is the friendships. My two best friends there were Hamilton Sims and Marguerite Ladd. They were the best, and we were pretty inseparable when we were there. We took all our courses together and would spend all our time together. And between summers, we would e-mail and use AOL Instant Messenger. So just like Walden musicianship made me a good musician, I feel like my friendships from Walden made me a good friend. They taught me to navigate friendships across the country. That was really tricky and I think we got pretty good at it, and that's something that has been really helpful for me.
Rita: With both my kids, Walden helped them have this comfort level with being away from home and cultivated their independence. Anyone I know with a kid who's like musically inclined, I tell them to check this out. I'm always telling people Walden has been the greatest thing for our family. My kids went to boarding school. They went away to college, and they're such good travelers. I just can't say enough good things about Walden to people I encounter, and in fact just the other day I forwarded the info sessions that are coming up to several people. And I'm very fond of Seth and Malcolm. I've known them for a long time.
Ofurhe: I remember we helped them stuff envelopes for Walden fundraising appeals.
Why do you give to Walden, and why give a recurring gift?
Ofurhe: We got a lot of financial aid, and I want to be able to pay that forward. I did a lot of academic camps, I just finished a PhD at UC Davis, and so I've had a lot of school and I get a lot of alumni giving appeals, and I don't always pay them much attention. But when Walden comes around, I feel like I need this institution to survive. It was really important to me, and I want other people to have that.
Rita: I just feel so warm and fuzzy about Walden, and I'm a little jealous that I never got to go there. I hope that we will go as a family sometime to experience Walden together. So I just have nothing but fond feelings, and I feel so fortunate that I happened to see that poster at Tupper & Reed, which isn't even there anymore.
Community News
Marcos Balter and Amy Beth Kirsten receive Koussevitzky Foundation commissions
Two recent Walden Composers-in-Residence have won commissions from the Koussevitzky Foundation, operated by the Library of Congress. The commissions are granted jointly by the foundation and by the performing ensembles that will premiere each work. Marcos Balter, who has been Composer-in-Residence at both the Young Musicians Program (YMP) and Creative Musicians Retreat (CMR), has been commissioned to compose a work for the New York New Music Ensemble. Amy Beth (A.B.) Kirsten, who was the Composer-in-Residence at YMP last summer—and who will reprise that role at CMR this year—was commissioned to write for Sandbox Percussion. Congratulations, Marcos and A.B.!
Carrie's carols
Caroline Mallonee, director of Walden's Creative Musicians Retreat (CMR), has written six new Christmas/winter/solstice pieces in the last two years, including three Christmas pieces premiered this winter. Two of them (One Silver Star and Christmas Comes Again) were commissioned by the San Francisco Choral Artists, for which Carrie serves as composer-not-in-residence. (She lives in Buffalo, where wintry inspiration is more easily found.) And The Kings They Came was premiered by the Vocalis Chamber Choir, in which Carrie sings. More about Carrie's winter music, which is available from J.W. Pepper, can be found on her website.
Michael Poll joins Cornell music department as postdoctoral fellow
Past YMP visiting artist Michael Poll, a conductor and classical guitarist, has joined the music department at Cornell University as a fellow after receiving his doctorate from the Guildhall School of Music & Drama in London. At Cornell, he conducts the 60-voice university Chorale. Congratulations, Michael!
New work by Freya Waley-Cohen premiered in the Netherlands
A new work by Young Musicians Program (YMP) alumna Freya Waley-Cohen, Variation on Sellenger's Round, was premiered by the Amsterdam Sinfonietta in a series of concerts across the Netherlands from February 10 through 17. A recent conversation with Waley-Cohen, touching on her musical inspirations and career highlights, can be found here.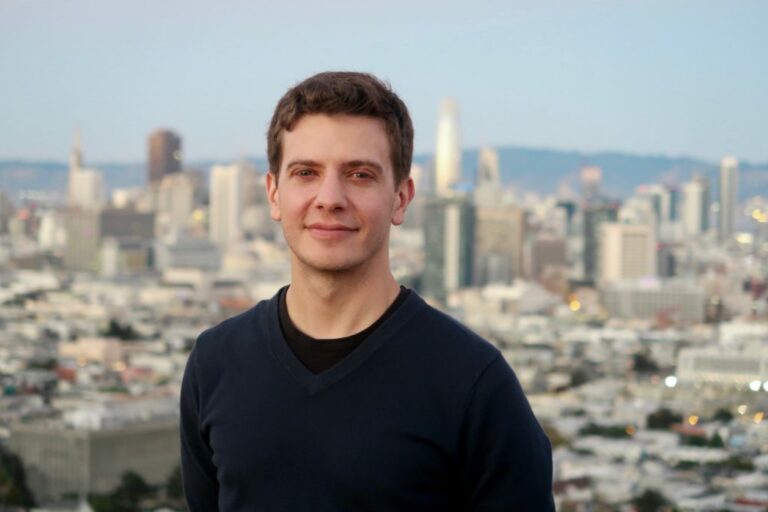 Michael Gilbertson's music featured on GRAMMY-winning album
An album featuring the music of former YMP faculty member Michael Gilbertson won the GRAMMY award for Best Choral Performance. The album, Born: Music of Edie Hill and Michael Gilbertson, was performed by the chamber choir The Crossing and conductor Donald Nally. It includes Gilbertson's compositions Born and Returning, both commissioned by The Crossing. Congratulations to Michael and all involved! You can hear Michael's music at the March 11 Walden fundraising event in San Francisco. See above for more details.
Stacey Philipps releases Gathering Rounds
CMR alumna Stacey Philipps has released a new collection of original rounds and canons for choirs. Gathering Rounds, available on her website, offers a round or canon for each week of the year featuring poetry and prose by women. Philipps is a multi-instrumentalist and lifelong singer currently in the alto section of the Oregon Repertory Singers, as well as the Composer-in-Residence for the ​Oregon Repertory Singers Youth Choir.
Bob Bassett chamber work premiered
A new work by Walden Board member and CMR alumnus Bob Bassett was premiered by the Front Range Chamber Players: Ivy Street Ensemble. Quintessence, which was commissioned by the ensemble, was performed in Denver on February 11, and will be played again on February 28 in Fort Collins, Colorado.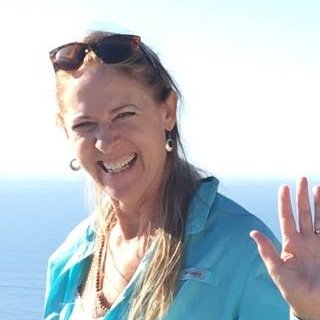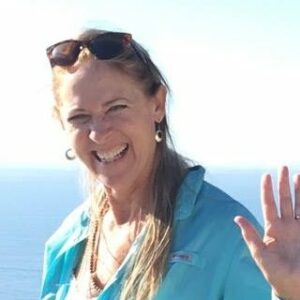 Denise Ondishko work premiered in Wales
A new saxophone quartet by Denise Ondishko was premiered by the UK-based Laefer Quartet. Star Cluster was performed on November 25 in Dora Stoutzker Hall at the Royal Welsh College of Music & Drama in Cardiff. Denise is a YMP alumna and a former Walden staff member, faculty member, and Board member.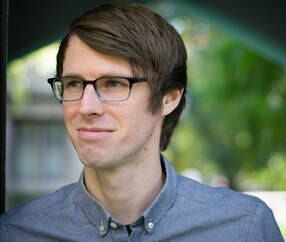 Ted Moore featured on two new albums
Composer, improvisor, and intermedia artist Ted Moore is featured on two new albums from Mother Brain Records: Live in London (released December 2022) and Nuclear Sonic Fusion (released January 2023). Ted contributes improvised electronics to both albums. A former faculty member at both YMP and CMR, Ted will return to Walden this summer as Technical Director for CMR.
Chris Wild appointed conductor of Wabash Valley Youth Symphony
Cellist and conductor Chris Wild, a many-time member of The Walden School Players, has begun a new position as conductor of the Wabash Valley Youth Symphony (WVYS). Based in the growing city of West Lafayette, Indiana, the WVYS serves students throughout central Indiana's Wabash River valley, including the communities surrounding Purdue University. Chris led his first concert with the orchestra on February 12. Congratulations, Chris!
Josh Modney premiere livestreamed
Firelight, a new piano quintet by Josh Modney, was premiered on December 30 in a livestreamed program sponsored in part by the Queens Council on the Arts. The performance can be viewed here. Josh is a frequent Walden visiting artist, most recently at YMP in 2022 with the International Contemporary Ensemble. The performers included other past Walden visiting artists Mariel Roberts and Cory Smythe.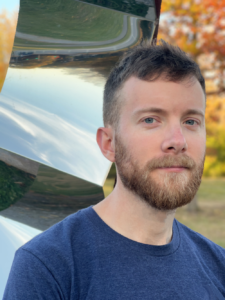 Michael Kropf starts university teaching position
Michael Kropf has recently been appointed as a Lecturer in Music Theory at the Eastern Michigan University School of Music and Dance. This semester, he is teaching Analytical Techniques. Michael will return to Walden as a faculty member and academic dean at YMP in 2023.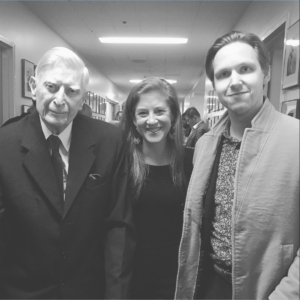 Lukáš Janata delivers talk at San Francisco Symphony
YMP faculty member and CMR alumnus Lukáš Janata, a Czech composer who lives and works in San Francisco, gave a pre-concert lecture at the San Francisco Symphony on February 12. The concert was an all-Czech program of Dvořák and Jan Václav Voříšek, conducted by the Symphony's Conductor Laureate, Herbert Blomstedt. Lukáš was honored to meet and talk with the 95-year maestro.
Eric Huebner praised for performance with Blomstedt
In other Walden-Blomstedt news, pianist Eric Huebner was singled out in the New York Times as "strong and unflappable" for his playing in a concert with the maestro. Eric provided "pounding clusters . . . and shimmering plucks and strums of the strings inside his instrument" in the New York Philharmonic's February 2 performance of Ingvar Lidholm's Poesis, a work that Blomstedt premiered in Stockholm 59 years ago. Eric was a visiting artist at Walden for many summers.
We want to hear from you!
What's been going on? If you have a recent or upcoming premiere, publication, award, new job or program, or a celebratory life event, please share the news at waldenschool.org/contact.
Stay in Touch
You can like The Walden School page on Facebook and join The Walden School private group to hear about events and opportunities throughout the year. You can also find us on Instagram, Twitter, YouTube, bandcamp, and at waldenschool.org.