In the Spotlight
Rita Lewis and Ofurhe Igbinedion

Ofurhe Igbinedion attended the Young Musicians Program (YMP) from 1999 through 2001. She recently completed a PhD in Geography at the University of California at Davis and works as a transportation planner for the Oakland Department of Transportation.
Her mother, Rita Lewis, has worked as a Registered Nurse for 30 years. She lives in Emeryville, California.
Veda Igbinedion, Ofurhe's brother and Rita's son, also attended YMP for one summer. He works as an attorney in the U.S. Army JAG Corps.
Rita and Ofurhe are longtime donors to Walden, and they both have set up recurring gifts through Walden's online donation platform.
How did you and your family first get involved with Walden?
Ofurhe: My first year at the Young Musicians Program (YMP) was 1999. My brother, Veda, had gone the year before me. I remember being impressed when Veda came home from Walden with a piece of music that he wrote. I just thought it was like the coolest thing. I didn't realize that was something you could do, you know?
I did piano and ballet, and I had been to Interlochen in my fourth-grade summer. And then I went to Walden the summer after that. I went to Walden for three summers. In high school I ended up going to boarding school in Vermont, not far from the Dublin School. So I feel like Walden kind of prepared me for boarding school.
Our summers were always filled with academic camps. Coming from a family with a single mom who was working, we had to do something in the summers. And I'm a nerd. I love school, but over the summers I got to choose which subjects I wanted to spend more time with. And I can't spend enough time playing music.
Rita: I first learned about Walden by seeing a poster at the former Tupper & Reed music store in Berkeley. When my son, Veda, went, he was the youngest kid there at age ten. He had a wonderful time and came home with his first composition. His first week at Walden he went to the music store, and the first CD he bought was of Thelonious Monk in Paris, and I thought: I have the coolest kid! That's what first established our family's relationship with Walden.
I also want to mention that Walden has always been very generous with us and given financial aid. I was a single parent with two kids, and I feel very, very grateful and responsible to pay that forward to the extent I can. I just can't say enough about how Walden has augmented my children's musical education, especially in giving them choral singing experience. Veda was involved in choral singing from a very young age and went on to sing in a cappella groups in high school and at Williams College, which has a wonderful music program. And when Ofurhe was at the University of Chicago, which can be cold and grim at times, she was in the choir. I went to visit her there and saw the room that they practice in. It's this beautiful old wood-paneled room with leaded glass ivy in the windows. And I just thought how wonderful it was that she could do this every day. I feel like that gift was very much established from her experience at Walden, not to mention the friendships that she made.
Ofurhe: That's totally true. Pretty much all of my college social life was from Motet Choir. When I went to audition, being able to say that I had experience with movable-do solfege from Walden, I was able to breeze through the audition. I had to sight-read something, and when I made a mistake, the director told me I could actually go through it using solfege. And then I was able to sing through it, because I knew the intervals. All of my musicianship that has stuck with me is from what I learned at Walden.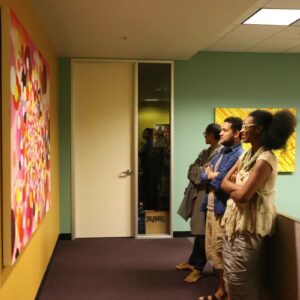 What are some highlights of your time at Walden or of Walden's impact on your life?
Ofurhe: One of the biggest things about Walden, aside from the musicianship, is the friendships. My two best friends there were Hamilton Sims and Marguerite Ladd. They were the best, and we were pretty inseparable when we were there. We took all our courses together and would spend all our time together. And between summers, we would e-mail and use AOL Instant Messenger. So just like Walden musicianship made me a good musician, I feel like my friendships from Walden made me a good friend. They taught me to navigate friendships across the country. That was really tricky and I think we got pretty good at it, and that's something that has been really helpful for me.
Rita: With both my kids, Walden helped them have this comfort level with being away from home and cultivated their independence. Anyone I know with a kid who's like musically inclined, I tell them to check this out. I'm always telling people Walden has been the greatest thing for our family. My kids went to boarding school. They went away to college, and they're such good travelers. I just can't say enough good things about Walden to people I encounter, and in fact just the other day I forwarded the info sessions that are coming up to several people. And I'm very fond of Seth and Malcolm. I've known them for a long time.
Ofurhe: I remember we helped them stuff envelopes for Walden fundraising appeals.
Why do you give to Walden, and why give a recurring gift?
Ofurhe: We got a lot of financial aid, and I want to be able to pay that forward. I did a lot of academic camps, I just finished a PhD at UC Davis, and so I've had a lot of school and I get a lot of alumni giving appeals, and I don't always pay them much attention. But when Walden comes around, I feel like I need this institution to survive. It was really important to me, and I want other people to have that.
Rita: I just feel so warm and fuzzy about Walden, and I'm a little jealous that I never got to go there. I hope that we will go as a family sometime to experience Walden together. So I just have nothing but fond feelings, and I feel so fortunate that I happened to see that poster at Tupper & Reed, which isn't even there anymore.