Message from Seth Brenzel, Executive Director
Greetings!
I'm glad to share with you the first InterNetzo of 2020. We started the year with an amazing Alumni Composers Forum in New York, and we are looking forward to another in San Francisco on February 22. It is application season for the Young Musicians Program and Creative Musicians Retreat–our next application deadline is February 21.
We caught up with Junior Conservatory Camp alumnus Larry Wetzler–read all about it in our "In the Spotlight" section. Walden holiday party season has come to a close, and we are looking forward to more exciting events this spring. Check out our Community News section to learn about your fellow readers and the goings on in their lives and careers throughout the year. I hope to see you at a Walden event soon, and until then, happy reading.
Best wishes,
Seth
Community Events
Alumni Composers Forum in San Francisco
Join us for an Alumni Composers Forum in San Francisco! Del Sol String Quartet will be performing pieces written by our amazing alumni, all of whom will be present to discuss their works. This event is free and open to the public.
Saturday, February 22, 2020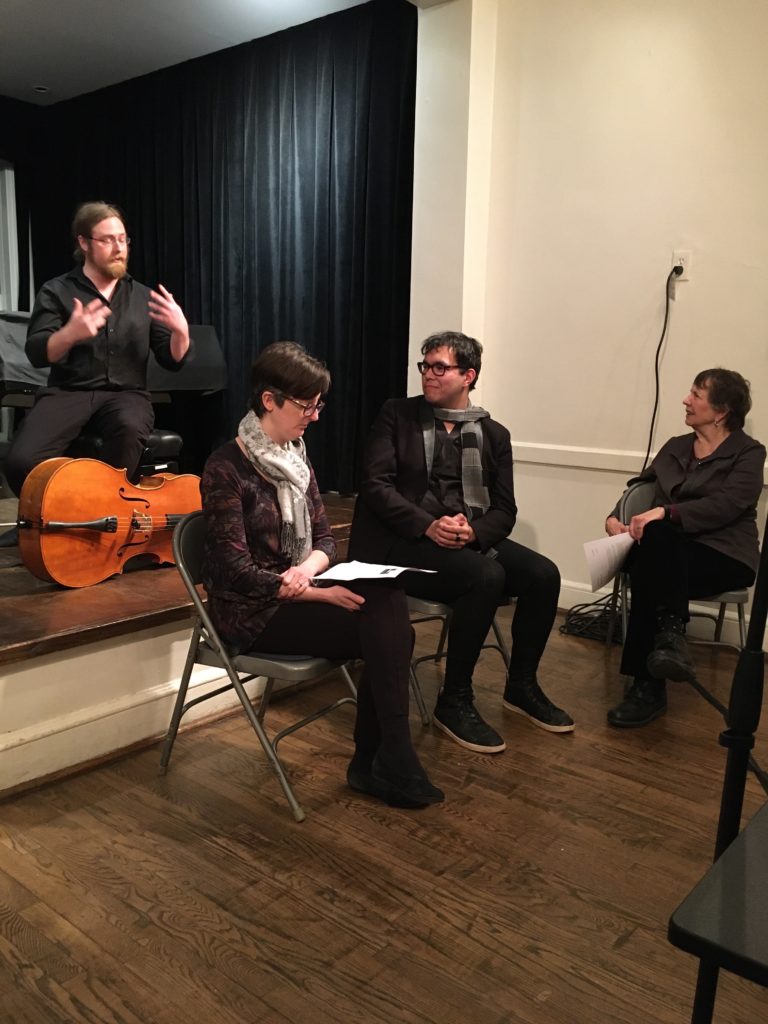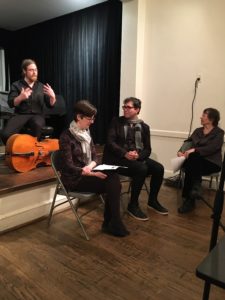 Featuring Del Sol String Quartet
Moderated by past visiting artist Nathaniel Stookey
Holy Innocents Episcopal Church
455 Fair Oaks Street
San Francisco, CA 94110
4-6 pm
While there are no tickets and no requirement to RSVP, we'd love to know if you are planning to attend. Simply write to us at alumni@waldenschool.org with your plans and question you might have.
We hope you'll join us for this inspiring afternoon of music-making.
We had a fantastic Composers Forum in New York on January 19, with 13 wonderful alumni of the Young Musicians Program and Creative Musicians Retreat. Mivos Quartet performed 12 world premieres. After each piece, the composer took the stage to answer questions from moderators Joan Tower and Loretta Notareschi, as well as audience members.
Walden at Chamber Music America 
Lots of familiar Walden faces at Chamber Music America's 2020 National Conference: Music, Equity, and our Future, January 16-19. Executive Director Seth Brenzel was joined by faculty members Doug Hertz, D. J. Sparr, Kittie Cooper, and Loretta Notareschi. Loretta and Kittie both spoke at the session "Music and Healing: Understanding Cognitive Difference Through Music."
George Lewis, 2019 Composer-in-Residence at the Creative Musicians Retreat, was the keynote speaker. Past visiting artist Joan Tower was honored with the 2020 Richard J. Bogomolny National Service Award, and still found time to moderate a Walden Composers Forum alongside Loretta.
Walden Holiday Parties
Many thanks to all our holiday party hosts! We had wonderful holiday potlucks in Boston, Chicago, McLean, New York, Portland, San Francisco, and Seattle.
Summer 2020 Programs
Apply to be part of Walden 2020!
Applications for summer 2020 are pouring in, and our winter application deadline is coming up! We hope you (and all of the people you know!) will apply to join us at one of our programs this summer.
Creative Musicians Retreat: June 13-21, 2020 (for musicians ages 18-98)
Young Musicians Program: June 27 – August 2, 2020 (for pre-college musicians, ages 9-18)
Application materials are available for both programs at waldenschool.org/apply/.
Application deadlines (postmark):
February 21 (winter)
April 3 (spring)
Please write to us at applicants@waldenschool.org with any questions.
Hiring for Summer 2020 positions
Walden is hiring for our flagship summer 2020 Young Musicians Program.
Apply to join our incredible team of musical youth-serving professionals. Please spread the word with your colleagues and friends.
Open positions for summer 2020:
Director of Operations
Young Musicians Program Faculty
Young Musicians Program Staff
Read full job descriptions and learn how to apply here.
In the Spotlight
Larry Wetzler 
Dr. Larry Wetzler is an alumnus of the Junior Conservatory Camp (JCC), the predecessor program to The Walden School. The JCC was founded in 1952 by Grace Newsom Cushman.
How did your relationship with the Junior Conservatory Camp and Walden begin?
Around the age of 10 or 11, I started taking musicianship classes with Shari Fleming. A few years later, I worked with Mrs. Cushman in her musicianship and theory classes. She would have ongoing potluck dinners at her home on Mt. Vernon Square, just across the street from Peabody. We would all gather for a great meal and some music. When I first attended the Junior Conservatory Camp with Mrs. Cushman in Lyndonville, Vermont, I was about 16 and already felt very much part of the community. I was taking piano lessons with Reynaldo Reyes at the time, and he was also on faculty at the camp.
Could you describe a favorite memory from JCC?
I have so many wonderful memories, but a few favorites. I loved studying Bach. We were analyzing Bach chorales in Mrs. Cushman's class at Peabody, and at the JCC, we studied one of the Brandenburg Concertos. Reynaldo Reyes performed Bach's Italian Concerto, and we would sing one of the Bach fugues from The Well-Tempered Clavier.
I'll always recall Reynaldo Reyes, Zoltan Szabo, and others performing the Ravel and Debussy Quartets. Watching Linda Wilder perform a Martha Graham-inspired modern dance took my breath away.
What is a non-music hobby or activity you love?
For the past 25 years, I have been studying the work of Jacques Lacan, a French psychoanalyst. I attend an ongoing weekly Lacanian psychoanalytic seminar in Manhattan. I find his work fascinating and incorporate much of it into my own psychotherapy practice.
You support Walden in a very special way, by performing piano recitals and asking that attendees donate to Walden, rather than buying a ticket. How did this idea come about?
It came about through my belief in the power of great music to move us into a sacred dimension, transcending our ordinary lives. I want to encourage the Walden project, and enable young musicians to experience some of what I experienced in those early years.
How is creativity part of your life now?
I have written on the interface of music and psychoanalysis. Some of my work appears in the book Music and Psyche: Contemporary Psychoanalytic Explorations.
What advice would you give to would-be Walden students of today as they embark on their summer at Walden?
Be open to the miracle of music and the ways in which it taps into the heartfelt regions of existence beyond words.
Community News
Ben Adler to attend University of Chicago
YMP alumnus Ben Adler will be starting college this fall at the University of Chicago. Congratulations, Ben!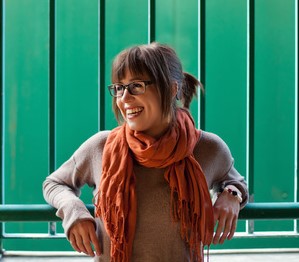 Katie Balch premiere at California Symphony 
This March, the California Symphony will premiere Katherine Balch's new song cycle, Illuminations. Illuminations is written for three voices and orchestra, and is based on Les Illuminations by French poet Rimbaud. The world premiere performance will feature the California Symphony led by Donato Cabrera, and soloists Alexandra Smither, Molly Netter, and Kelly Guerra. Performances will be March 14 and 15 at the Lesher Center for the Arts in Walnut Creek, CA. Katie is a past faculty member at YMP.
Nick Benavides opera comes to life
CMR alumnus Nicolas Benavides is working on a full-length opera, Gilberto, based on the life of his grandfather. West Edge Opera's Snapshot will present Act 1, Scene 1 of Gilberto on January 31 and February 1 in San Francisco and Berkeley, respectively. Libretto by Marella Martin Koch. With Earplay joining WEO music director Jonathan Khuner, this opera jumps between the world of war and the world of mambo and rumba, and is set in the historic Sweet's Ballroom (which still exists today in Oakland). To learn more about Gilberto, you can listen to an interview with Nick on San Francisco Classical Voice.
Del Sol performs Du Yun Concert 
On February 1, Del Sol String Quartet will perform Du Yun's Tattooed in Snow at Mills College in Oakland, CA. Tattooed in Snow "explores the temporary and fragile crystallization in nature and in space. The four players of the quartet form the four pillars of a musical space, and as a chant begins to move among theme, it layers, repeats and takes shape in the manner of a sculpture in sand or snow." Find concert details here. Del Sol is a past visiting artist at Walden, and will be performing at our Alumni Composers Forum in San Francisco on February 22.
Stacy Garrop's Terra Nostra in Chicago
On February 9, Stacy Garrop's oratorio about planet Earth, Terra Nostra, will be performed at Alice Millar Chapel in Evanston, Illinois. The performance will feature Alice Millar Chapel Choir and soloists, Northwestern University Symphony Orchestra, Evanston Children's Choir, and conductor Stephen Alltop. This is a free concert. Stacy is an alumna of the Young Musicians Program, and a former YMP faculty member.
Lucy McKnight wins ICEBERG New Music's Call for Scores 
ICEBERG New Music's 2019-2020 Call for Scores received over 220 pieces from 163 composers around the world. For Unheard-of Ensemble, the winning piece was Lucy McKnight's Infested. Unheard-0f features Ford Fourqurean (clarinet), Matheus Souza (violin), Issei Herr (cello), and Daniel Anastasio (piano), and will perform Lucy's piece in the upcoming season. Lucy is an alumna of the Young Musicians Program. Nathan Nokes, an alumnus of the Creative Musicians Retreat, received an honorable mention in the Hypercube division for his piece You Also.
Josh Modney Carnegie Hall solo debut
On January 28, Josh Modney made his Carnegie Hall solo debut, performing Jörg Widmann's Etude No. 2 for Solo Violin. The performance was part of a portrait concert of Widmann's music, alongside colleagues in the International Contemporary Ensemble (ICE). Josh is a frequent Walden visiting artist, most recently at the Young Musicians Program in 2019 with ICE.
Ben Richardson heads to curling championship
CMR alumnus Ben Richardson will be headed to the World Junior Curling Championship in Krasnoyarsk, Russia in February. Ben is a member of Team Violette, which won the Junior National Championship on January 19. Go Ben!
Freya Waley-Cohen premieres in January
On January 21, Britten Sinfonia performed the world premiere of YMP Freya Waley-Cohen's Spell Book, featuring the principals of the Britten Sinfonia and mezzo-soprano Katie Bray. Spell Book is a song cycle written for Britten Sinfonia, and is a setting of spell-poems from poet Rebecca Tamás' 2019 book WITCH. The concert also featured Frey's arrangement of Mahler's Rückert-Lieder for mezzo-soprano and chamber. Later that same day, the London Chamber Orchestra conducted by Oliver Zeffman gave the UK premiere of Freya's chamber orchestra work Changeling. The work was commissioned and performed by the LA Phil and John Adams in 2019.
Tamsin Waley-Cohen and Friends of the Albion Quartet 
Tamsin Waley-Cohen is a violinist in the UK-based Albion Quartet, which is launching a new project: Friends of the Albion Quartet. The project will extend and continue Albion Quartet's work with underprivileged schools, SEN and Schools for Autistic Children, bringing music, creativity, and engaging the imagination of children across the country who otherwise would not have access. They will begin workshops next week, in collaboration with the Cavatina Trust. Tamsin is a past visiting artist at Walden, and sister of alumna Freya Waley-Cohen.
We want to hear from you!
What's been going on? If you have a recent or upcoming premiere, publication, award, new job or program, or a celebratory life event, please share the news. Email your news to alumni@waldenschool.org.
Stay in Touch
You can like The Walden School page on Facebook and join The Walden School private group to hear about events and opportunities throughout the year, including upcoming regional alumni Composers Forums and Holiday Parties. You can also find us on Instagram, Twitter, and at waldenschool.org.