Message from Seth Brenzel, Executive Director
Dear friend,
I hope you will find this May edition of InterNetzo hopeful and informative. Be sure to check out our "In the Spotlight" section to hear from Tamar Bloch, alumna of the Junior Conservatory Camp and longtime Walden faculty member.
First, I want to share with you some important updates about our 2020 programs.
Walden 2020
As we pause our in-person programs this summer, Walden is offering two new, alternative programming options. Learn more about the Online Creative Musicians Experience (June 13-21; for musicians ages 18+) and the Online Young Musicians Experience (July 6-30; for students ages 9-18)  below.
In addition, we hope you will join us for one or more of our online events this summer, beginning with our opening concert on June 13, featuring Mivos Quartet, Matthew Gold, Eric Huebner, and the music of Lisa Bielawa and Loretta Notareschi, among others. Details below.
Though we grieve being unable to gather together in New Hampshire this summer, the spirit and community of Walden are unshaken. We are deeply grateful to all of our friends and donors, whose generosity keeps Walden thriving this year, next year, and every year. We will miss our many friends in Dublin and the Monadnock region this summer. We eagerly look forward to gathering in-person again soon, and for many wonderful summers to come.
We wish everyone in the Walden community the very best for wellness and peace during this challenging time.
Sincerely,
Seth
Josh Modney performs to benefit Walden

On May 2, Walden alumni, faculty and staff, board members, families, and friends gathered by video call from more than 80 locations around the country and around the world for an amazing online concert. Violinist Josh Modney, a frequent visiting artist at Walden, gave a stunning performance featuring works by J.S. Bach, Taylor Brook, and three Walden alumnae: Caroline Mallonee, Darlene Castro Ortiz, and Genevieve Evans.
We were delighted to welcome all three featured Walden alumnae, as well as Taylor Brook, on the video call, and so we were able to hear directly from each of them about their musical ideas. Thanks, also, to Walden faculty members Katie Balch and Cara Haxo providing delicious and festive recipes for attendees to try while we were all e-ttending from home.
You can find a video here of Caroline Mallonee, alumna and Director of Walden's Creative Musicians Retreat, speaking about the selections from her collection, String Tunes, which Josh performed.
We are so grateful to our host committee and all of our event donors for their many contributions. With everyone's help, we raised more than $10,300. Thank you! Such generous support ensures creative musicians find a home at Walden for generations to come.
June 13 – Summer Season Opening Concert – ONLINE
We hope you will join us on Saturday, June 13, for our first online concert of the summer, featuring Mivos Quartet, percussionist Matthew Gold, and pianist Eric Huebner. The concert will include performances of works by our Online Creative Musicians Experience Composer-in-Residence Lisa Bielawa and Walden alumna and faculty member Loretta Notareschi, among others.
Saturday, June 13, 2020
4:00 pm Eastern time
Zoom video call
Stay tuned for event details, as well as information about more online events!
In the Spotlight

Tamar Bloch
Tamar Bloch spent four summers as a student at the Junior Conservatory Camp (JCC), Walden's predecessor program, and more than fifteen summers on Walden's faculty. An accomplished music educator, composer, and performer, Tamar is a wonderful member of the Walden community, and has many stories to share.
How and when did your relationship with JCC and Walden begin?
My lifelong relationship with JCC and Walden began in 1969, as a student at JCC. I had never composed before, and my first summer, I didn't write a note. During my second summer, I saw that everyone else was composing, so I started as well. I am continually amazed that Grace Newsom Cushman founded this extraordinary summer program in the 1950s, and that her legacy is going strong! It really was a life changing experience for me, in so many ways, and I'm still close with some of my former JCC roommates to this day, including Robin Seto and Sheree Clement. It's wonderful to have these lifelong connections. My 4 summers at JCC have informed my life as a musician and teacher throughout my varied careers.
What has been your connection with Walden since then?
After spending four summers at JCC, I started teaching at Walden in 1975. Since then, I spent many years on the faculty at Walden, both in Vershire, Vermont, at the Mountain School, and in Dublin for many, many summers. Since then, I've moderated composers forums in New York and at alumni reunions. It was wonderful to hear music from alumni and students, and to lead the discussion. I've helped organize alumni reunions, and was sorry to miss the last one.
I have always felt a very strong connection with JCC and Walden on a deeply personal level. Now that connection is consciously fostered, but there has always been a sense of community and deep-rooted friendships. During my 15 years living in Budapest, I often taught at Walden during the summers, and it always felt like coming "home."
Could you describe a favorite memory from your time as a JCC student?
There were so many musical and non-musical wonders. I remember one night Mrs. C woke us all up to go out to watch the northern lights. It was extraordinary, standing outside Burklyn Manor in our pajamas, watching the northern lights. I remember Alan Shewmon playing Chopin etudes, the thrill of singing in a choir, Nelson Max's films, not to mention the composers forums. In class we analyzed Bartok's Music for Strings Percussion, and Celesta, still one of my favorite pieces, as well as George Crumb's Ancient Voices of Children. The mountain hikes were epic, and somehow we made it up and down Mt. Washington!
Could you describe a favorite memory from your time on faculty?
One of my most amazing experiences was Pauline Oliveros' residency. We did many of her meditations and performed her music. She was an amazing presence, and I had the good fortune to attend her second International Conference on Deep Listening. My experiences at JCC and Walden prepared me for that. Taking on new challenges, trying out new sounds, and being pushed outside your comfort zone were and are ongoing at Walden.
Although I don't like to single out students or classes, I had one class which we called the "Future Presidents Club." There were three girls in it who did amazing work.  We sang atonal melodies, they could read anything, they sang musically and in tune. Sam Adler, who was composer-in-residence that year, came to my class and complimented me on the beautiful singing. There are so many memories, I could write a book!
How are music and creativity part of your life now?
I really enjoy listening. I love listening to leaves rustling in the air and different bird calls. Just standing still and listening to what's around me. I also love helping students to open their ears and hear the sounds around them. Right now, I'm preparing to move, which is a huge operation. However, once I move to Rhinebeck, New York, with my partner, I plan on taking lessons with Marilyn Crispell (JCC alumna and past Walden visiting artist), who lives nearby. My first jazz teacher, Ellen Hoffman, is also a JCC alumna — full circle.
What is a non-musical hobby you love?
I've always enjoyed cooking and find that to be a very creative activity. I can't give anyone my recipes because I make them up as I go along!
I love to travel, and I love going to museums, concerts, films, theater, etc. I'm a 'culture vulture'. I've been having movie nights with Peter, my partner, since sheltering in place started, and we'll get back to traveling when it's safe, even if that won't be for a while.
What is your hope or dream for Walden's future?
One of the great things about Walden is that it's non-judgmental, and a very safe place to try out new ideas. It's a safe place to fail–which you do in composing, in life, in everything–and then you figure out how to make it better. Walden is unusual in the depth of mentorship and learning from one another–it's really free-flowing knowledge, which you certainly don't find in every teaching situation. I feel that knowledge is to be shared and distributed, not to be held onto. We've all gotten the knowledge from somewhere, so I think it's our duty to pass it on.
I also find Walden is a great place to be able to dream and create, in classes as well as independently. I really love watching my former students grow and become adults and have their own families and careers. It's great to follow them and see what they're doing, and I love seeing pictures of their children. That sense of community and connection is so much a part of Walden.
2020 Summer Programs
Walden 2020 Online Experiences
While we cannot gather in person this summer, Walden is excited to offer two alternative programming options: the Online Creative Musicians Experience for adult musicians (ages 18+), and the Online Young Musicians Experience for students ages 9 to 18. All participants already enrolled for summer 2020 programs are automatically admitted and warmly invited to participate, and we are accepting applications for both programs, on a first-come, first-served basis. Enrollment is limited, and some need-based financial aid is available.
Online Creative Musicians Experience
June 13-June 21, 2020
This experience will include classes in musicianship, contemporary topics, and electronic music, composition, instrumental, and professional development workshops, private composition, instrumental, and conducting lessons, an Opening Concert (June 13) and Closing Composers Forums (June 20 and 21). An incredible team of accomplished and experienced Walden faculty will be leading our week together, including Alexander Christie, Renée Favand-See, Caroline Mallonee, Loretta Notareschi, and D. J. Sparr. They will be joined by artists-in-residence Lisa Bielawa (composer-in-residence), Thomas Colohan (conductor), Matthew Gold (percussion), Eric Huebner (piano), and Mivos Quartet (ensemble-in-residence).
Online Young Musicians Experience
July 6 – July 30, 2020 (Mondays-Thursdays)
Students (ages 9 to 18) will have the opportunity to take classes and lessons with veteran Walden faculty members (musicianship, composition, and special topics), compose a solo piece for performance and recording by one of Walden's amazing visiting artists, e-ttend numerous online concerts and composers forums, and participate in some online and offline recreational & community activities led by members of Walden's faculty and staff. Stay tuned for more details to come!
We are excited to launch these new program offerings, and like all of us at this time, we are learning and experimenting as we go. Thank you for your support, patience, and understanding during this dynamic period. If you have any questions or comments in regards, please do not hesitate to contact us.
 Featured Community Project
The CO-19 Project
Despite the current situation, Walden alumni have been connecting and collaborating in inspiring ways! Nineteen composers, from eight states, ranging in age from 20 to nearly 80, collaborated on The CO-19 Project: A Collage for String Quartet by 19 Composers. Their contributions, new works and old, express the varied emotions experienced during the pandemic. The collage highlights how The Walden School's programs foster a wide community of composers. Nearly all of the collaborators are Walden alumni. Special thanks to Bob Bassett, CMR alumnus, for his work in coordinating this collaboration. Stay tuned to hear more about this exciting project!
The Collaborators
Bob Bassett
Ross Beresford
Shawnee Boyd
Deb Dyko
Brett Austin Eastman
Emma Eliason (Audio Engineer)
Michael Frank
Evan Ghislin
John Ivers
Lukáš Janata
Judd Janes
Drew Kravin
Caroline Mallonee
Quentin Marchetti
Emil Margolis
Steve Messner
Samara Rice
Sarah Rose Stiles
Adam Waite
Community News
Vicente Hansen Atria online premiere

On May 3, a new work by Vicente Hansen Atria was premiered as part of the American Composers Orchestra's new solo commissioning initiative, Connecting ACO Community. The project pairs a composer and a performer for an online premiere and discussion. Vicente's piece was premiered by Jay Campbell. Vicente is an alumnus of the Creative Musicians Retreat, and is currently pursuing his DMA at Columbia University.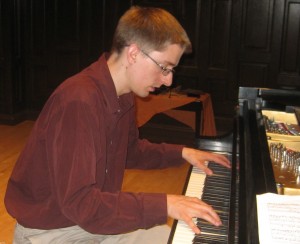 Andrew Barnes Jamieson virtual concert
On May 16, Young Musicians Program alumnus Andrew Barnes Jamieson performed live online a polytonal/deconstructed piano improvisation. The performance was part of Experimental Sound Studio's Quarantine Concerts, daily livestream concerts by experimental musicians from across the country. Andrew was "joined" by Kelley Sheehan, Katherine Young, and Sivan Cohen Elias. Andrew's live polytonal mashup work involves at least two recognizable melodies in two different hands, with independent/clashing tonalities and rhythms.
Kittie Cooper graduates with Program Award
Kittie Cooper graduated from George Mason University College of Education and Human Development on May 22, and received a 2020 Program Award. Kittie was selected by the faculty as Outstanding Student in Special Education (Visual Impairment certificate). Kittie teaches music at the Virginia School for the Deaf and the Blind and has been on Walden's faculty and staff team since 2014. You can read a Q&A with Kittie. Congratulations, Kittie!
Cara Haxo wins Emerging Women Composers Competition 
Women in the Arts has announced Cara Haxo is the winner of its 2022 Emerging Women Composers Competition. With this award, Cara has been commissioned to create a new piece for orchestra with women's chorus to be premiered at the 2022 National Women's Music Festival (NWMF). NWMF Orchestra Music Director and Conductor Nan Washburn said of Cara's submission: "Not only was her skill and creativity quite evident in the way she set the song texts, but it was also apparent in her delightfully inventive use of rhythms and tight harmonies." Cara is an alumna of the Young Musicians Program (YMP), and currently serves as a YMP faculty member and Academic Dean.
Sky Macklay awarded Columbia Institute fellowship
Sky Macklay has been awarded a fellowship at the Columbia Institute for Ideas and Imagination in Paris. The Institute for Ideas and Imagination "[brings] together faculty from across Columbia University with thinkers, poets, artists, and composers from around the world in a year-long dialogue. The Institute aims to encourage connections between the analytic and the creative imagination." Sky is one of 15 fellows who will be in residence in Paris beginning in January 2021. Sky is a Walden alumna and longtime faculty member, and teaches at Valparaiso University.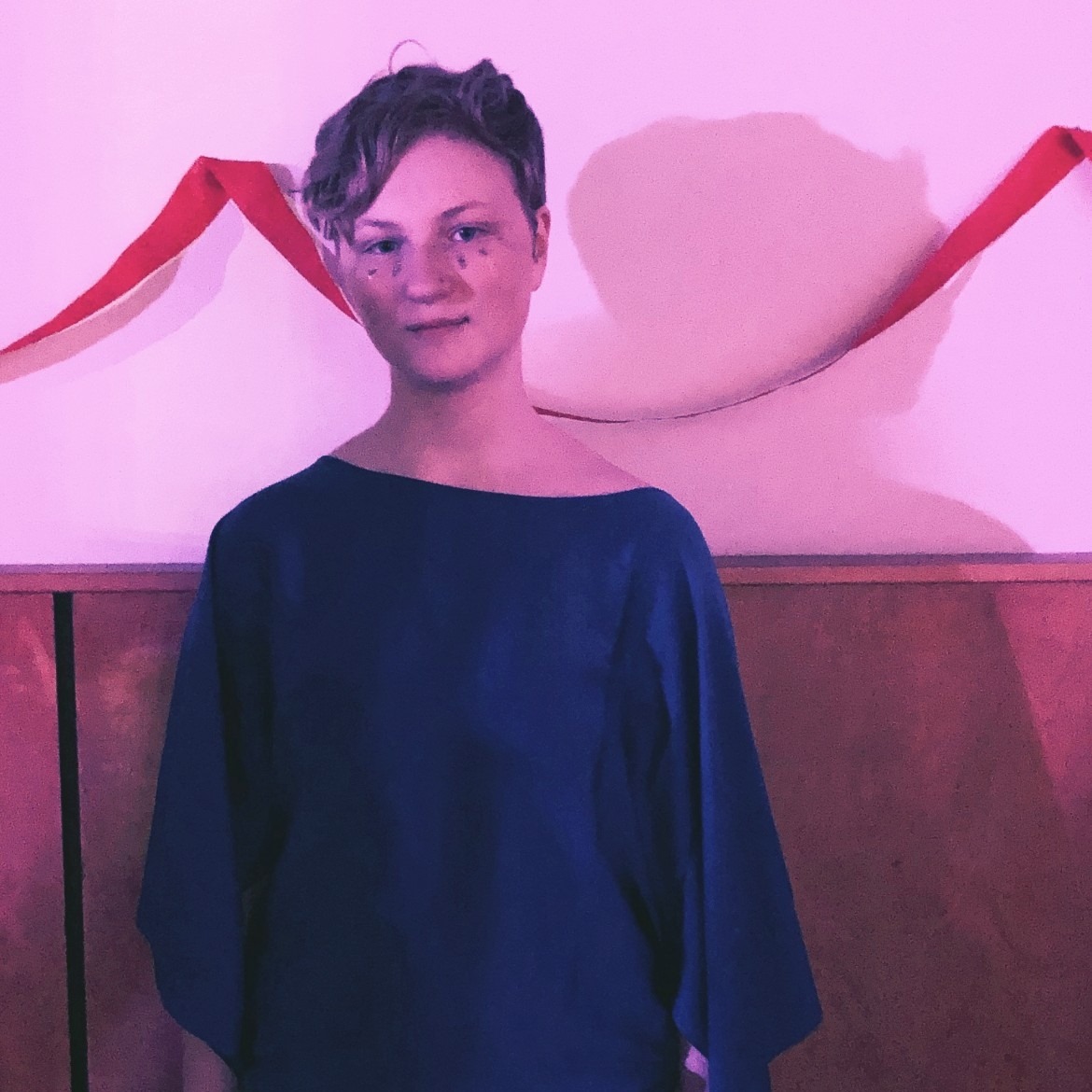 Ash Paris-Carter publishes article on vocal soundscapes and choirs 
Ash Paris-Carter recently published an article on tonitruale.com, entitled "Organized in Time: Vocal Soundscapes and Choirs." tonitruale.com is an online community primarily based on music and fashion. The article includes reflections on specific vocal pieces, and you can read the post here. Ash has attended the Young Musicians Program for six summers.
Amirah Stewart graduates with degrees in Education and Music
Amirah Stewart recently graduated from Hunter College in New York City with two bachelors degrees–one in Education and one in Music. Amirah was a student at the Young Musicians Program for four summers. Congratulations, Amirah!
In Memoriam
Peter Krag
The Walden community is grieving the loss of Peter Krag, who died on May 22, 2020. Peter spent 8 summers at the Young Musicians Program, and his brother Chris also attended YMP for a number of summers. Peter was a gentle, creative, kind soul, and an incredible musician. Plans for a memorial service are in progress. The entire Walden community sends our condolences to Peter's parents, Jesusa and David, Chris, and all of Peter's loved ones.
Jerry Maddox
We are saddened by the loss of Jerry Maddox, who passed away in December 2019 at the age of 77. Jerry was an alumnus of the Junior Conservatory Camp and a longtime supporter of Walden. He taught for many years at the Cleveland Music School Settlement, and was an accompanist for the Cleveland Singers' Club. A memorial service was held on March 7, 2020, in Bedford, Ohio. We send our condolences to Jerry's many friends and family.
We want to hear from you!
What's been going on? If you have a recent or upcoming premiere, publication, award, new job or program, or a celebratory life event, please share the news. Email your news to alumni@waldenschool.org.
Stay in Touch
You can like The Walden School page on Facebook and join The Walden School private group to hear about events and opportunities throughout the year, including upcoming regional alumni Composers Forums and Holiday Parties. You can also find us on Instagram, Twitter, and at waldenschool.org.