Message from Seth Brenzel, Executive Director
Happy Thanksgiving from all of us at The Walden School!
The holiday season has arrived. This edition of InterNetzo includes the cities and dates for our Walden holiday potlucks, as well as other community events coming up. Alumni Composers Forums are just around the corner in New York and San Francisco, so submit your scores and/or mark your calendars! Read our "In the Spotlight" section to hear from Dede Ondishko, Walden alumna, and a past faculty, staff, and Board member. Check out our Community News section to learn about your fellow readers and the goings on in their lives and careers throughout the year. I hope to see you at a Walden event soon, and until then, happy reading.
Upcoming Events
Featured Event: Walden alumni/teacher/student collaboration
On Thursday, December 5, 2019 at 7:30 pm, guitarist Giacomo Baldelli will present an electric guitar solo set featuring the world premiere of "Lost in Dull Time" by Young Musicians Program student Kayenne Charles-Pierre. The concert is at Areté Venue and Gallery in Brooklyn, New York.  The concert will also feature a 1981 David Byrne/Brian Eno work –  to be soon released as a single, and an improv set for electric guitar and electronics.
Kayenne Charles-Pierre attended the Young Musicians Program in 2018 and 2019, and received the 2019 ASCAP Irving Berlin Scholarship. She initially came to Walden with the recommendation and encouragement of her music teacher, Giacomo Baldelli.
Giacomo Baldelli is focused on exploring the 20th century, but also developing a new 21st century repertoire for guitar. Most recently, he has been interested in expanding the contemporary repertoire for electric guitar. He is an accomplished soloist and chamber musician, and has performed throughout Europe (Italy, Germany, France, England, Czech Republic, Poland), as well as the United States. In 2010, he attended The Walden School Teacher Training Institute, where he met pianist Laura Barger, to whom he is now married.
Walden Holiday Parties
Walden holiday party season is here! Join Walden and JCC alumni, faculty, staff, visiting artists, board members, family, and friends for one (or more!) of our festive holiday gatherings.
These are potluck-style events at private homes. When you RSVP, please let us know what you would like to bring (e.g. savory appetizer, dessert, beverages, other item to share) and we will send you the address.
RSVP to events@waldenschool.org or call (415) 587-8157.
Baltimore: Saturday, January 11, 2020, 4-6 pm
Boston: Saturday, January 18, 2020, 12-2 pm
Chicago: Saturday, December 28, 2019, 6-8 pm
New York: Saturday, January 18, 2020, 6-8 pm
Portland: Saturday, January 4, 2020, 4-6 pm
San Francisco: Sunday, December 8, 2019, 3-5 pm
Seattle: Sunday, January 26, 2020, 4-6 pm
Washington, DC/McLean: Sunday, December 15, 2019, 4-6 pm
Alumni Composers Forums
Be part of our Alumni Composers Forums! All JCC and Walden alumni are eligible to submit scores by Dec 1 (New York) or Dec 15 (San Francisco).
>Whether or not you plan to submit a score, mark your calendars! These events are free and open to the public. Come hear pieces written by our amazing alumni, who will all be present to discuss their works.
New York – Sunday, January 19, 2020
Featuring Mivos Quartet
Moderated by composer Joan Tower and composer Loretta Notareschi.
Scores must be submitted by December 1, 2019.
Greenwich House
46 Barrow Street
New York, NY 10014
4-6 pm
San Francisco – Saturday, February 22, 2020
Featuring Del Sol String Quartet
Moderated by composer Nathaniel Stookey.
Scores must be submitted by December 15, 2019.
Center for New Music
55 Taylor Street
San Francisco, CA 94102
4-6 pm
All alumni of the Creative Musicians Retreat, Teacher Training Institute, Young Musicians Program, and Junior Conservatory Camp are eligible to submit scores for music for any combination of string quartet players. If you can provide other performers (including yourself) for the event, you are welcome to submit scores that include other instruments beyond violin, viola, and/or cello. A committee of Walden faculty and staff will determine which pieces will be programmed on each of the two programs. We will notify you approximately two weeks after the deadline whether your piece has been selected for performance at the Composers Forum.
If you have any questions, please write to us at alumni@waldenschool.org.
Walden 2020
As we all settle into the winter season, it's not too early to plan for summer in Dublin! We hope you (and all of the people whom you know!) will apply to join us at one of our programs this summer.
Creative Musicians Retreat: June 13-21, 2020 (for musicians ages 18-98)
Young Musicians Program: June 27 – August 2, 2020 (for pre-college musicians, ages 9-18)
Application materials will be available soon on our website, but you can make sure you receive application materials via email by signing up at: waldenschool.org/invite to apply/
Application deadlines (postmark):
January 3 (early)
February 21 (winter)
April 3 (spring)
Please write to us at applicants@waldenschool.org with any questions.
Job Announcement: Summer Operations Director
The Walden School is seeking a Director of Operations to join our dynamic summer program team in Dublin, New Hampshire. The Director of Operations performs a wide range of functions that keep Walden's summer programs running smoothly and operating efficiently and that complement the curricular and musical components of the Creative Musicians Retreat (CMR) and the Young Musicians Program (YMP). See the full job announcement here.
Holiday Giving
Walden Gear
Is there someone in your life who has been wishing for a Walden t-shirt? Or sweatshirt? Or tote bag? 'Tis the season! Of course, Walden gear is never out of season. To order merchandise, fill out this form and send it to us by fax ((415) 337-4557) or mail to The Walden School, 30 Monterey Blvd., Suite E, San Francisco, CA 94131.
Bandcamp
Have you seen Walden's bandcamp page? It has music from every Composers Forum of the Creative Musicians Retreat and the Young Musicians Program, as well as the YMP Choral Concerts from the past six years. You even can send a digital album as a gift!
Amazon Smile
If you shop on Amazon.com, ever, for anything, you can support The Walden School while you're shopping! Just go to smile.amazon.com and choose to support "Walden School" (you'll see San Francisco listed as our location). You'll know you've found the right Walden, because it lists our mission to inspire artistic expression and personal growth through experiential music programs. Once you've selected Walden, you can do all your Amazon shopping at smile.amazon.com, and it will save Walden in your settings. A portion of the proceeds of anything you buy will go to support Walden's programs.
Is Walden on your list?
If you would like to include Walden directly on your holiday giving list, we gratefully accept donations. Checks payable to The Walden School can be sent to our office, 30 Monterey Blvd., Ste. E, San Francisco, CA 94131, or you can make a gift online at waldenschool.org/donate. Your generous gift of any amount brings more music and community into the world. If you have questions about giving, we are glad to hear from you at (415) 587-8157 or at donors@waldenschool.org.
In the Spotlight – Dede Ondishko
How and when did your relationship with Walden begin?
I was a piano student at Peabody Conservatory Preparatory Department. Peabody required all private students to take music theory, but somehow I was enrolled in both theory and musicianship. I really loved musicianship. Cindy Brackbill was my teacher, and she told me about Walden. My parents got really excited about it, because I was something of a wayward child, so they hoped it would reform me. And it did. In fact, it transformed me. I was a C-student before Walden. I didn't care about school or improving myself. But then I went to Walden, and I've been an A-student and an overachiever ever since! It was like I found the "on" button. I became an engaged person because of my first year experience at Walden.
What has been your involvement with Walden since then? 
Today some of my best friends are kids and colleagues I went to camp with. I began as a student in 1974 at age 14 and was a student for four summers. I was on staff for one summer. I was on faculty for seven summers, and I also served a term on the Board of Directors 1998-2004. When I was on faculty, my stepdaughter, Danielle, was 12 and came for the shorter program, and she was hooked! She went every year that she could, then she served on faculty, and now she has joined the Board. As a music teacher I've sent my students to Walden. I'm also a contributor, and I've held concerts to raise scholarship money for YMP students. I was only able to go to Walden on scholarship, so I really want to thank and repay the people who gave to scholarships and basically paid for me to attend Walden. Walden is family. Like Lynn Hebden said, "You take Walden with you wherever you go." You never really leave.
Could you describe a favorite Walden memory?
A few years ago, I was interviewed as part of a Teacher of the Year award, and they asked about my favorite teacher, and my answer was David Hogan (we called him Hoagie). I was in my early fifties, but I started choking up right there in the interview, describing how much he gave me as a student. He showed me what I could do! He gave me opportunities no one had ever given me. He was the first teacher who saw what I could do, stood by my side and waited for me. He lit a fire in me!
Another example of that was Saturday hiking at Walden. I was a bit of a laggard, so I was in the last group, which basically went at Sunday-stroll pace-no one really even expected us to make it to the top! I was having fun, but I went to Jeff Hebden, who was on staff as activities director, and I asked if I could move to Group I, the group that was practically running up the mountain. He looked it at me the same way Hoagie looked at me and said, "You want to do it? Okay, go for it!" That Saturday, I hiked in Group I, and I was the first one to the top. This is something I didn't know I could do, but they believed in me.
I also loved listening to music in a new way. After Goodnight Music, a group of us would go to the listening library, turn off the lights, lie on the floor, and put our heads together like we were spokes of a wheel, and just listen. It was amazing to have this music listening hour with just us kids. We wanted to share the music we liked, and we were expanding each other's ears. That music sunk in on a level that transformed me, on a cellular level. Having that musical communing with kids my own age was transformative. That's when I heard Arnold Schoenberg's Verklärte Nacht for the first time. I think I've spent my whole life trying to rewrite and recapture that piece!
How are music and creativity part of your life now?
I went to Eastman for graduate school, and I majored in Music Composition, specializing in Computer Music. After I graduated, I ended up going into computer network engineering, which I was able to do because of my computer music training. But sadly, I stopped playing or writing music! Kyle Horch, a saxophone performer in London who commissioned a series of pieces from me, single-handedly kept me writing. Later, after 12 years of working in computer networking, I realized there wasn't enough music in my life, so I applied for a job as a public school music teacher, even though it meant going back to school to get licensed. At age 39, I went into teaching music full time, until my husband and I decided to retire. Now I perform all the time as concert pianist and accompanist, as a symphony violist, and I sing in a vocal jazz group. I'm very active as a musician. I recently started writing symphonies-I just finished my third. And I hope to get them performed. I love creating music. Kurt Vonnegut said, "Practicing an art, no matter how well or badly, is a way to make your soul grow," and I keep that quote above my workstation.
What is a non-musical hobby you love?
Music is intangible, you can't touch it or hold onto or see what you've accomplished so to counter that I've picked up some great concrete hobbies. I make paper cards and send notes to my family and friends. I sew. I garden. I play tennis and go biking and do lots of hiking. I just love hiking.
What advice would you give to an earlier-career musician as they are setting out along their path?
If you have the chance to take a music marketing or business class, do not miss out! Learn about promotion, marketing and production, learn how to send out scores and cover letters to perfect strangers. Pay attention, get informed, and reach out for guidance.
You have to feed your artistic spirit. As Vonnegut says, you've got to keep creating! Be careful of the gap of what you are doing and what you can imagine, or what you hear other people are doing. We're at a time when the best artists in the world are so easily accessible, so we can see world class musicians at any time. That can be discouraging! So I've learned to say to myself, "I know I'm not there yet, but I have the potential." I know that because my Walden teachers believed and told me so. As Ira Glass says, "Don't let the gap get you down!" Even though that gap is always there, you can strive and be happy with those moments when the gap shrinks a little bit. You've just got to go for it!
About: Denise Ondishko, Ph.D., is a composer, performer, and educator. Her works cover a wide, eclectic range of genres, including solo piano, solo violin, wind ensemble, orchestra, saxophone and piano, chamber ballet, children's theatre, elementary school band, and a number of works for live instrument and computer-synthesized tape. Dede won the Northern California Viola Society's 2018-2019 Composer Competition for her piece, Out of Mud.
Dede is active as a performer and collaborator. She studied at Carnegie Mellon University and the Eastman School of Music. Her teachers included Joseph Schwantner, Warren Benson, Barbara Kolb, David Hogan, and Leonardo Balada. She has done extensive research into the work of computer music pioneer Paul Lansky, a member of Walden's Advisory Council. She has taught composition at The Walden School and Oberlin Conservatory. In addition to her compositional work and research she has also developed a parallel career as an information technology management specialist.
ACF NextNote High School Music Creator Awards
The American Composers Forum is pleased to announce the sixth annual NextNotes High School Music Creator Awards. Whether you write for voices, electronics, or instruments, are a singer/songwriter or improviser, hip-hop artist or sound designer, ACF welcomes you to apply. Students in grades 9-12 are encouraged to apply with a single piece in any genre or style. NextNotes rewards and celebrates creativity, originality, skill, potential, risk-taking, bravery, and passion!
Deadline: January 6, 2020
For details and to apply, visit composersforum.org/education/nextnotes/
Community News
Grace Brigham wins Emerging Composer Competition
Grace Brigham, a CMR alumna, has won Cantus Vocal Ensemble's Young and Emerging Composer Competition. Her piece Discoveries explores the experiences of of female scientists, and includes the words of Euphemia Haynes, Marie Curie, Florence Nightingale, Ada Lovelace, Elizabeth Blackwell, and Maria Mitchell. Grace wrote the piece for male voices, and workshopped it at Walden's Creative Musicians Retreat this summer. Grace is attending St. Olaf College. Cantus is a men's vocal ensemble based in Minneapolis, and will perform Discoveries at St. Olaf, as well as on tour.
Shawn Crouch premiere with Aperio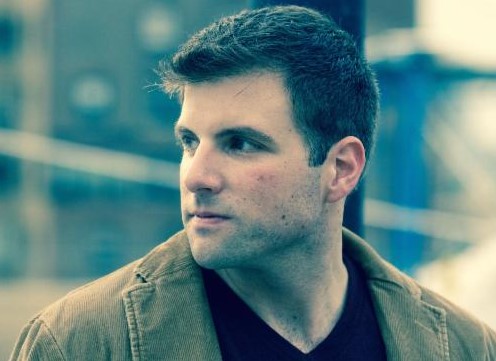 Aperio, Music of the Americas, in collaboration with New American Voices, will present the world premiere of Shawn Crouch's Thirteen Ways of Looking at a Blackbird. Featuring the poetry of Wallace Stevens, this new work explores multiple perspectives on the poet's blackbird motif through a collection of enigmatic haiku-like poems. Crouch's concept incorporates evocative lighting, live projections, and interactive staging to illuminate the relationship between perspective, repetition, and social dynamics. The concert will take place in Houston, Texas, in February 2020. Shawn is a YMP alumnus and former faculty member.
Annie Gosfield Composer Portrait in Austin

On November 23, Austin-based Tetractys Ensemble performed a Composer Portrait of Annie Gosfield, a past Composer-in-Residence at Walden. The concert featured Flying Sparks and Heavy Machinery, a double quartet for strings and percussion that's inspired by factory environments; Long Waves and Random Pulses for violin and jammed radio signals; Daughters of the Industrial Revolution inspired by Annie's immigrant grandmother's sweatshop days; and Burn Again With a Low Blue Flame for cello, that was originally an installation work. Annie is spending the fall semester as a visiting professor of composition at UT Austin.
Julian Hofstetter receives PRISM/Walden commission
For  more than 20 years, PRISM Quartet has partnered with The Walden School to make a yearly award to one deserving high school student. This year's recipient of The PRISM Quartet/Walden School Commissioning Award is Julian Hofstetter. A native of Newark, Delaware, Julian attends Lawrence University in Appleton, Wisconsin, where he studies music performance, theory, and composition. His works span a wide range of idioms and instrumentations, with an emphasis on electronic music. Julian will create a new saxophone quartet that PRISM will premiere in Philadelphia on May 23, 2020, and perform in New York City on May 24, 2020.
Ned McGowan flute and contrabass flute tour
Ned McGowan, a past visiting artist at Walden, is on tour offering concerts, masterclasses, workshops, and lectures. The concerts will feature Ned's most recent repertoire on the contrabass flute and flute, plus a new work written for contrabass flute and piano by HyeKyung Lee. Ned is currently based in the Netherlands, and his tour will take him to Ohio and California, notably to the Cleveland Institute of Music and the San Francisco Conservatory of Music.
Upcoming publications from Russell Nadel
Russell Nadel, an alumnus of YMP and TTI, will have three choral octavos published in the next few months. I'm Sick of 'Mustn't's, for two-part treble chorus and piano, and Early Winter Tree, for SATB chorus and piano or harp, will both be published in the Henry Leck Creating Artistry Choral Series by Hal Leonard; these two works will join Eldorado (SSA and piano) and Windy Nights (two-part treble and piano), which are already in the series. Tov L'Hodot, a setting of the Hebrew text of the 92nd Psalm for SATB chorus and piano, will be published by Transcontinental Music Publications. Tov L'Hodot won the 2017 Ben Steinberg Young Composer's Award, sponsored by the Guild of Temple Musicians.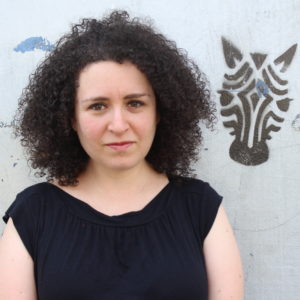 Osnat Netzer premiere at National Sawdust 
On Saturday, November 23, Osnat Netzer's Philomelos received its world premiere at National Sawdust. The piece was commissioned and premiered by vocalist Lucy Dhegrae, 2019-20 Artist-in-Residence at National Sawdust. The performance was the first in The Processing Series, More Beautiful Than Words Can Tell, a series of four concerts exploring trauma recovery. Works written for Lucy Dhegrae by past Walden visiting artist Eve Beglarian, Angélica Negrón, and Katherine Young will also be featured on the series. Osnat Netzer is a Walden alumna and faculty member.
Congratulations to the Schoepflin Jimoh family
Congratulations to Katie Schoepflin Jimoh and her husband Ayo Jimoh on the birth of their daughter! Joan Aisha Jimoh was born on November 7, and everyone is doing well. Katie was most recently a member of the 2019 Walden School Players. Welcome to the family, Joan Aisha!
Dennis Sullivan performances on both coasts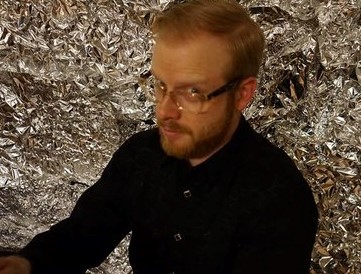 As a member of Wavefield Ensemble, Dennis Sullivan performed a concert on  November 16 at University Settlement Society of New York, featuring the world premiere of You would be like diving into the ocean, written by YMP alumna Victoria Cheah. On November 18, Wavefield performed a concert at UConn, featuring a new arrangement of Axamer Folio, written by Eric Wubbels, a member of the 2019 Walden School Players. On December 7, Dennis and Levy Lorenzo will be performing at UC Berkeley as Radical 2. The concert will feature new works by UC Berkeley students and is the culmination of a four-day residency. Dennis was on faculty at the Young Musicians Program in 2018 and 2019.