Message from Seth Brenzel, Executive Director
Greetings!
Autumn is here–time to appreciate another wonderful Walden summer and turn our attention to the year ahead. This edition of InterNetzo offers a preview of winter events, with Walden holiday potlucks and Alumni Composers Forums just around the corner. Check out our Community News section to learn about your fellow readers and the goings on in their lives and careers throughout the year. I hope to see you at a Walden event soon, and until then, happy reading.
Upcoming Events
Walden Holiday Parties
The holiday season is just around the corner! Walden community members will be gathering for holiday potlucks in cities throughout the country in December and January.
Look for an email listing dates and cities soon, and if you are interested in hosting a party in your area or want to learn more in the meantime about these upcoming gatherings, please write to us at alumni@waldenschool.org.
Alumni Composers Forums
New York – Sunday, January 19, 2020
Featuring Mivos Quartet
Greenwich House
46 Barrow Street
New York, NY 10014
4-6 pm
San Francisco – Saturday, February 22, 2020
Featuring Del Sol String Quartet
Center for New Music
55 Taylor Street
San Francisco, CA 94102
4-6 pm
Watch out for a call for scores to come shortly! All alumni of the Creative Musicians Retreat, Teacher Training Institute, Young Musicians Program, and Junior Conservatory Camp are eligible to submit scores for music for any combination of string quartet players. If you can provide other performers (including yourself) for the event, you are welcome to submit scores that include other instruments beyond violin, viola, and/or cello. These events will be free and open to the public.
If you have any questions or would like to express interest now, please write to us at alumni@waldenschool.org.
Walden 2020
Creative Musicians Retreat: June 13-21, 2020
Young Musicians Program: June 27 – August 2, 2020
Application materials will be available beginning in early November on our website, but you can make sure you receive application materials via email by signing up at: waldenschool.org/invite to apply/
Application deadlines (postmark):
January 3 (early)
February 21 (winter)
April 3 (spring)
In the Spotlight – Nate May
2019 was Nate's third summer on faculty at the Young Musicians Program. He has taught musicianship, composition, and specialty classes, and is our current Goodnight Music faculty leader. When not at Walden, Nate teaches at Thurnauer School of Music (along with faculty members Doug Hertz and Rebekah Griffin Greene) and at Montclair State University John J. Cali School of Music.
What is something about Walden you found surprising?
I heard about Walden from my friend Evan Williams, who had been on faculty, and it sounded awesome. In my head I imagined this utopic place, and Walden met that pretty well, which was surprising. Usually when I build castles in the sky, they come crashing down eventually. So I was surprised something like Walden can exist in the real world.
Why music?
I love the combination of rational and irrational that music has or can be approached with. I have both those elements–I am really interested in abstract things, but I also have very visceral reactions to sounds. I'm fascinated by combining those two sides.
What is a piece of Walden you carry with you outside the summer?
Practically, I use the pedagogy and approach to musicianship in my teaching all the time. I felt very affirmed that Walden is so big on the overtone series, because it's very important to me. It's pretty much missing from most music theory curricula, but I make it a big part of theory in my teaching.
The community of faculty and staff is also important to me year-round. I move a lot, so I love having those summers with people I've grown really close to. I really look forward to being back each summer.
I also think Walden has taught me a way of interacting with students that I carry with me. There are ways to unlock things with a student, but that unlocking takes time, and Walden gives students that time. Now when I encounter students elsewhere, I see those potentials.
What is a non-music hobby that you love?
I know this was meant to be a non-Walden question, but I love hiking. I'm not always able to fit trips in, and on the East Coast a lot of sites are closed some seasons. But I love just being in the woods.
Can you describe a favorite Walden memory?
We went to visit Caroline Shaw at the MacDowell Colony, and I drove one of the buses. She gave a presentation and then had everyone sing pitches and change the vowel shapes, really paying attention to the timbre of those pitches. When we got back in the van, I turned on the radio, but I turned it to AM, and it was static, but it had a sort of a drone to it. So I turned it up, and the kids started singing along with the drone with overtones! That lasted the whole drive back to campus, at least 20 minutes, and no one was talking, no one was laughing, no one took it as a joke. They were just communing with this AM static drone. Then we got back, I turned off the radio, and everyone just got off the bus. It was just another day.
About: Nate May is a composer, performer, and educator whose interest in human ecosystems has impelled explorations of a wide variety of sounds and interactions. Raised in Huntington, West Virginia, much of his work stems from a "fascination, love, and respect for the people" of Appalachia (Soapbox), including his oratorio "State," the result of interviews he conducted with Appalachian migrants on a fellowship from the Berea Sound Archives, and "Licorice Parikrama," a networked performance featuring a live conference call with West Virginians affected by the 2014 Elk River chemical spill. Nate is an accomplished keyboardist and improviser as well as an electronic musician and producer, collaborating with Paris-based choreographer Wanjiru Kamuyu on the world-touring work Spiral and indigenous experimental trio Khoi Khonnexion on their debut album Kalahari Waits, recorded during a year in South Africa on a Reese Miller scholarship from the Telluride Association.
Walden donors set a new record
Walden's fiscal year ended on September 30. In the 2019 fiscal year, 500 donors gave more than $377,000–Walden's largest-ever class of donors! This year also set the record for new members of our donor community. Thank you! We are inspired by your generosity, and the transformative experiences of music and community you make possible.
BMI Foundation launches 2020 Scholarship Season
The BMI Foundation announced that it is now accepting online applications for its 2020 scholarship season, open to students attending colleges and universities nationwide.
The Foundation will administer five distinct songwriting and composing scholarship competitions, judged by panelists of international musical acclaim. These annual programs include the BMI Future Jazz Master Scholarship, BMI Student Composer Awards, John Lennon Scholarship, peermusic Latin Scholarship and the Nashville Songwriting Scholarship. In addition, the Foundation administers two scholarship competitions outside the area of music creation: the BMI Founders Internship Program for broadcasting students, and the Woody Guthrie Fellowship for scholars pursuing topics or themes related to the American folk music progenitor.
Most applications must be completed no later than January 15, 2020, though the Founders Award, Woody Guthrie, and Student Composer Awards have extended deadlines.
For details and to apply, visit bmifoundation.org/programs.
Community News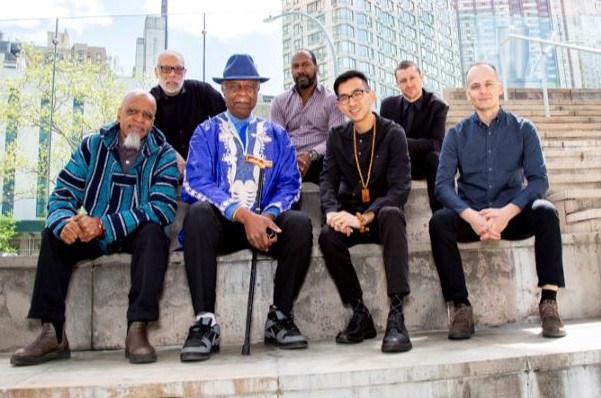 George Brandon's Blue Unity Sextet
George Brandon's Blue Unity Sextet performed in New York at Local 802 American Federation of Musicians on October 10. The concert was part of the Jazz in the Afternoon concert series, sponsored by Local 802, and all proceeds go to assist musicians in times of need. George is an alumnus of the Creative Musicians Retreat.
Eliza Brown's 'Figure to Ground" on MusicNow

Eliza Brown's "Figure to Ground" was performed on October 7 on the opening concert of the 22nd season of Chicago Symphony Orchestra's MusicNow series. As described in the Chicago Tribute, "Figure to Ground" reveled in understatement, its hushed dynamics, transparent textures and hauntingly simple melodic fragments inducing the listener to lean in, the better to savor its whisperings." Eliza is a Young Musicians Program (YMP) alumna, has served on YMP faculty and staff, and in 2019 was an academic dean and faculty mentor for YMP.
Daniel Felsenfeld premiere with FearNoMusic
"Indelible in the Hippocampus is the Laughter," a piece written by Daniel Felsenfeld, premiered on September 23 in Portland, Oregon. The piece was part of HEARINGS: New Music inspired by the 2018 "Kavanaugh Hearings," a concert of world premieres presented by FearNoMusic. Danny was on faculty at the Young Musicians Program in 2018 and 2019.
Del Sol residency at Avaloch Farm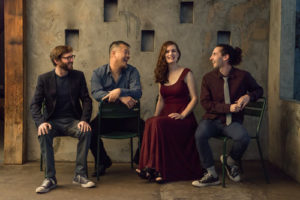 Del Sol String Quartet, a past visiting artist at Walden, will be in residence for one week at Avaloch Farm Music Institute in Boscawen, New Hampshire. Based in the Bay Area, Del Sol is dedicated to bringing the voice of living artists to our diverse community and making contemporary chamber music a dynamic part of today's culture.
Douglas Hertz premieres on the West Coast
On October 1, "A Small Measure of Warmth," a piece written by Douglas Hertz for soprano, baritone, and piano, premiered at Meyer Sound Labs in Berkeley, California. The piece was the culmination of Doug's time as a Composer Fellow at the Gabriela Lena Frank Creative Academy. On October 21, "Fixtures in the Fold" was premiered in Portland, Oregon, by Portland Percussion Group. This piece won first prize in Portland Percussion Group's 2019 Call for Scores. The concert also featured the music of Paul Lansky, a member of The Walden School Advisory Council.
Alicia Jo Rabins – A Kaddish for Bernie Madoff
YMP alumna Alicia Jo Rabins wrote A Kaddish for Bernie Madoff based on her experience working in an artist residency on Wall Street during the 2008 financial collapse. Premiered in 2012, the solo chamber-rock opera has been adapted into a film with animation by Zak Margolis, in collaboration with Boom Arts, and is now in post-production.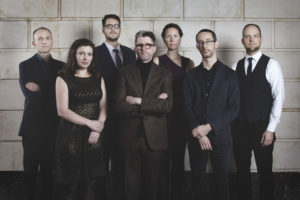 Kate Soper and Sam Pluta open Wet Ink season
Wet Ink Ensemble, a past ensemble-in-residence at Walden, is opening their 21st season with Dialogues, a concert in Seattle on November 3. Kate Soper and Sam Pluta will present a new evening-length set of collaboratively developed music, alongside Kate's solo works. Sam served for 17 years on Walden's faculty, and was Walden's Academic Dean for nearly a decade at the Young Musicians Program. Kate has been a visiting artist with Wet Ink at both Walden's Creative Musicians Retreat and Young Musicians Program.
Seth Parker Woods in Recital in Seattle  

Seth Parker Woods, a member of The Walden School Players, will perform with the Seattle Symphony on December 11. That Which is Fundamental is an exploration of language and essential truths of the human condition.  The program presents compositions by Anton Lukoszevieze, Pelle Gudmundsen-Holmgreen, Vinko Globokar, Tonia Ko, Gustavo Tavares and Julius Eastman. The concert will feature percussionist Bonnie Whiting, also a member of The Walden School Players.
We want to hear from you!
What's been going on? If you have a recent or upcoming premiere, publication, award, new job or program, or a celebratory life event, please share the news. Email your news to alumni@waldenschool.org.
Stay in Touch
You can like The Walden School page on Facebook and join The Walden School private group to hear about events and opportunities throughout the year, including upcoming regional alumni Composers Forums and Holiday Parties. You can also find us on Instagram, Twitter, and at waldenschool.org.