In the Spotlight
Tamar Bloch on Walden/JCC reunions

Tamar Bloch was a student during the last four summers (1969–1972) of the Junior Conservatory Camp (JCC), the predecessor program to The Walden School. Tamar went on to teach at Walden for many summers between 1975 and 2004, and she has also attended Walden's Teacher Training Institute (TTI). Tamar is a longtime champion of JCC and Walden's distinctive pedagogy, and she is a beloved presence in the lives of generations of Walden students. She lives in Rhinebeck, New York, with her husband, musicologist Peter Laki.
Here, Tamar shares reflections on Walden and JCC while looking forward to the Walden/JCC reunion that will be held the weekend of August 4–6 in Dublin, New Hampshire. This reunion will celebrate Walden's 50th anniversary and the 70th anniversary of the founding of JCC by Mrs. Grace Newsom Cushman. Join us this summer to reconnect with Tamar and other wonderful Walden and JCC alums!
On her experience at JCC and Walden
I was a student in the last four summers at JCC. Going to JCC and teaching at Walden laid the groundwork for a lot of things in my life. It really informed my approach to teaching and listening, and it opened my ears to new music. When I was 16 or 17 at JCC, we analyzed Crumb's Ancient Voices of Children, which today might not seem so radical. But in the early 70s, that was radical. We were weirdos in high school; I was interested in Schoenberg. At JCC I found my people. That's what Walden and JCC are about, finding your people and this way of teaching that opens you up.
On relationships formed at JCC and Walden
There's also the social aspect; dealing with people who you might have differences with. And there's a mentoring aspect to the relationship with students, which is a 24-hour relationship—except when you sleep! There's a deep level of caring and respect. There are so many people who were my students, and then they were my colleagues, and now quite a few of them have become very successful professionally. It's very heartwarming to see that.
I'm still in touch with many of the people I knew from JCC: Ellen Hoffman (my husband, Peter, and I just took a class with her via Zoom and it was just fabulous); my former roommates Robin Seto, in Hawaii, and Sheree Clement, in Jackson Heights, New York; Jeff Cohen, who's in Paris; and Matt Hunter, who is a violist in the Berlin Philharmonic. And Marilyn Crispell lives 20 minutes from me, so we see each other. I think it's extraordinary that that these friendships still continue through the decades. When I lived in Hungary, Walden was home for me when I would come back to teach in the summers. And I think a lot of people feel that way.
On Grace Newsom Cushman, the founder of JCC
To me, it's just amazing that one woman started this all in the 1950s. She just loaded these kids on a bus from Baltimore and went up to Vermont. How crazy is that? No one did that. And the curriculum she wrote is just phenomenal. It's open enough so that the curriculum stays fundamentally the same, but it can be changed. Which is incredibly hard to do. She really was quite revolutionary. I've always thought she could be the subject of a book or dissertation.
What Mrs. Cushman created at JCC is now an intentional community at Walden. The same gestalt lives on. The idea of having a beautiful place to live away from the hubbub of the city is part of it. You're up here for a certain number of weeks out of the summer.
On Walden/JCC reunions
I've been to three or four reunions. At the last one I attended, there were some wonderful classes. I remember Amy Catlin-Jairazbhoy did an impromptu workshop on Indian music and dance. The dances were great, and the Composers Forums—I actually moderated one or two. But it's mainly the music making and camaraderie that are so special.
I also enjoyed meeting people from JCC that I'd never met because I was in the last bunch. It was great to talk with the previous generation of JCCers who had the same memories of Mrs. Cushman as I did. At the Zoom reunion a couple of years ago, I remember we talked about how none of us has ever thrown out anything which Mrs. C sent to us—a lot of which I'm finding now that I'm clearing out my apartment. So there's a real connection. And I don't know that that exists at all summer music programs.
Remembering those we've lost
At a reunion, it's also important to honor the people who have died, like Lance Reddick, whom I was really looking forward to seeing. Lance was a student and colleague at Walden. I knew him when he was a teenager. There's David Hogan, there's Flora and Georgia Cushman, Lynn Taylor Hebden, Paul Nauert, and John and Marianne Weaver. And more recently we lost Peter Krag.
Humphrey Evans III was a student and on faculty at JCC, and he sadly died in 1982. He was my teacher and mentor and just an off-the-charts musician. I found an analysis we did together of the Eroica, and his handwritten manuscript was just gorgeous. Now there's someone named David Victor Feldman who's gathering Humphrey's recordings and scores and documenting his life. I recently did an interview with him about Humphrey. It's important to remember these extraordinary people.
Why you should come to the Walden/JCC reunion!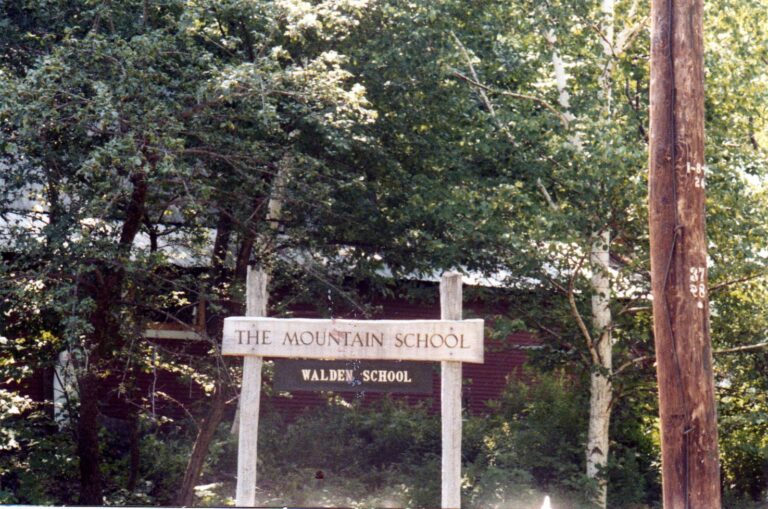 It's a milestone reunion for Walden and for JCC. And it could also be the last time that some people might be able to make it there. Because you know, there's not a reunion every year. So I think it's very important to connect. And it's always different in person than on Zoom; it's multidimensional in person. I hope people from near and far will make the trip to celebrate this landmark and to share memories and experiences. I think it's very important.