Message from Seth Brenzel, Executive Director
Dear Walden friend,
I hope this finds you well and enjoying the start of the new year. We are now accepting applications for the Young Musicians Program (YMP) and Creative Musicians Retreat (CMR), and our Early Application Deadline is February 5.
Walden Winter Wednesdays (WWW) are here, a series of casual community gatherings over Zoom, so check the Community Events section to find out more. You'll also find the next installment in the Walden Online Workshop (WOW) series, coming up on February 7 and February 16.
Be sure to check out the In the Spotlight section to hear some wonderful stories from Walden alumna Mariana Szklo. You can also check the Community News section to read about some of the happenings in the lives and careers of fellow Walden community members.
I hope you enjoy this January edition of InterNetzo, and I look forward to seeing you for a WWW, a WOW, or another gathering soon.
Sincerely,
Seth
Community Events
Walden Winter Wednesdays
We hope you will join us for Walden Winter Wednesdays (WWW), a series of casual online gatherings over Zoom, to catch up with fellow students, faculty, staff, parents, and artists. Each WWW is for a different Walden cohort, so check the list below to find out when your WWW is happening. Each WWW will begin at 8 pm Eastern/5 pm Pacific, and last about an hour. You are welcome to join the WWW for any and all cohorts of which you have been part!
Our first WWW was on January 27, for the 1970s/1980s: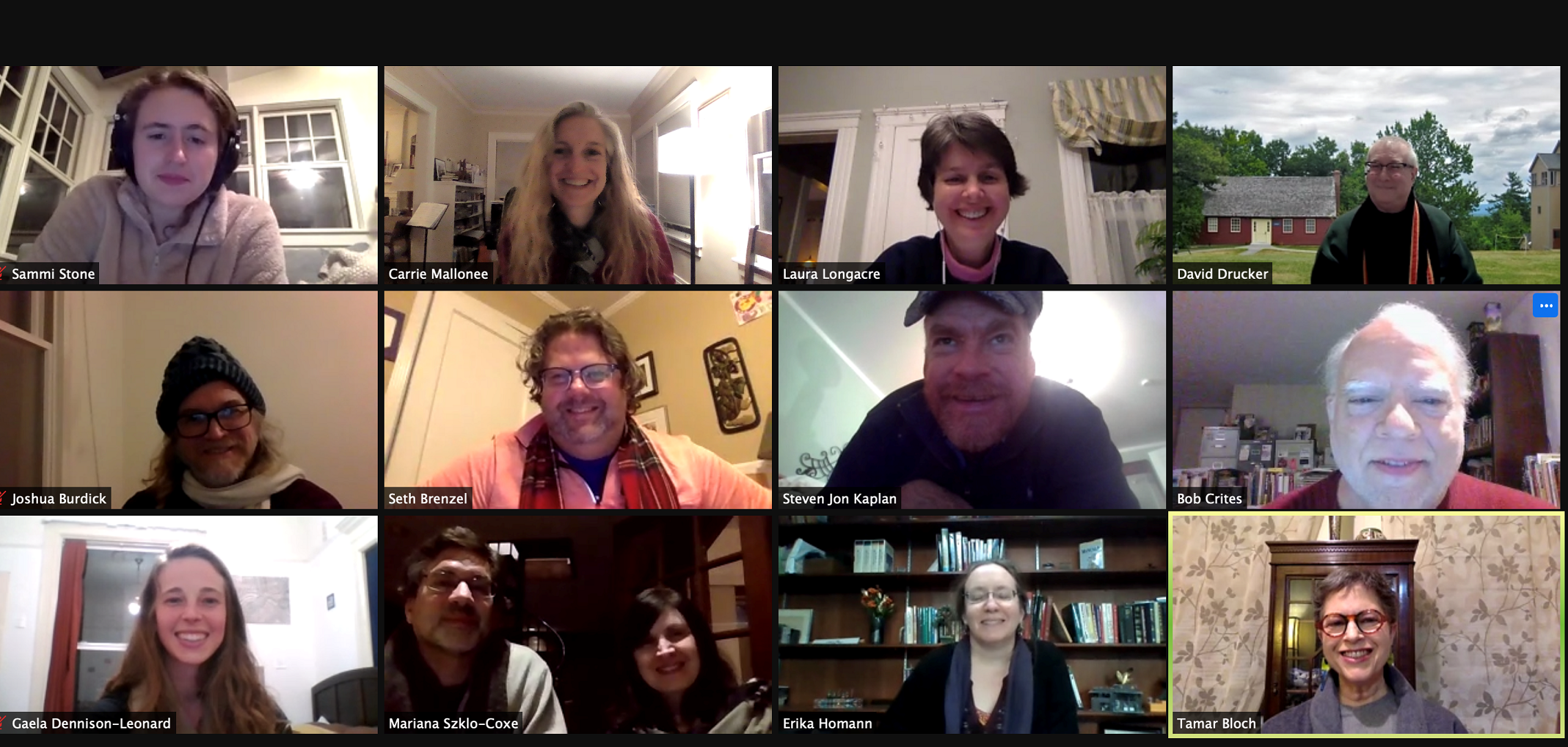 Bring your favorite winter beverage or snack and wear your favorite cozy scarf. (For those of you in warm climates, creative workarounds for cozy scarfs are welcome.)
To attend, register through Eventbrite and we will send you Zoom details before the gathering. Feel free to send any questions to alumni@waldenschool.org.
February 3 – 2000s – Register
If you were a Walden student, parent, faculty member, staff member, or visiting artist during the 2000s, this is for you!
February 10 – JCC – Register
If you were a student, faculty member, staff member, or visiting artist at the Junior Conservatory Camp, this is for you!
February 24 – 1990s – Register
If you were a Walden student, parent, faculty member, staff member, or visiting artist during the 1990s, this is for you!
March 3 – CMR, OCME, & TTI – Register
If you came to as an adult, as a participant, faculty member, staff, member, or visiting artist at CMR, OCME, and/or TTI, this is for you!
March 10 – 2010s (YMP & OYME) – Register
If you were a YMP student, parent, faculty member, staff member, or visiting artist during the 2010s, or part of OYME in 2020, this is for you!
WOW! Walden Online Workshops!
More Walden Online Workshops (WOW) are on the horizon! We are excited to continue sharing this series of lectures, demonstrations, classes, and presentations on a variety of musical topics presented over video call by The Walden School's teaching faculty, artists, and special guests. Alumni of CMR, YMP, OYME, OCME, TTI, and JCC, parents, donors, faculty, staff, and artists are especially encouraged to attend WOW presentations. Members of the general public are also welcome to join.
Implementing Creative Delight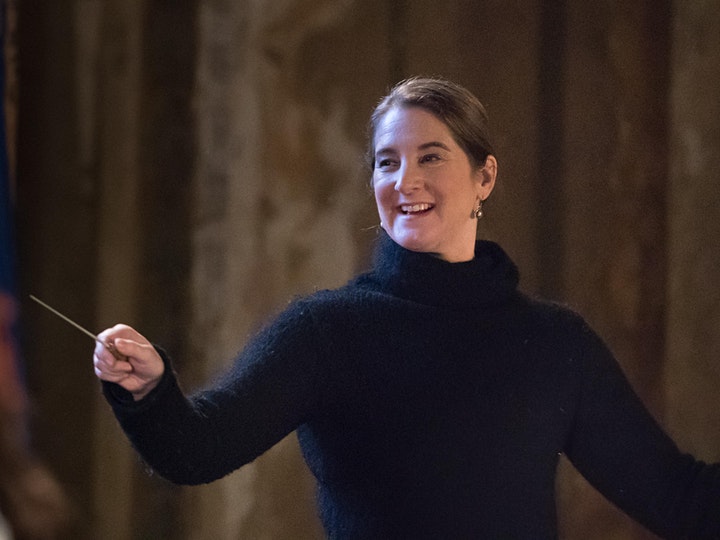 Sunday, February 7, 2021
4 pm Eastern
Led by Lisa Bielawa
Fulfilling our role as creators and artists in our communities during challenging lockdown and social distancing conditions can be daunting. How might we or must we turn our own process on its head in order to fulfill this role? How can we spark the vitality we need to make new work that engages community and participation without access to each other in real space and time?
In this workshop Lisa will share some strategies she has used to protect the element of Delight – which leads to creative inspiration – from our current limitations and challenges, after which we will play some creativity games together to send everyone off into a newly energized creative practice.
About Lisa Bielawa
Composer, producer, and vocalist Lisa Bielawa (b. 1968) is a Rome Prize winner in Musical Composition. She takes inspiration for her work from literary sources and close artistic collaborations.  Her music has been described as "ruminative, pointillistic and harmonically slightly tart," by The New York Times. She is the recipient of the 2017 Music Award from the American Academy of Arts & Letters and a 2020 Discovery Grant from OPERA America's Opera Grants for Female Composers. She was also Composer-in-Residence for the 2020 Online Creative Musicians Experience.
Text Score Teatime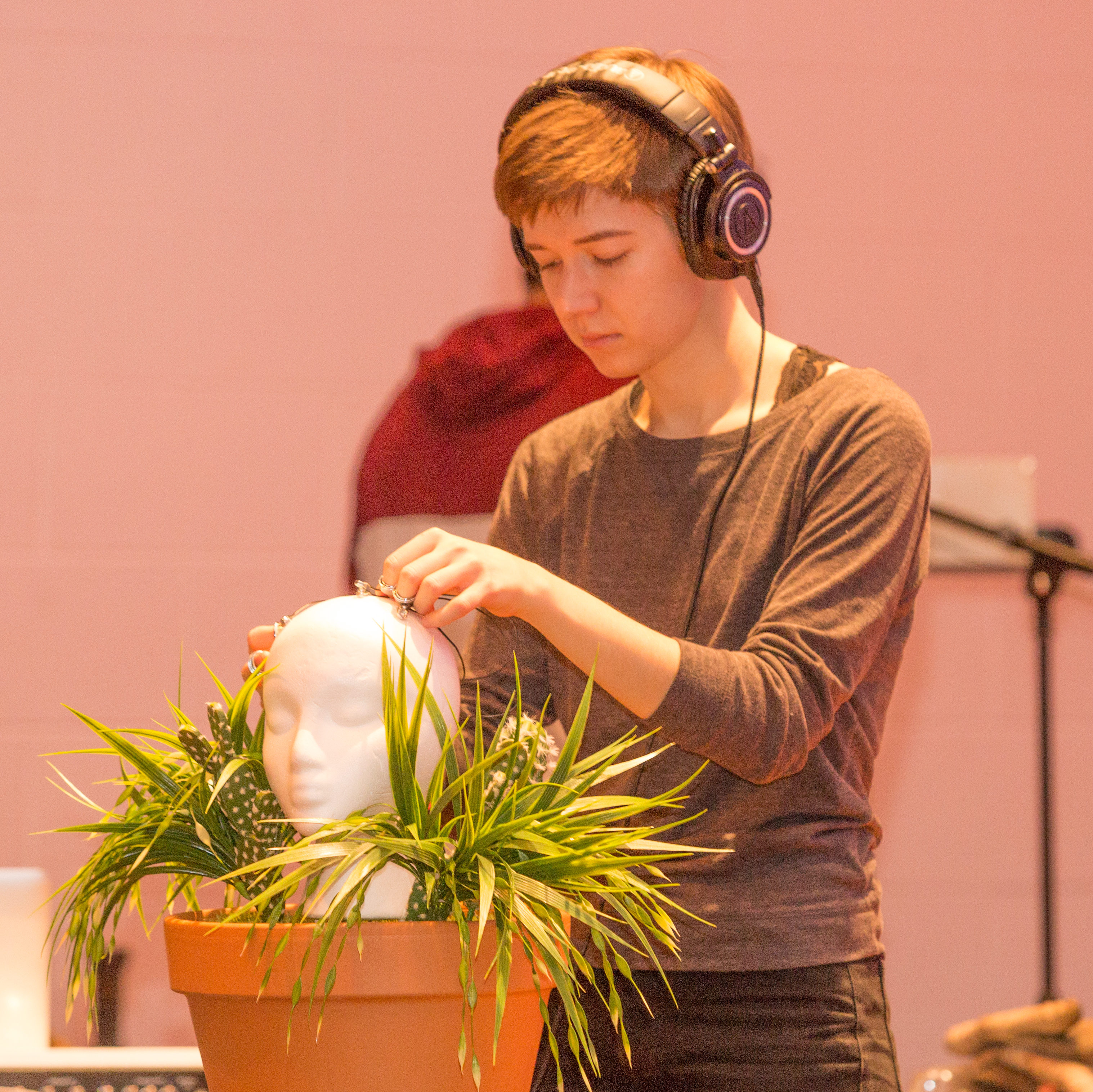 Tuesday, February 16, 2021
7:30 pm Eastern
Led by Kittie Cooper
In this workshop, we will explore the creative potential in using text to notate music. We will make sounds and words together, and discover means of integrating text scores into your own creative practice and interests. Whether you are an experienced composer/writer/artist, or whether you haven't done any writing since elementary-school book reports, this workshop is for you! (no experience with music or writing required). Bring a mug of tea or hot chocolate, and come enjoy a peaceful evening (or afternoon, or morning) of sounds, words, and the company of others.
About Kittie Cooper
Kittie Cooper is a composer, performer, and educator based in Charlottesville, Virginia. She makes art that incorporates feminism and explores the spectrum between silliness and seriousness. Her work has been called "highly original and wonderfully fun". She is interested in text and graphic scores, improvisation, and DIY electronic instruments. She also performs as a guitarist, electronic musician, and improviser. Kittie currently serves as Director of Composers Forums and Teaching Faculty for The Walden School Young Musicians Program.
Stay tuned for details, and visit waldenschool.org/wow to learn about more exciting workshops.
In the Spotlight
Mariana Szklo
Mariana Szklo, PhD, MHS, is Associate Professor of Community and Environmental Health at Old Dominion University in Norfolk, Virginia, and serves as associate editor of the journals American Journal of Epidemiology and SLEEP. Her expertise is in applied sleep. Mariana was a student at Walden for seven summers, beginning in 1978.
How and when did you relationship with Walden begin?
Lynn Hebden, with Leo Wanenchak and Pat Plude, were my musicianship teachers at Peabody during the year, and recommended to my mother that I go to Walden. She told me I was going to Walden without a lot of advance notice. I had just finished third grade, and I asked, "What am I going to read on the trip?" the day I was traveling. She gave me a copy of Hamlet, and off I went on the bus. Looking back, six weeks in the summer after third grade was a long time.
It was a very memorable bus ride (starting in Baltimore with stops along the eastern seaboard). I met Jessie Urbaitis, who is only six months older, and became a lifelong close friend, and many others like Lance Reddick, who was a student a few years older, and John Yankee, who became my teacher and another lifelong friend. That was the beginning of my Walden experience, and I loved it so that I kept going back.
What was your experience at Walden like after that?
I was at Walden for seven summers, 1978-84, from the ages of 9 to 15, which is a long stretch, and very formative. During the year I studied at the Peabody Preparatory in Baltimore. Jeff Cohen was my piano teacher, and he also was affiliated with Walden. Walden was at the Mountain School in Vermont then, maybe '78- '82, and it was a very beautiful setting, very open and free form.
Because I was very young, I had a private orchestration class with David Hogan (Hoagie), and we would sit on the rock outside the dining hall. He also taught a score reading class my second summer, and it was challenging and very exciting. The demands were high, yet it was seamless. We never felt we couldn't do it-everything was possible–and we never felt pressured, it was just interesting, and we learned. Hoagie was an inspiring teacher, and I have very clear memories of those classes.
There were many people I studied with over the years, both privately and in classes, and so many classes that were formative. David Drucker taught a 20th century music class, and I had saved the syllabus, which I sent to him recently. I studied with Ann Callaway as a composition teacher when I was around 12, and she was instrumental. I also studied composition and analysis with John Yankee many summers.
I arrived at Walden in 1978 really liking poetry, and John wrote Songs of Nonsense, with one song his setting of a little poem I'd written about a pen. I was learning about that interplay between poetry and music from the starting point of poetry. That connection with words and language was powerful for me, and I have a lifelong interest in poetry and words. I draw from Walden in many ways, I always have, but now I consciously draw on those experiences and consider how to bring them into what I do.
What stands out to you from that time?
The freedom that we had, how we could pursue anything we wanted. There were no boundaries, intellectually. I was a child, but there wasn't any condescension, there was equality. I felt heard. It was musically exciting, and people also spoke of literature and poetry and science. I recall older students like Becca Hammann and Laura Giles reading nightly to us younger students (often from The Chronicles of Narnia), Tom Johnson's chamber music sessions, Hoagie's bell waking us every morning, and hiking, including Mt. Washington one summer.
There were many spontaneous evening musical events. Dede Ondishko, who was around 20 then, had been at conservatory, and she arrived one evening as a guest, and gave a talk on the Webern Piano Variations Op.28 in the library, and I recall her writing on the board in the library and explaining 12-tone music, and it was all quite exciting. I was 11, it was late at night, past my usual bedtime, and there was this sense of freedom–it was just about learning, and how exciting learning can be. There was no other agenda. I hope I have carried that with me. I think that's still central in my life, that curiosity and immersion and love of learning, just as it is, without knowing where it may take you.
There was a sense of whimsy and also playfulness at Walden I've tried to carry with me. We developed that as students, and the faculty nurtured it. We had a sense of real immersion and engagement. We would all look at the stars at night, talking and singing. There is a silo on the campus of the Mountain School, and the whole camp sang Sanctus in the silo. I look back on those years really fondly, and to this day, some of my best dreams are of those early years.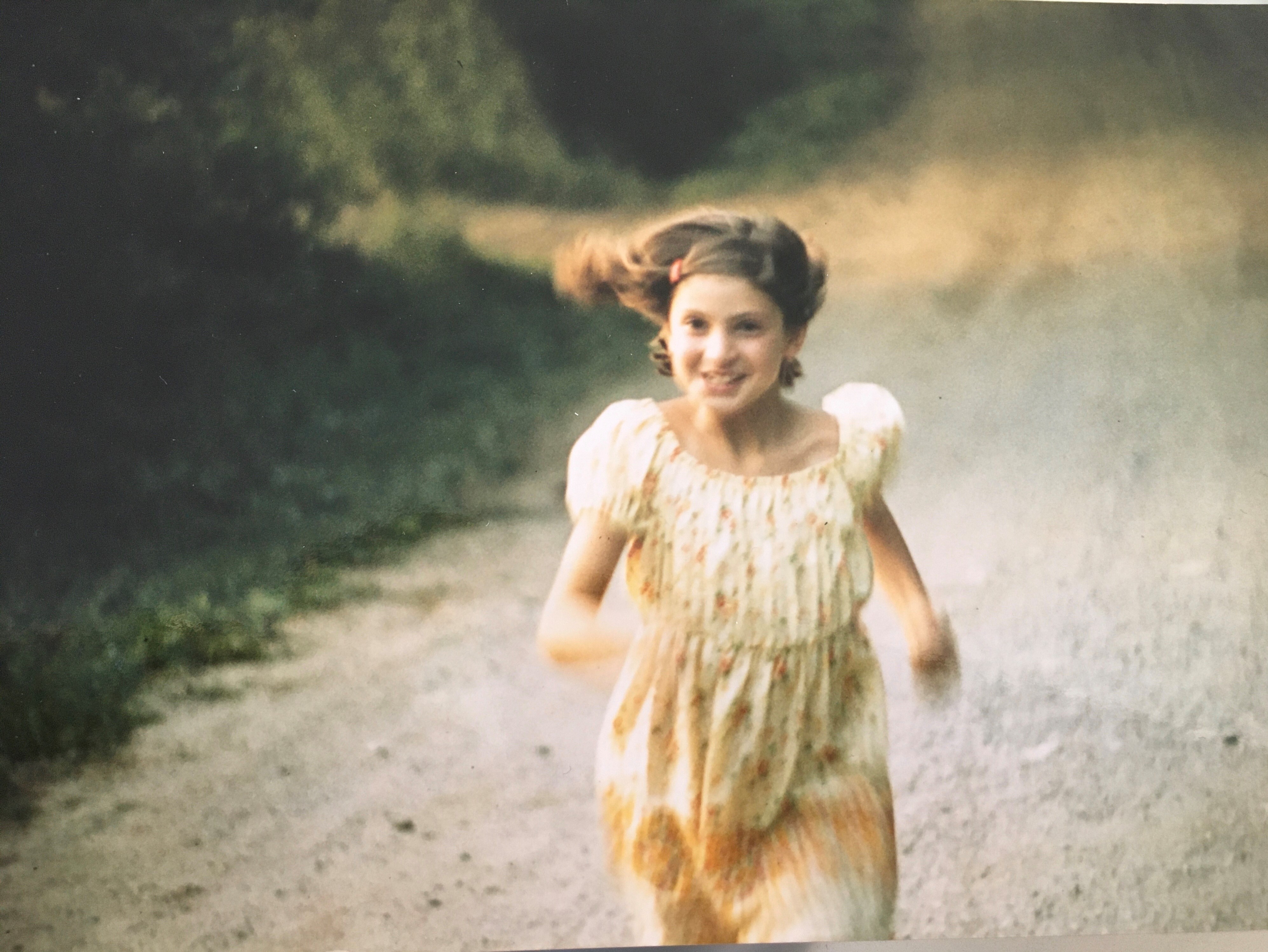 How are music and/or creativity part of your life now?
I think that sense of the exploration being as important as where you arrive. Uncertain space can be very creative space. I'm always looking for interconnections among different mediums and ways of thinking. I'm in the process of planning a study of sleep in the Arctic. I'm collaborating with someone who has done a study of sleep in the Antarctic, as well as an oceanographer, and that spirit of collaboration was very much part of Walden. Studying things that are different and new relates to Walden, even though for me it's in a field outside music. I think Walden helped me develop a sense of fearlessness. You have to try new things, and study what you want to study, whether or not it's in vogue.
Music is with me all the time. I'm always listening to music and going to concerts and thinking about music. I'm married to Steve Coxe, who was also at Walden and is a composer. Our daughter Alice is 15, and she also loves music. She is a percussionist and really likes the melodic percussion instruments.
Are there other things you carry from Walden?
I think Walden has given me an appreciation for listening to people and not getting in the way of what they're endeavoring to do. You provide them with information that might be able to assist them, but you don't push them toward any particular thing. You never know what interrelationships will form or what they will mean. Everything is open, and unknown, and it's an adventure, and that's a spirit I found at Walden in those early years. It was just about being and learning, without constraints. I try to recreate that kind of environment for the students I teach and in research. I don't always do it consciously, but these memories from Walden are part of me, and I want to recreate the endless possibility of that time.
You'd awaken and go to sleep with the sense of promise and beauty of each day at Walden, and the spirit of community. Once you experience this, it's hard not to have in other settings, because you know what's possible. It was very magical. I use that term sparingly, but it really was.
2021 Summer Programs
Applications open for summer 2021
Walden is earnestly and actively planning for a return to in-person programming in Dublin, New Hampshire, in 2021, with the understanding that pandemic circumstances may require our programs instead be offered again online next summer. Whether in-person or online, Walden is excited to offer our students, participants, and audiences another summer of transformative, creative music programs and presentations. We hope that you will join us!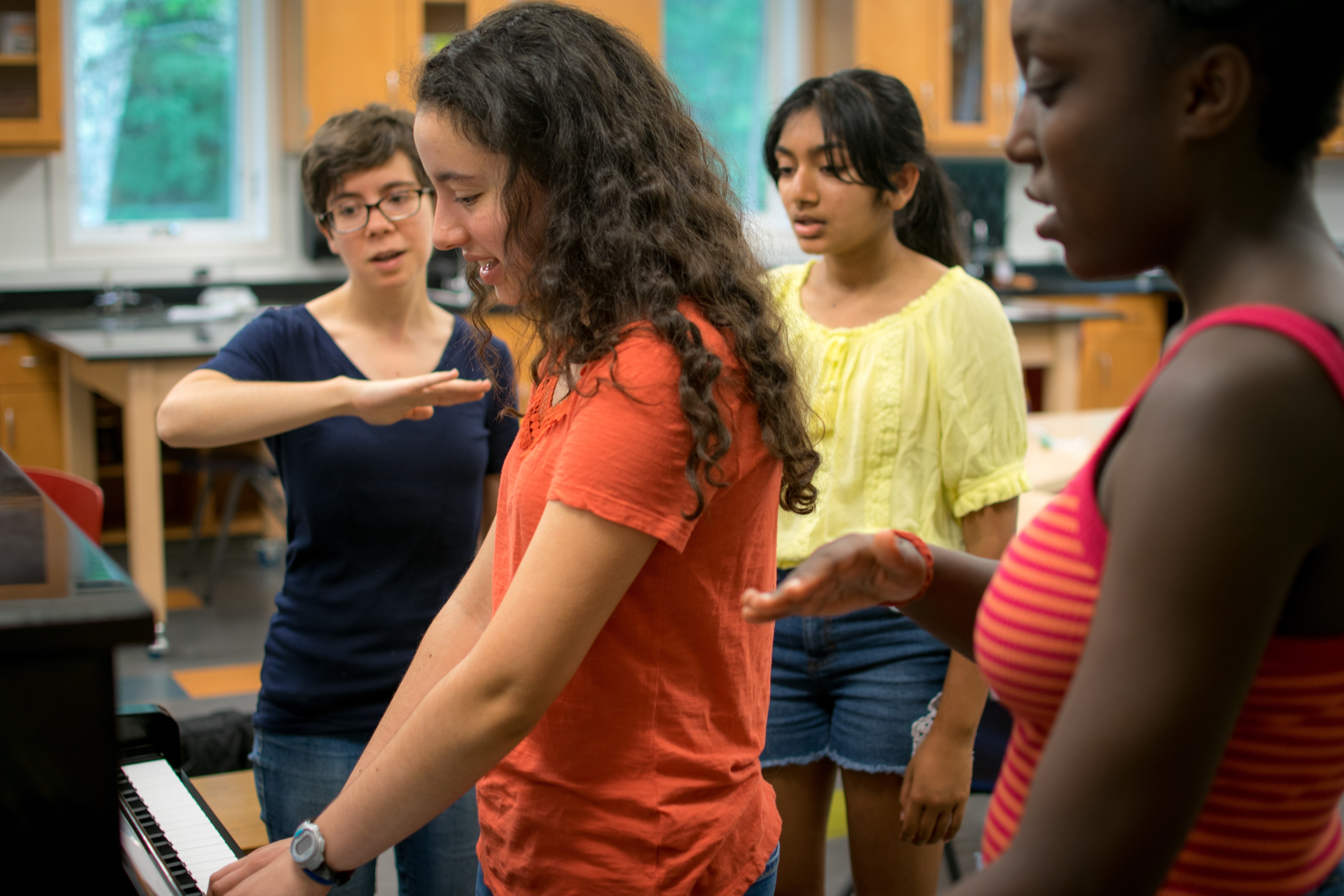 Our 2021 dates* are:
Young Musicians Program (YMP): June 26-August 1 (for musicians ages 9-18; 3-week option for students up through 7th grade June 26-July 18, 2021)
Creative Musicians Retreat (CMR): June 12-20 (for adult musicians, 18+, not otherwise eligible to be students at YMP)
We are accepting applications, and the Early Application Deadline is Friday, February 5.
To request an application, go to waldenschool.org/apply.
Early deadline: February 5
Regular deadline: March 15
Final deadline: May 1
Need-based financial aid in the form of tuition assistance is available. Please let us know if you have any questions or would like any additional information about Summer 2021 by writing to us at applicants@waldenschool.org.
*Dates for online programs, if necessary, will be similar to those for the in-person programming. 
Community News
Alan Chan Jazz Orchestra presents Camel Walk 
The Alan Chan Jazz Orchestra, along with suona performer Guo Yazhi, presented the Camel Walk Project as part of the Jazz Education Network Annual Conference, which took place online January 6-9. The Alan Chan Jazz Orchestra is a Los Angeles-based big band that Alan started in 2011. Alan is a Walden alumnus and past faculty member. You can find video of the Camel Walk project here, from performances in 2016 and 2019.
Alex Christie offers virtual workshops
Walden alumnus and faculty member Alex Christie is offering a series of hands-on virtual workshops on synthesizers. Alex's Synths for Beginners workshops are presented through the Bridge Progressive Arts Initiative, and require no prior experience. There were three sessions for adults in January, and sessions for youth ages 10-18 coming up in February and March. Alex is a composer, technologist, and instrument-builder based in Charlottesville, Virginia.
Astronautica premiere features Renée Favand-See  
Astronautica – Voices of Women in Space is a newly commissioned work of music, voice, and video by women composers, with a libretto drawn from the words of the women who have traveled in outer space. Astronautica premiered on January 27, and features two pieces by Renée Favand-See, Walden alumna and faculty member. Astronautica is the first event in Voices of The New, Voices of Ascension's new commissioning program. Astronautica was commissioned by Trio Triumphatrix: mezzo-soprano Hai-Ting Chinn, soprano Lindsay Kesselman, and contralto Kirsten Sollek.
Lukáš Janata commissioned by SF Symphony
The San Francisco Symphony has announced the upcoming season of programs presented online. A SoundBox program on July 8 will be curated by Nico Muhly, features choreographer and dancer Emma Lanier, and includes performances of Inti Figgis-Vizueta's Inbhir; Muhly's Motion, and his arrangements of Orlando Gibbons's "See, See the Word is Incarnate" and Meredith Monk's Fat Stream, and the world premiere of a new work commissioned from Lukáš Janata. Lukáš is a CMR alumnus.
Laura Jobin-Acosta IDEA Opera Residency
Laura Jobin-Acosta in one of three Resident Artists selected for the first-ever IDEA Opera Residencies, a new initiative by OPERA America. IDEA Opera Residencies (Inclusion, Diversity, Equity, and Access) provides New York City-based composers and librettists of color an opportunity to explore opera as an expressive medium. Laura is an alumna of the Creative Musicians Retreat. The other two inaugural Resident Artists are librettist J. Mae Barizo and composer Tamar-kali Brown.
Josie Kovash welcomes a new baby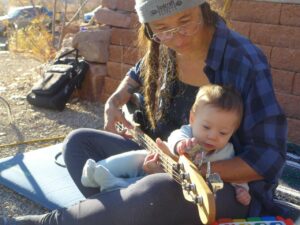 Josie Kovash has welcomed a daughter, Hunter Moon Pierre Edwards, born on Mother's Day 2020. Josie was a student at the Young Musicians Program for three summers, 1996-98, and was on staff at the Young Musicians Program in 2013. Congratulations, Josie!
Joel St. Julien featured on modular synth event 
On January 24, Colorado Modular Synth Society presented January Skies, a modular synth space music event. Featured on the event was Fool's Paradise by CMR alumnus Joel St. Julien. Joel is a San Francisco-based composer, musician, songwriter and sound artist. The Colorado Modular Synth Society's mission is to connect people with information, inspiration, and a community of peers fascinated with modular synthesizers. You can watch a recording of January Skies here.
Anjna Swaminathan Roulette premieres
Anjna Swaminathan was awarded a 2020 Van Lier Fellowship from Roulette Intermedium to produce two evening-length multidisciplinary concerts. The first, Rivers Above, Floods Below, premiered on November 16, and the second, |borders/lines|, will premiere via livestream on March 25, 2021. Anjna is a queer multidisciplinary composer, musician, and theatre artist, and was a visiting artist at the Young Musicians Program in 2018.
Freya Waley-Cohen featured on launch of SF Symphony+
The San Francisco Symphony, under Music Director Esa Pekka-Salonen, is launching a new online streaming service, SFSymphony+. SFSymphony+ will launch with a chamber music program, Nostalgia, as part of the SoundBox series. Nostalgia features works by three women composers–Freya Waley-Cohen, Missy Mazzoli, and Caroline Shaw–and will be performed on February 4. Freya is an alumna of the Young Musicians Program.
We want to hear from you!
What's been going on? If you have a recent or upcoming premiere, publication, award, new job or program, or a celebratory life event, please share the news. Email your news to alumni@waldenschool.org.
Stay in Touch
You can like The Walden School page on Facebook and join The Walden School private group to hear about events and opportunities throughout the year, including upcoming regional alumni Composers Forums and Holiday Parties. You can also find us on Instagram, Twitter, YouTube, bandcamp, and at waldenschool.org.